Wholesome Chocolate Chip Cookies, a recipe that needs a better name, is from Judy who wrote "Trust me, these are good." I trusted her, but had to make one minor adjustment anyway. I used white whole wheat flour instead of whole wheat. These were excellent and perfect for when you're craving something sweet, but don't want entirely empty calories.  These are crispy on the outside and dense and chewy on the inside.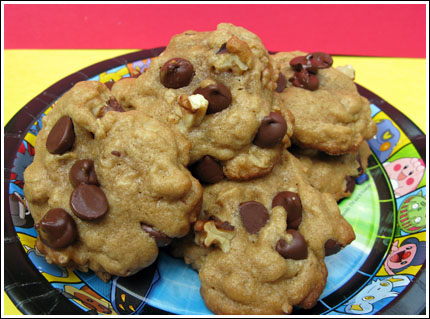 Judy's Wholesome Chocolate Chip Cookies
2/3 cup brown sugar (notes)
1/3 cup vegetable oil, I like grapeseed
1 tsp vanilla
1 large egg
1 teaspoon baking powder
1/2 scant teaspoon salt (original recipe used ¼ tsp)
1/2 cup all purpose flour — spoon lightly, sweep to level
1/2 cup whole wheat flour — spoon lightly, sweep to level
1/2 cup oats (old fashioned or quick)
1/2 cup semi-sweet chocolate chips (feel free to add more – chocolate has anti-oxidants)
1/3 cup toasted walnut pieces
Preheat oven to 350 degrees F. Have ready a parchment lined or non-stick cookie sheet.
Mix together the brown sugar, oil, vanilla and egg. When well mixed, add the baking powder and stir well. Watch out for stray lumps! Stir in the salt, then add the flour and stir until absorbed. Stir in the oats, chocolate chips and walnuts.
Scoop small tablespoons of dough onto cookie sheets, spacing about 2 inches apart, and bake on cookie sheets at 350 degrees for 10-13 minutes. Cookies are done when edges are slightly browned. The tops don't brown much, but that's okay because they are already dark from the brown sugar. Brown edges will signal "doneness".
Makes about 15 cookies
Notes:
For brown sugar, I used 1/3 cup dark, 1/3 cup light.
For flour, I used 4.5 oz white whole wheat (Eagle Mills) – lightly spooned
For salt, I used ½ teaspoon. If you are very sensitive to salt or don't like using much, go with less.
More "Wholesome" Recipes