The Complete Cook's Country TV Show Cookbook Review and Red Velvet Cake Recipe
America's Test Kitchen just released The Complete Cook's Country TV Show Cookbook
, and in my opinion it may be their best cookbook yet.  With recipes, tastings and product tests from all five seasons of the Cook's Country TV show, the book is packed with great recipes, conversational, and easy to follow. The America's Test Kitchen meticulous attention to detail is still there, and they've used full color illustrations and side notes very effectively so that the book flows well and entertains as it instructs. It's perfect for the experienced cook looking to learn a few new techniques, but would also make a wonderful gift for a teen or someone with a newfound interest in cooking. I'm hoping this becomes a go-to book for Fuzz.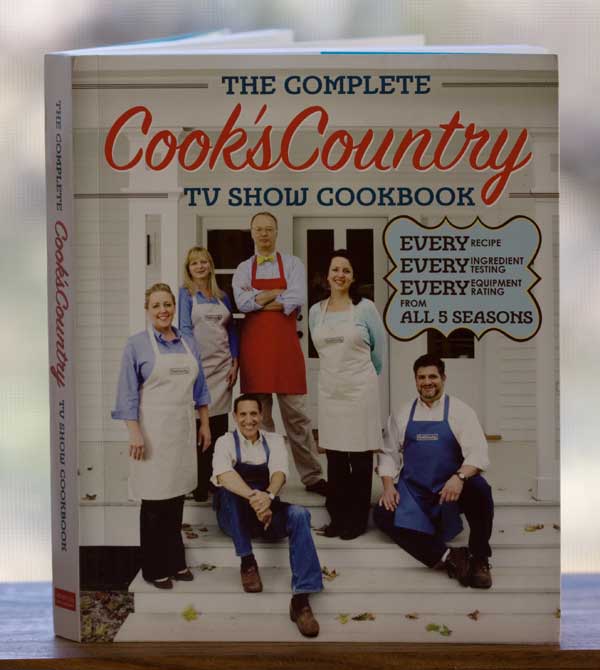 For those of you not familiar with them, the America's Test Kitchen team works out of a 2,300 square foot kitchen located in a farmhouse just outside of Boston. It is the home of Cook's Illustrated, Cook's Country, and The Cook's Country TV show. If you are one of the estimated 1.7 million viewers per week, this book is a quick reference to all the recipes you've seen on the show. However, if you've never watched a single episode you'll still love the book because it brings the show to you and takes you behind the scenes. The introduction gives the history of America's Test Kitchen and tells a little bit about the people behind the show, while the chapters have themes.
Chapter 1 "As Good as Grandma's" features dishes you might remember from childhood including Salisbury Steak, Chicken Divan and Chicken Florentine and a couple of types of Macaroni & Cheese
Chapter 2 "Fork-in-the-Road Favorites" includes diner specialties such as fried chicken and various regional favorites like St. Louis Style Pizza, Tennessee Whiskey Pork Chops and Cincinnati Chili
Chapter 3 "Steakhouse Specials" covers quintessential American steakhouse dishes such as Slow Cooker Onion Soup, Garlic Mashed Potatoes, Baked Stuff Shrimp and of course a few different variations on steak
…and so on, including chapters titled Our Sunday Best, Tex Mex Favorites, Everybody Loves Italian, The State of Grilling, Rise and Shine Breakfasts and Breads, Great American Cakes and Cookies, Old Fashioned Fruit Desserts and Save Room for Pie.
I thought I'd like the dessert chapters the best, but my favorite parts of the book were the sections covering everyday food and perfected versions of family favorites.   There are also several versions of things I wish I was really good at making, such as fried chicken (the book has three different versions) and cinnamon buns.
This is a book you'll use if you have 4 cookbooks or 40 million.  It's a good, all-around cookbook with lots of bonuses including the historical blurbs (sidebars include stories about automats, Dr. James Henry Salisbury and the history of fishsticks) plus other side bars showing the differences between various ingredients and brands.  Speaking of which, recommended brands and products are featured in a table at the end of the book and include full color photos of the labels of recommended products.  I love it when cookbooks do this, especially when they've selected a product I'm not familiar with and need to find it at the store.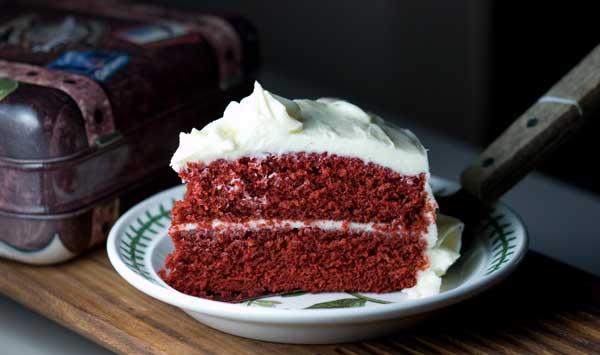 Okay, so the promised recipe!  Since I love red velvet cake, I'm sharing the book's recipe for it.  I've paraphrased a tiny bit (for instance, I noted that I didn't have parchment), but have kept the recipe pretty much the same to give you an idea of how recipes appear in the book.   I noticed they did clump what appear to be a lot of steps into one numbered bullet point, but that was probably due to spacing issues.
As for the cake, it's my new favorite red velvet! They nailed the level of tartness that red velvet is supposed to have, the level of chocolate (which a lot of recipes get wrong), and are dead-on with the vibrant red color. The icing recipe is good too.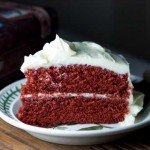 Print Recipe
Red Velvet Cake
A red velvet cake recipe adapted from The Complete Cook's Country TV Show Cookbook. Make sure to use natural (as opposed to Dutch or dark) cocoa so the cake will have the proper color and rise.
Ingredients
2 1/4

cups

11.25 ounces all-purpose flour**

1 1/2

teaspoons

baking soda

1

pinch

salt

I used a generous pinch

1

cup

buttermilk

mine was room temperature

2

large eggs

room temperature

1

tablespoon

white vinegar

1

teaspoon

vanilla extract

2

tablespoons

natural cocoa powder

do not use Dutch or Dark

2

tablespoons

red food coloring

12

tablespoons

unsalted butter

cut into 12 pieces and softened

1 1/2

cups

granulated sugar
Frosting
16

tablespoons

8oz unsalted butter, cut into chunks and softened

1

pound

1 box or 3 ¾-4 cups confectioner's sugar

16

ounces

cream cheese

1 1/2

teaspoons

vanilla extract

Pinch

of salt
Instructions
Adjust an oven rack to the middle position and heat to 350 degrees. Grease two 9 inch round cake pans, line with parchment paper, grease parchment, then line pans (Note: I was out of parchment, so I just greased the pan with shortening and dusted it with flour). Whisk the flour, baking soda, and salt together in a medium bowl. In another medium bowl, whisk the buttermilk, eggs, vinegar, and vanilla extract together in a 4 cup liquid measure. Mix the 2 tablespoons of the cocoa and red food coloring together in a small bowl to form a smooth paste.

Using a stand mixer fitted with paddle, beat the butter and sugar on medium-high speed until light and fluffy, 3 minutes. Reduce the mixer speed to low and beat in flour mixture in three parts, alternating with egg mixture and scraping sides of bowl as needed. Add cocoa mixture and beat on medium speed until completely incorporated, about 30 seconds, scraping down bowl as needed. Give the batter a final stir with a rubber spatula. Scrape the batter into the prepared pans and bake the cakes until a toothpick inserted in the center comes out with a few crumbs attached, about 25 minutes, rotating the pans halfway through baking. Let the cakes cool in the pans for 10 minutes. Run a small knife around the edge of the cakes, then flip them out onto a wire rack. Peel off the parchment paper (if using), flip the cakes right side up, and let cool completely before frosting.

For the Frosting: Using stand mixer fitted with paddle, beat butter and sugar on medium-high speed until pale and fluffy, about 2 minutes. Add cream cheese, 1 piece at a time, and beat until incorporated, about 30 seconds. Beat in vanilla and salt. If making ahead, keep chilled until ready to use (Bring to room temperature before using).

When cakes are ready, line the edges of a cake platter with stripes of parchment or wax paper to keep the platter clean while you assemble the cake. Place one of the cake layers on the platter. Spread 2 cups of the frosting evenly over the top, right to the edge of the cake. Place the other cake layer on top and press gently to adhere. Frost the cake with the remaining frosting
Notes
America's Test Kitchen uses 5 ounces of flour per cup. I thought I'd mention that since I typically use 4.5 ounces of flour per cup.