Thanks to everyone who entered the Smucker's giveaway. I enjoyed reading all your comments (as usual) and wish I could give the prize to everyone, but the comment that was picked at random was from Alyson.  She's making seasoned nuts for her husband's co-workers and Monster cookies for everyone else.  Go Alyson.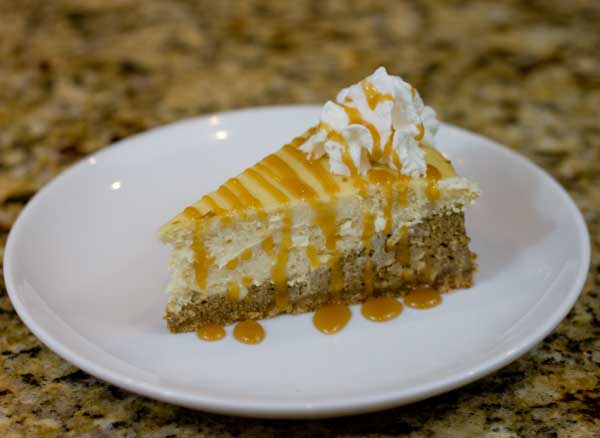 As for me, I couldn't wait until Christmas to try this cheesecake, so I went ahead and baked the Smucker's recipe on Monday.
**It is fantastic! **
The cheesecake baked up smooth with nary a crack, the sweetness level was balanced, and it did not lack in coffee flavor.  I also loved how the color of the coffee layer was almost the same color as the crust, which made it appear that the crust was a half inch thick.
Whoever created Caramel Macchiato Cheesecake deserves a prize, but that didn't stop me from making a small change. The recipe calls for ½ cup of vanilla-caramel flavored powdered coffee creamer. Instead, I used ¼ cup of liquid Hershey's brand (which is non-hydrogenated) in its place.  Below is the recipe with my notes.  The original Coffeehouse Caramel Macchiato Cheesecake is on the Smucker's Site.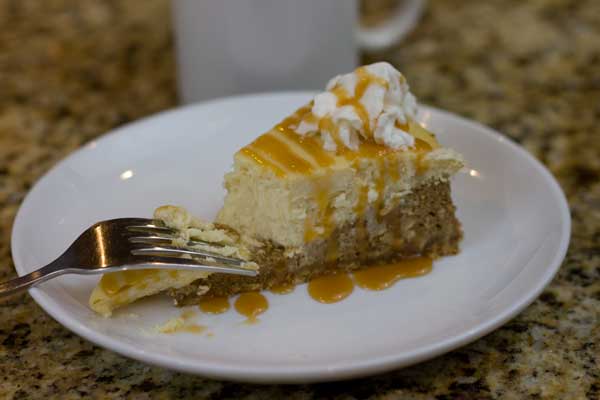 Recipe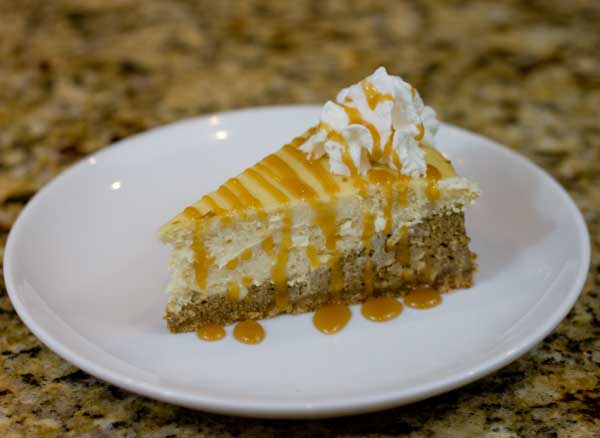 Coffeehouse Caramel Macchiato Cheesecake
A coffee and vanilla flavored cheesecake topped with caramel sauce. Condensed milk helps prevent cracks.
Ingredients 
1 ¼

cups

cinnamon graham cracker crumbs

or regular plus a pinch of cinnamon

• ⅓ cup butter

melted

• 4

8 oz. packages cream cheese, softened

• 1

14 oz. can Eagle Brand® Sweetened Condensed Milk

• 4 large eggs

room temperature

• ⅓ cup Pillsbury BEST® All Purpose Flour

• 2 teaspoons vanilla extract

• 3 tablespoons Medaglia D'Oro® Instant Espresso Coffee

• ½ cup vanilla caramel powdered coffee creamer OR 4 tablespoons non-hydrogenated vanilla flavored liquid creamer

• Whipped cream

• ¼ cup Smucker's® Sundae Syrup™ Caramel Flavored Syrup
Instructions 
Preheat the oven to 300°F. Mix graham cracker crumbs and butter in small bowl with a fork. Press firmly into bottom of 9-inch springform pan.

Beat the cream cheese in large bowl with an electric mixer on medium until fluffy. Pour sweetened condensed milk over cream cheese. Beat until smooth. Add eggs, flour and vanilla. Mix until well combined, but make sure not to overbeat after adding the eggs. Divide cream cheese mixture in half. If you have a scale, you can weigh it out. Half is about 28 ounces.

Stir instant espresso into one half of the mixture until dissolved. If using the liquid coffee creamer, add 1 tablespoon to the espresso mixture. Pour into prepared pan. Sprinkle powdered creamer over the other half of mixture IF USING and stir it in. If you are using the liquid, add the remaining 3 tablespoons of liquid creamer to the vanilla mixture. Mix until well combined.

Bake 70 to 80 minutes (70 was fine for me) or until lightly browned and set. Cool. Chill 3 hours. Remove from pan. Top with whipped cream. Drizzle with caramel syrup.
Notes
I used Hershey's brand liquid coffee creamer.