The first bite is always the best, which is why one-bite muffins like these Mini Pumpkin Muffins are so great. You get one big bite of rich, sweet muffin without any taste fatigue.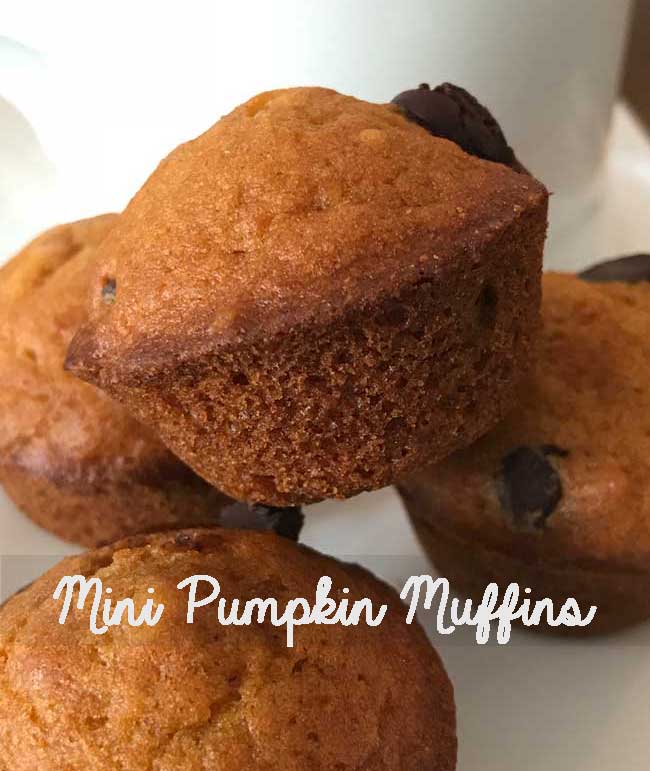 Plus mini muffins are a little more versatile.  You can throw mini muffins onto a tray with assorted cookies, whereas regular size muffins might seem a little out of place.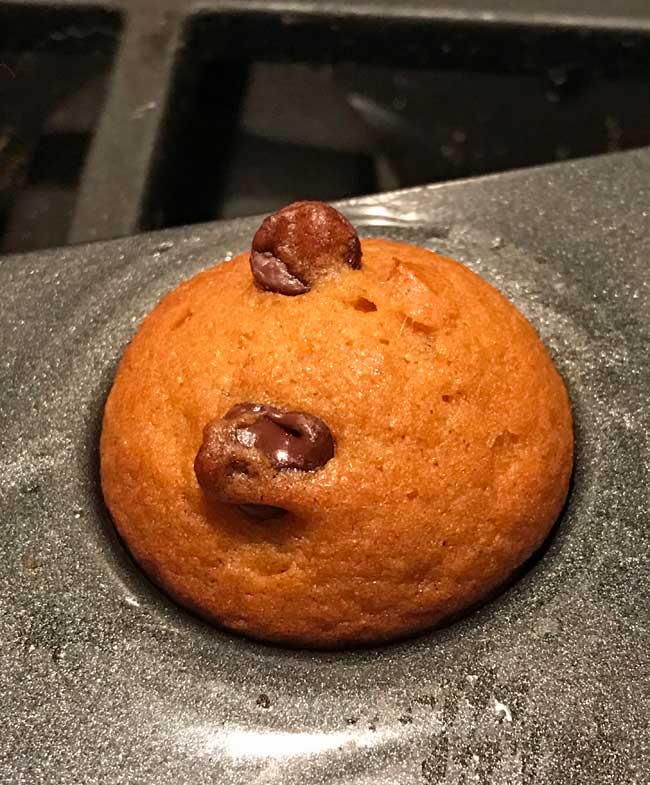 This recipe is one of my favorites because the muffins bake up with a nicely rounded top. Also, the recipe has enough oil and sugar to keep the muffins soft like the ones you get at the grocery store bakery. Chocolate chips are optional, but I always add them even though I rarely have the mini size around.
Mini Muffin Pan
If you don't have a mini muffin pan, here's a link to the USA Pan on Amazon. I actually do NOT have this pan yet, but I plan on ordering it because I have the USA loaf pan and a USA pie pan and they are fabulous. Things slide right out.
More Mini Muffin and Mini Bar Pan Treats
Recipe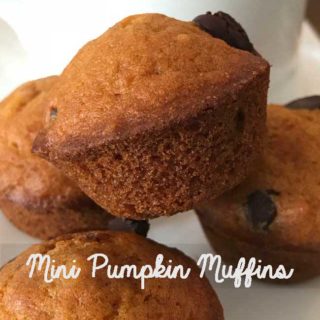 Mini Pumpkin Muffins
These bite size mini pumpkin muffins are rich, sweet and super quick to throw together. They rise quite high and should have lovely rounded tops. I don't bother mixing the dry ingredients ahead of time, but you can if you feel like it.
Ingredients 
2

large

eggs

1

cup

sugar

(190 grams)

1

cup

canned pumpkin

(230 grams)

1

teaspoon

vanilla extract

½

cup

plus 2 tablespoons canola oil or vegetable oil

1

teaspoon

baking soda

1

teaspoon

baking powder

1

teaspoon

cinnamon

½

teaspoon

salt

1 ½

cups

all-purpose flour

(200 grams)

⅔

cup

mini semisweet chocolate chips

regular size okay, too
Instructions 
Preheat oven to 400 degrees F. Grease two mini muffin pan. If you only have one, just grease one and plan on making the batches one at a time. The batter can sit for a bit.

Combine the eggs, sugar, pumpkin, vanilla and oil in a large mixing bowl and beat with a wire whisk until smooth.

Whisk in the baking soda, baking powder, cinnamon and salt, making sure they are evenly dispersed, then add the flour and stir with a heavy duty scraper until smooth.

Stir in the chocolate chips (if using).

Fill the muffin tins almost but not quite to the top. These rise high and shouldn't spread outward, but try not to overfill to be safe. They still need a bit of room to climb.

Bake at 400 F for about 12 minutes or until they appear set. Let cool in the pan for a few minutes, then carefully pop them out.

Grease the muffin tin again and make the remaining muffins. You should get at least 38 but most likely up to 42.
Notes
I only have one mini muffin pan so I have to make the muffins one pan at a time.