This recipe came to me in the form of an Amex promotion featuring the model, Karlie Kloss. Karlie, who also has a cookie company called Karlie's Kookies, shared a recipe for her "Perfect 10 Kookies", which are vegan, gluten free cookies sweetened with agave. At one point you could buy the cookies on-line, but the links haven't been working lately so it looks like you'll have to make them.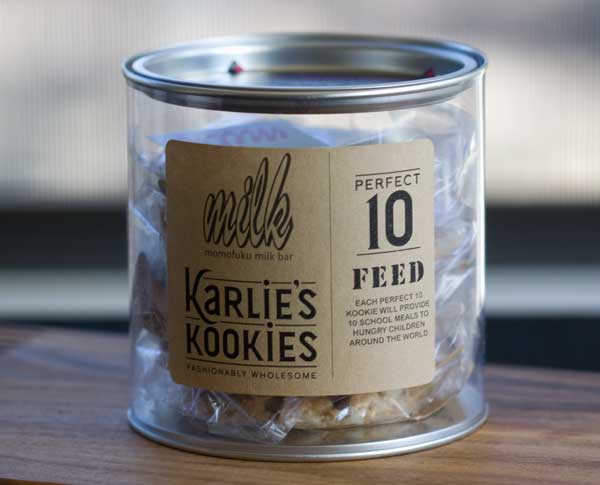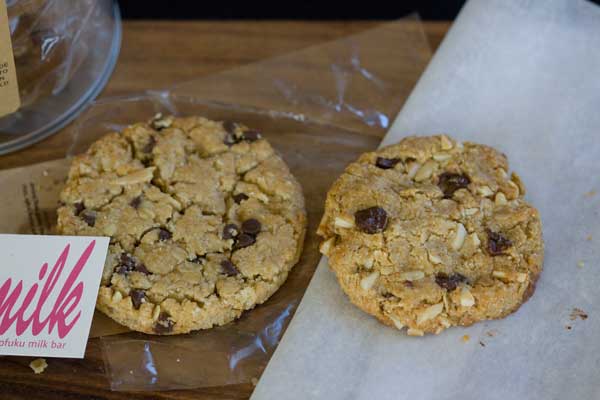 Watch Karlie and Christina Bake!
So on with the recipe.  If you need a visual tutorial, watch the video of Karlie and Christina making making Perfect 10 cookies. They give the baking time of 6 minutes at 325 in the video. At one point another version of the recipe appeared in Lucky Peach stating 325 for 12 minutes, and the recipe in the ad below says 300 for 8 minutes. The take is, use a lower heat and keep an eye on them.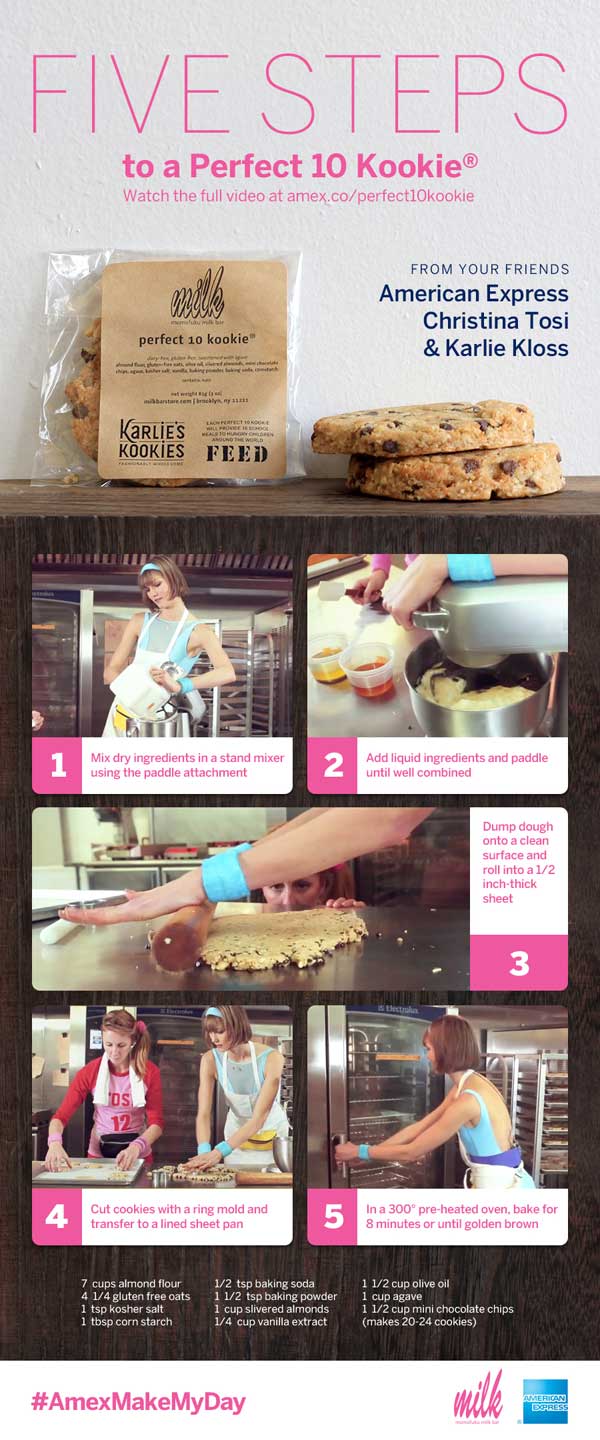 Some Recipe Notes
Karlie's Kookies (Perfect 10 Cookies) can be made with either cornstarch or with xanthan gum, like in the version below. The recipe is all in grams and crazy-easy if you have a scale. It makes eight giant cookies.. This one is different than the one in the video (as mentioned) in that the cookies are not punched but rather molded into balls and flattened. The dough is so easy to work with you can either punch it out or just punch down balls. As for the baking time, 8 minutes was too short for me, but about 12 minute at 300 F worked, as did 12 at 325.  In other words, the cookies can be rare or well-done and still perfect.
Recipe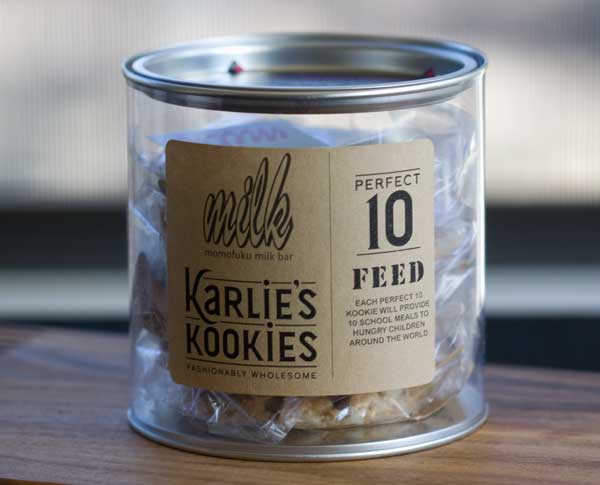 Karlie's Cookies Recipe and Giveaway
This recipe is all in weights, so it's best to use a scale. Since it's hard to weigh such tiny amounts of baking soda, salt and baking powder, I approximated the volume of those things.
Ingredients 
200

g

almond flour

100

g

whole oats

1

g

baking soda

(a little less than 1/8 teaspoon)

2

g

baking powder

(about 3/8 of a teaspoon)

2

g

kosher salt

(about 1/8 teaspoon or so — depends on type)

0.5

g

xanthan gum

(about 1/6 of a teaspoon)

30

g

slivered almonds

lightly toasted

120

g

mini dark chocolate chips

80

g

olive oil

or grapeseed

90

g

agave syrup

1

teaspoon

vanilla extract
Instructions 
Heat the oven to 300 degrees F.

In a stand mixer, with the paddle attachment, mix the dry ingredients together. Add the liquid ingredients and paddle until well combined.

Scoop cookies firmly with an ice cream scoop onto a parchment-lined sheet pan. Flatten each mound of cookie dough fully with the palm of your hand.

Bake cookies for 8 minutes, or until golden brown. Store in an airtight container or eat right away! (It takes my cookies at least 12 to 15 minutes).