I probably should have deleted this post long ago, but it makes me laugh, and the gluten-free cookie recipe is not half bad either. Actually, it's really good! And of course it is because it's from Christina Tosi (and Karlie, of course). But it's an old one. The Karlie's Kookies Perfect 10 recipe is back from when agave was considered a healthy miracle food and FODMAPS weren't a thing. That aside, the ingredient list is still pretty wholesome and you can substitute different syrups for the agave.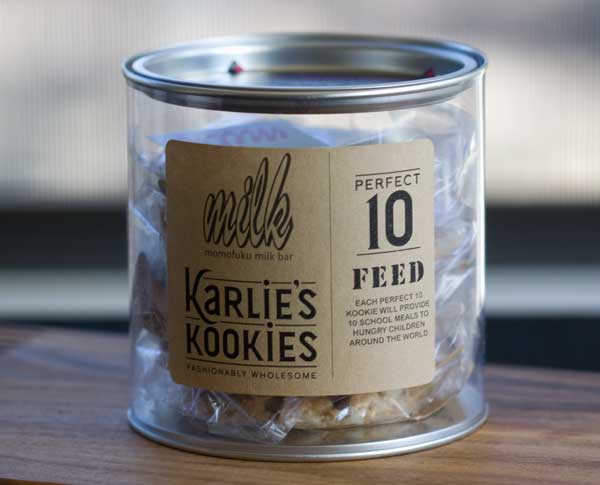 Here's an old photo with one of the Karlie's Kookies next to a smaller homemade version I made using the recipe from the ad below and the video.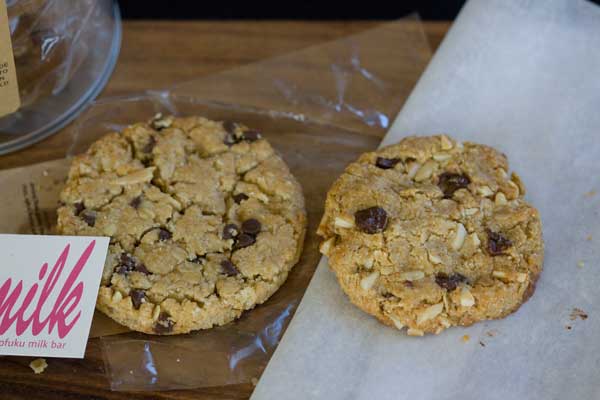 Watch Karlie and Christina Bake!
And thank goodness the video of Karlie and Christina making Perfect 10 cookies is still there. The written version of the recipe was originally in Lucky Peach, and there were some differences in their version and the one in the ad below. Lucky Peach gives a bake time of 12 minutes at 325F and the recipe in the ad says 300 for 8 minutes. Having baked these many times, my advice is not to get too hung up on the bake time. 325 for 10-12 minutes works, as does 300 for about 20. For the rest of the recipe, I recommend making a quarter batch your first time to see what you think, then improvising with different flavorings or spices.