If you happen to have some agave nectar and are looking for ways to use it, here's a recipe you might like. I made a batch of Agave & Honey Oatmeal Raisin Cookies a few days ago and think these taste even better today. Maybe the agave and honey keeps them fresh? I'm not sure, but I'll be making them again. Next time, I'll have to leave the raisins out so my daughter will eat them. She's boycotted dried fruit :(.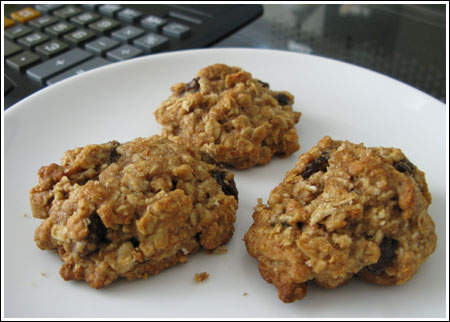 Agave & Honey Oatmeal Raisin Cookies
2 tablespoons lightly beaten egg (approx)
3 tablespoons agave nectar
1 tablespoon honey
2 tablespoons vegetable oil
1 teaspoon vanilla
½ cup whole wheat pastry flour (2 oz)
1 tablespoon toasted wheat germ
⅛ teaspoon EACH baking soda & baking powder
¼ scant teaspoon salt
¼ teaspoon cinnamon
¾ cups old fashioned oats
⅓ cup raisins
Preheat the oven to 375 degrees F.
Mix egg, agave, honey, oil and vanilla together in a bowl. Stir very well.
Combine flour, wheat germ, baking powder, baking soda, salt and cinnamon in a bowl. Stir very well, then add to agave mixture and stir until blended. Stir in the oats and raisins. Let batter sit for about 5 minutes.
Using a tablespoon measure, scoop up dough and arrange on parchment lined cookie sheets spacing 2 inches apart. Bake one sheet at a time for about 10-11 minutes. Let cool completely.
Makes 8 cookies