I've learned a few things about frosting over the years, one being that I really don't care for true buttercream frosting. And by that I mean true Swiss buttercream – the kind made with eggs, granulated sugar and butter and which to me, is just too buttery.  As a sandwich cookie filling it's okay, but for topping cupcakes it's just too rich and I've gone back to making the usual variations on American buttercream with confectioners sugar and butter. That is, until now! I have discovered German Buttercream.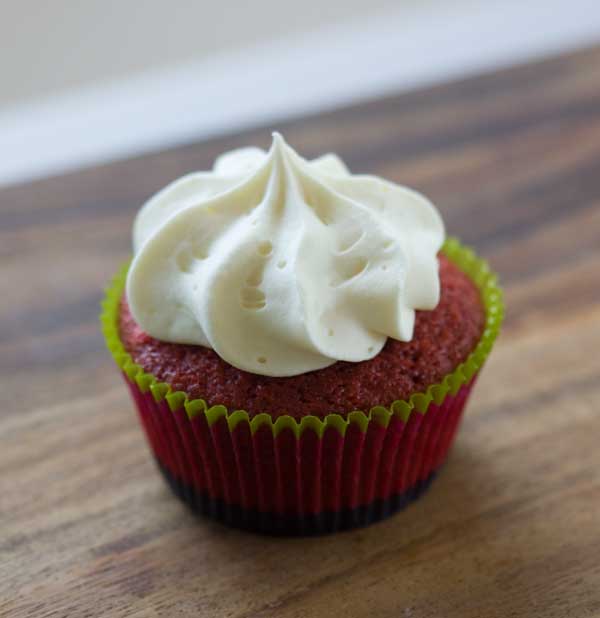 This recipe, adapted from one by Stella Parks, is fairly easy to make. It has a dreamy, light texture, and is way less sweet than American style. Today was my first time to try German Buttercream, and while I loved the texture, I thought it could use a little more sweetness. However, for those of you who like the idea of a less sweet cupcake icing, you have to try it.
Large Batch German Buttercream
Note, this makes a very large batch. Unless you are sure you'll like a less sweet frosting, you might want to halve it or even quarter it. I actually had great results making just a quarter batch. For the weird quarter batch egg measurements, check the notes at the bottom. Otherwise, go all out and make the full or just half batch. And remember, if you DO find it not-quite-sweet enough, you can beat in some confectioners' sugar.
Recipe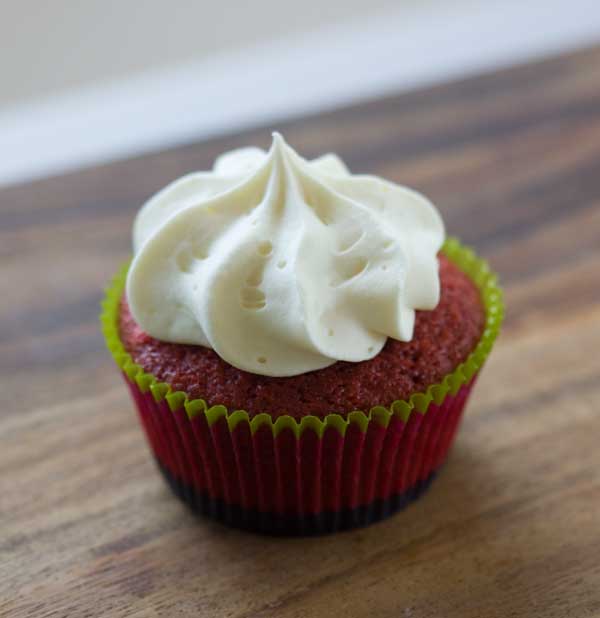 German Buttercream Cream Cheese Icing
German Buttercream Cream Cheese Frosting
Ingredients 
16

ounces

whole milk

10

ounces

granulated sugar

1 ½ cups

1 ½

ounces

cornstarch

about 6 tablespoons

2

large eggs

2

large egg yolks

16

ounces

cream cheese

room temperature

16

ounces

unsalted butter

room temperature

¼

teaspoon

salt

or more to taste

2

teaspoons

good quality vanilla extract

Confectioner's Sugar

in case you feel like it's not sweet enough
Instructions 
In a large sauce pan, bring the milk to a simmer.

Meanwhile, in a mixing bowl, whisk together the sugar, cornstarch, eggs, and yolks.

Whisk about a half cup of the hot milk into the egg mixture. Whisk in a little more hot milk until the egg mixture is fluid and warm (this tempers the egg). Pour the egg mixture back into the pot of hot milk with the heat set to medium and keep whisking.

Once the mixture starts to thicken and bubble, continue whisking and cooking for one minute more to remove the starchy flavor. Remove from heat and pour into the bowl of a stand mixer. Cover with a small sheet of plastic wrap or parchment and let cool completely. This is important.

When completely cool, beat the mixture well. Add the butter and cream cheese one tablespoon at a time with the mixer going. Beat in the salt and vanilla. Taste test. If it's not sweet enough for you, you might want to add a little confectioner's sugar.

Chill for about 15 minutes. Return to mixer and beat again, then put into your piping bag and pipe cupcakes.

Makes about 10 cups
Notes
For a small batch (about 2 ½ cups), you can actually quarter the recipe. Weigh out ¼ of all ingredients and for the eggs, use 1 large egg, but very carefully discard about half the white. My icing had the perfect texture, but I wanted more sweetness and ended up adding about ¼ cup of confectioners' sugar at the end. Also, for testing purposes I managed to get away with using 2% milk. For a full batch, I'd stick with whole.