I'd planned on posting No Egg Chocolate Buttercream as part of a chocolate cake recipe, but it's so good it needs its own post for easy referencing. So many great frosting recipes get lost because they are tied in with cake recipes. Or at least that's been my experience. It's tricky because I like it when cake recipes include the frosting, but in reality I mix-and-match. And this is one I've been "matching" a lot.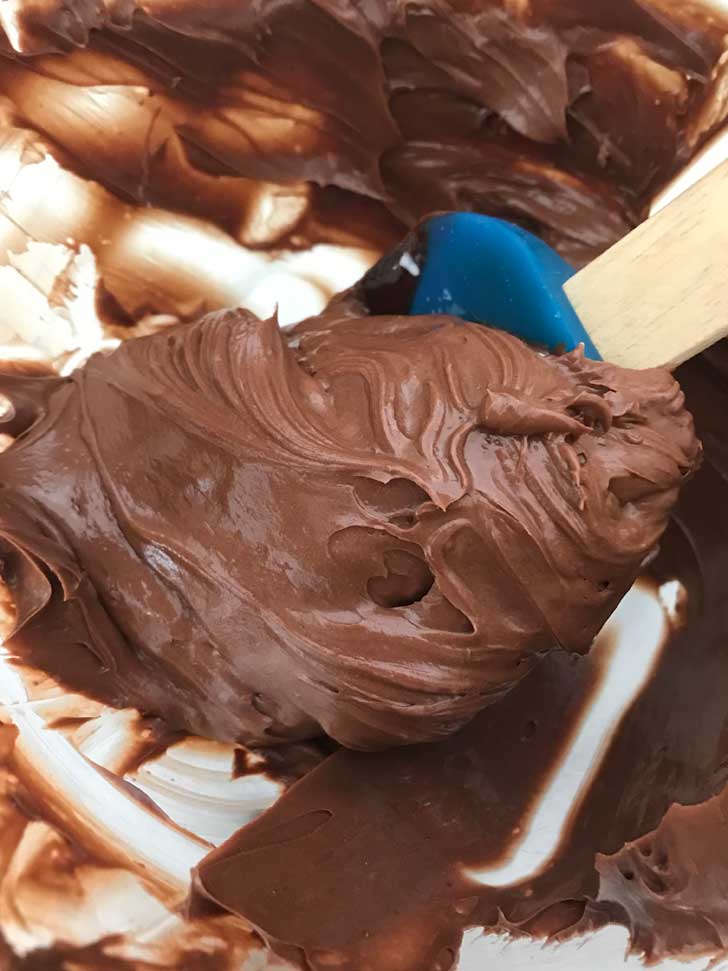 Smooth and Creamy Melted Chocolate Frosting
This is a smooth and creamy chocolate frosting you can spread or pipe. It has the silky texture of a buttercream, but does not require eggs, so you don't have to heat egg whites over a double boiler. For maximum chocolate flavor, it calls for a combination of melted chocolate & cocoa powder. And the recipe also calls for less confectioners' sugar, which means less powdered sugar texture. Lastly, you can use your choice of half & half or cream. I prefer half & half and say why in the ingredient info section.
Ingredient Temperature
The key to this recipe is having all of your ingredients at the right temperature. The butter needs to be at cool room temperature (between 60 and 70 degrees F), so not at all melty, but not stone cold. The melted chocolate needs to be at a slightly warm room temperature. That is, warm enough to soften the butter but not so warm to melt it (around between 80 and 85). This will all make sense once you get mixing. Speaking of mixing, I recommend using a handheld mixer for the first batch to give you a good feel for it. I've been pretty happy with the slightly new-ish Cuisinart I bought before Christmas. The blades on my old one were literally falling off so I figured it was time.
No Egg Chocolate Buttercream Ingredients
Dark, Semisweet, or Bittersweet - The icing is not super sweet, so you can go with a sligthly sweeter dark chocolate, somewhere around 49 to 60% or you can use semisweet or bittersweet.
Butter -- Salted or unsalted is fine, just adjust salt in the recipe to taste.
Confectioners' Sugar -- Definitely sift! I made a few batches with unsifted and had some lumps, but I believe it was due more to the lumpy cocoa powder than to the sugar. Either way, it's good to sift both.
Unsweetened Cocoa Powder -- It's amazing how much flavor good cocoa powder adds. I've tested with Ghirardelli, Aldi brand, and the delicious Navitas. All the cocoas I tested with were "natural" rather than Dutch. They all tasted great, but the more expensive brands seemed better. Be sure to sift at least once.
Vanilla -- Pure is probably best here.
Salt -- I forgot how much better kosher is than iodized this past couple of weeks when there seemed to be a run on Morton brand kosher. All my stores were out, so I bought iodized and felt like I could really taste a little extra unpleasant sharpness. Luckily Morton is back, but in a smaller and different shaped canister. Diamond is always a good choice too, but I like Morton because it measures like table salt, whereas with Diamond you have to use more.
Half & Half or Cream -- I used to make this with heavy cream, then I'd chill the frosting and whip it so it was pale. I started making it again with heavy cream and no whipping and it was very smooth and satiny like a buttercream. It felt a little too greasy with cream so I switched to half & half and that did the trick. It piped very nicely with cream, though, and some may prefer that greasy feel. You could also use cream and whip. If you use cream, you'll most likely need at least 6 tablespoons, whereas the half & half version requires less liquid. Just add gradually.
Recipe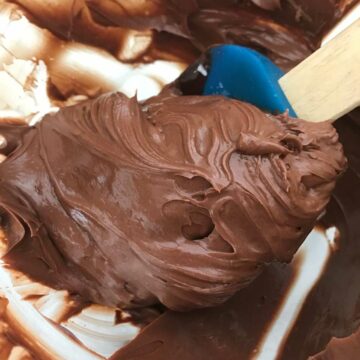 No Egg Chocolate Buttercream Frosting
A silky smooth chocolate frosting that does not call for eggs.
Ingredients 
3

ounces

dark, bittersweet or semisweet chocolate, chopped

8

tablespoons

butter, unsalted, cut into 8 chunks, at cool room temp (between 60 and 70)

(114 grams)

⅔

cup

confectioners' sugar

(70-80 grams)

3

tablespoon

cocoa powder, natural

(15 grams)

¾

teaspoon

vanilla extract

¼

teaspoon

salt

3-5

tablespoons

half & half or heavy cream, plus more if needed
Instructions 
Combine the chopped chocolate with half (4 tablespoons) of the butter and microwave at 50% power for about 2 minutes, stopping to stir halfway. Stir until smooth. Set aside and let cool so that it's just slightly warm to the touch (about 87 degrees F).

Sift together the confectioners' sugar and cocoa powder. If you don't sift, you may get lumps, so it's important to sift, especially with the less expensive brands of cocoa powder.

Cut the remaining 4 chunks of butter into slightly smaller chunks and put them in the bowl with the confectioners' sugar and cocoa powder. Using a heavy duty scraper or spoon, mash everything together the best you can to keep the sugar from flying when you use the electric mixer. Then, on lowest speed, begin mixing until crumbly.

Add about 2 tablespoons of the melted chocolate mixture to the crumbly sugar mixture and beat on low. The slight warmth and moisture from the chocolate mixture should soften the butter a bit more. Continue to gradually add the chocolate a few spoonfuls at a time, beating on low, then beat in the vanilla and the salt.

Gradually add the half & half or cream, one tablespoon at a time, beating on low and scraping side of bowl. Increase speed and beat until smooth and creamy.

You can use the icing like this, or you can chill it and beat it again for a more pale and light icing.