Let's talk about cupcake wrapper sizes. Up until recently, my cupcakes were never as flashy as bakery cupcakes due to size. Even when I used colorful wrappers from the craft store (some of which smell funny, by the way), the cakes looked cute, but didn't have quite the same dramatic effect as the larger ones from local bake shops.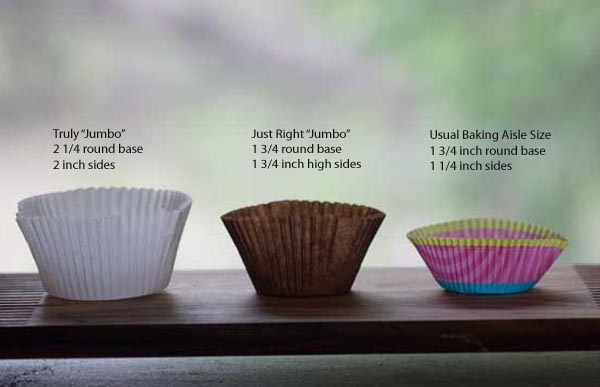 Thinking all I needed to do was order some "jumbo" size off the Internet, I started searching only to realize that there were multiple jumbo sizes.  You've got the wrappers that are Costco size, ones that are slightly smaller, the "regular" size (which most everyone sells), and "miniature" which I haven't bothered with lately because I've been in a jumbo mood.  And everyone measures them differently.  Some sites have measurements for the base only, some have the measurement for the sides only, and some have a measurement that includes the base and one side added together.
Enter Charming Creations, a little cupcake supply store in California which lists both the base and the height separately. After looking through the goods, I finally determined that my favorite size cups are the ones that measure about 2 inches across the bottom and have 1 3/4 inch high sides.  The beauty of this size is that the cups fit in most regular muffin pans, but you get another good bite of cake due to the higher sides.  And luckily, you can buy in bulk for reasonable prices.  Charming Creations sells the brown ones 50 for $2.50, or you can buy a larger pack and save.  I've also seen these on another site called The Web Restaurant Store, but I can't vouch for their service yet because I haven't ordered from them yet.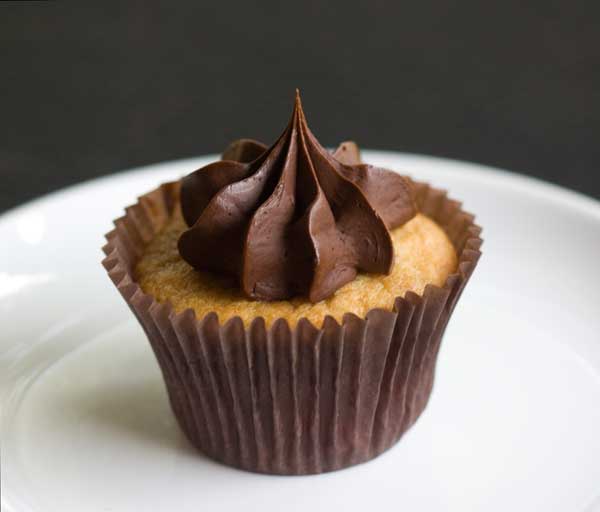 Unfortunately, I've only been able to find this "perfect" size in brown and white.  The Reynold's foil lined jumbos, which are sold at the grocery store and slightly more expensive, are great, but I wish they had colors more exciting than foil-lined white.  Maybe one of these days they'll start selling their "Stay Brite" cups in the larger size.  If you see any big, colorful, cupcake cups or know a great source with reasonable pricing for home bakers, let me know.