Here's another reason I like the BIG cupcake wrappers. They hold more filling! In this case, that filling is peanut butter pie, so I'm calling them Peanut Butter Pie Cupcakes.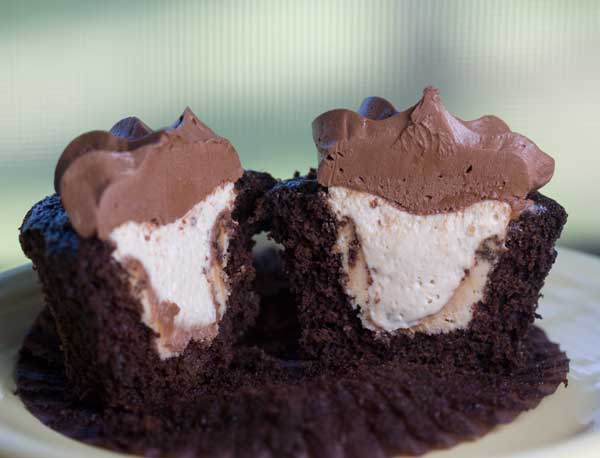 I got the idea for Peanut Butter Pie Cupcakes after reading a reference to peanut butter pie and thinking I'll never be able to make it because the only person around here who really likes peanut butter is me. There was no way I could share a half eaten peanut butter pie with Todd's office friends or the neighbors, so I decided to try scaling down just the filling of a peanut butter pie and stuffing it into large chocolate cupcakes. It worked.

The only issue I had was finding the right peanut butter pie, which is why the cupcake in the photo has what appears to be two different fillings. The first one, which I scooped out, was Paula Deen's peanut butter pie. It was good, but a little too thick and not quite sweet enough.  With a little more sugar, that pie would probably have made a great filling, but I wanted something a little bit lighter and tested the highest ranking peanut butter pie on allrecipes.com.  I liked how its fluffier texture contrasted with the rich and creamy frosting.
What I did find, and maybe because this particular peanut butter pie is meant to be frozen and thawed, was that the cupcakes were best after a good chill in the refrigerator. Mine tasted best on Day 2.

Chocolate Peanut Butter Pie Cupcakes
Chocolate Peanut Butter Pie Cupcakes
Ingredients
1 1/3 cups (6 oz) all-purpose flour or 1 ½ cups (6 oz) White Lily
2/3 unsweetened natural style cocoa (Hershey's)
1 teaspoon baking soda
3/4 teaspoon salt
2/3 cup packed brown sugar
2/3 granulated sugar
1/4 cup unsalted butter, melted
1/4 cup vegetable oil
2 large eggs
1 teaspoon vanilla extract vanilla extract
1 cup buttermilk or milk soured with a half tablespoon of vinegar
Filling
2 oz cream cheese, softened
6 tablespoons confectioners' sugar
1/4 cup (2 oz) creamy peanut butter
1/2 teaspoon vanilla extract
3-4 tablespoons milk
1 to 1 ½ cups Cool Whip
Chocolate Frosting
8 tablespoons of unsalted butter, softened
2 tablespoon of sour cream, room temperature
3 cups confectioners' sugar, sift or aerate before using
3/4 natural style cocoa powder
1 tiny pinch of salt
1 teaspoon vanilla extract
4 to 6 tablespoons of cream or half & half
Instructions
Preheat oven to 325 degrees F. Line 12 cupcake cups with jumbo (3 ½ inch) paper liners (e.g. Reynolds Foil Lined Baking Cups or ones with 1 3/4 inch high sides). You can also use smaller cups and make more than 12.
Mix the dry ingredients (flour through sugar) together in a mixing bowl. Add the butter, oil, eggs and vanilla and stir until mixed, then gradually add the buttermilk. Stir well, then beat with an electric mixer for 1 minute or just until blended.
Divide batter evenly among cupcake cups and bake for 25 minutes at 325 or until cakes are set. Let cool completely. Note: Smaller cupcakes will take less time.
To make the filling, beat together all ingredients (starting with 3 tablespoons of milk and adding more only if needed) except for whipped topping. Fold in the whipped topping. Also, don't forget to taste and adjust milk/peanut butter/sugar to make sure YOU like it.
Cut a big hole in each cupcake and reserve cuttings. Fill holes with peanut butter filling. Crumble some of the reserved cuttings over hole to cover peanut butter. Put in the refrigerator to chill.
In a large mixing bowl, mix the butter, sour cream sugar, cocoa, salt and 2 tablespoons of the cream as well as you can, then beat with a hand-held mixer until pasty and thick. Continue adding remaining cream until you get a nice, smooth, spreading consistency. Put the icing in a piping bag fitted with a large star tip or in a heavy duty freeze bag of which you will snip off the tip. Pipe a big star or dot over the hole where you buried the pie filling.
Notes
Play around with the pie filling ratios if you want. These taste better after they've been thoroughly chilled....or at least the filling does. You can half the frosting if you want. I like to use a lot of frosting so I make more than enough and save the rest by putting the filled piping bag in a closed zipper bag and saving it in the refrigerator. The cupcake recipe also halves well too, should you only wish to make six.