For Mother's Day, Fuzz gave me a bottle of Penzey's pumpkin pie spice along with a request to make some pumpkin muffins. Because she picked such a sweet present, I took her up on her offer and made a batch of pumpkin muffins with streusel topping. The recipe calls for pumpkin pie spice, but if you don't have any you can always use a substitute.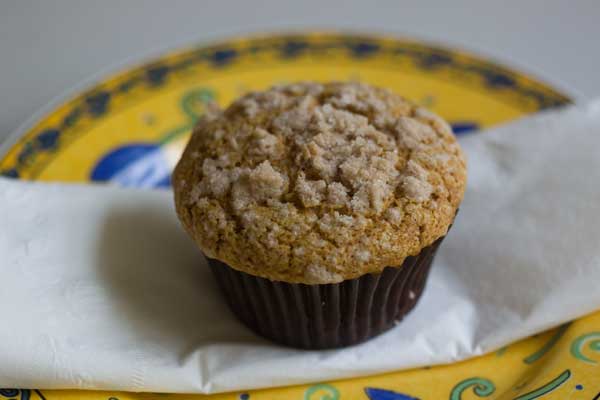 This recipe combines an old Libby's recipe with one from Gourmet.  The Libby's recipe alone was good, but a little on the dry side.  The Gourmet muffin was good too, but a little boring. Adding the Libby's streusel topping to the Gourmet muffin and incorporating some vanilla and brown sugar, resulted in what I think is the perfect muffin.
Streusel Topping
I have so many basic pumpkin muffin recipes. This is a good one, but I really like the streusel topping and find myself referring back to this recipe when looking for a streusel to top other muffins. So if you don't need the muffin but want a good streusel for sprinkling, give this one a try!
Recipe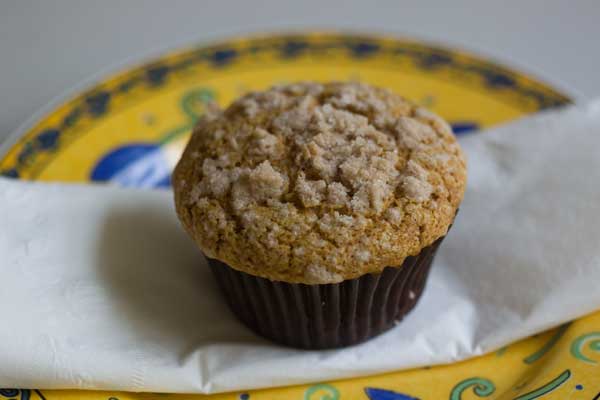 Basic Pumpkin Muffins with Streusel Topping
An easy recipe for pumpkin muffins with an optional streusel topping
Ingredients 
Streusel
2 ½

tablespoons

all-purpose flour

2 ½

tablespoons

granulated sugar

⅜

teaspoon

cinnamon

1 ½

tablespoons

butter

unsalted or salted
Muffins
1 ½

cups

6.8 oz stirred and aerated all-purpose flour or White Lily

½

teaspoon

salt

½

teaspoon

baking soda

1

teaspoon

baking powder

1 ½

teaspoons

cinnamon

1

teaspoon

pumpkin pie spice

2

large eggs

1

cup

granulated sugar

¼

cup

light brown sugar

7 ½

ounces

half a can of Libby's pumpkin

6

tablespoons

vegetable oil

½

teaspoon

of vanilla extract
Instructions 
Preheat the oven to 375 degrees F. You will be reducing the heat when you put the muffins in, but for this recipe you start them in a hot oven.

Line 12 muffin cups with paper liners.

In a small bowl, mix together the flour, sugar and cinnamon. Add the butter and cut it in with your fingers or a fork until crumbly. Put in the refrigerator until ready to use.

In a medium size bowl, whisk together the flour, salt, baking soda, baking powder, cinnamon and pumpkin pie spice.

In a mixing bowl, whisk together the eggs, sugar, brown sugar, pumpkin, oil and vanilla extract.

Add the flour mixture to the pumpkin mixture and stir with a mixing spoon until blended.

Divide the batter evenly among the 12 muffin cups.

Remove topping from refrigerator and crumble it over the muffins, distributing evenly.

Put muffins on the center rack in the hot oven. Close the door.

Reduce heat to 350 degrees F. and bake for 25 minutes.