This Pumpkin Yeast Bread is my contribution to this weekend's Chicago Food Swap, which by the way, is tons of fun. If you live in Chicago and like to cook, check it out! I'd love to meet you there. And if you're there this weekend, come try the bread!
Pumpkin Bread for Sandwiches
It's not pumpkin quick bread, but a pumpkin flavored yeast bread perfect for sandwiches or toasting. The original recipe is from King Arthur, and gives you enough dough for two 9×5 inch loaves, two 8×4 inch loaves and a mini (3×5) inch loaf, or a loaf and a whole bunch of pumpkin flavored rolls. It's a pretty flexible recipe and falls into the category of simple, but still impressive and unusual.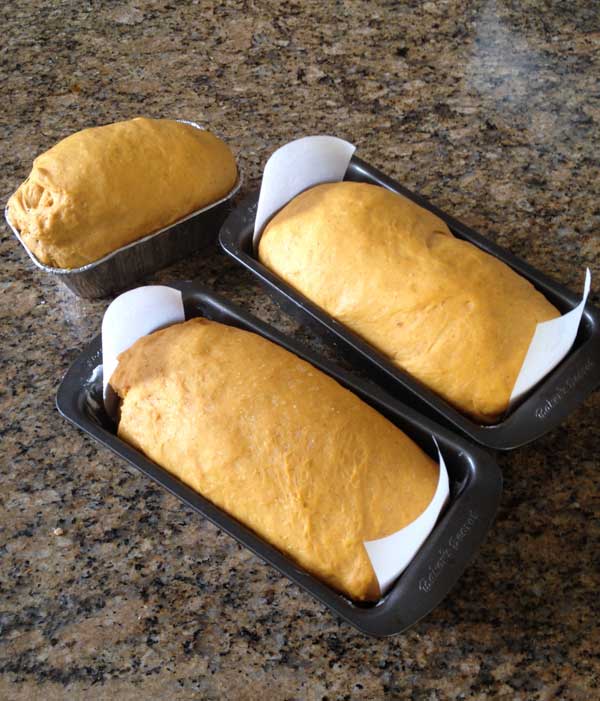 Apparently King Arthur had to alter it a bit over the years because people were having issues with the dough being too wet. I made the most recent version using 27 1/2 ounces of flour (thank goodness KA gives weights!) and didn't have any problems with the dough being overly wet, though for a minute I thought it might be kind of dry. When making bread, it's always a good idea to hold back some of the flour so you can add it at the end and compensate for any moisture issues. I recommend using King Arthur's recipe and referring to this one if you have any questions. This is how I made it, and I did use bread flour instead of all-purpose.
Recipe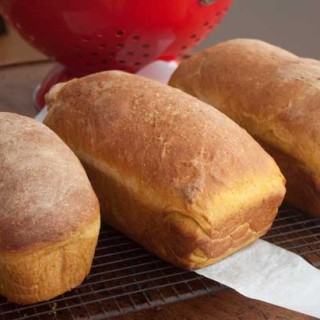 Pumpkin Yeast Bread
This recipe makes 2 9×5 inch pumpkin flavored loaves of bread or 1 loaf of bread and two 8 inch round pans of rolls.
Ingredients 
6 1/2

cups

King Arthur bread flour

or all-purpose — 780 grams

1/2

cup

packed light brown sugar

105 grams

2 1/2

teaspoons

salt

1

teaspoon

pumpkin pie spice

2

packets

packets instant "quick rise" yeast

1/2

cup

lukewarm milk

2

large

eggs

1 1/2

cups

canned pumpkin

330 grams

2

tablespoons

vegetable oil
Instructions 
Mix 5 1/2 cups of flour, brown sugar, salt, pumpkin pie spice and yeast in the bowl of a stand mixer.

Add the milk, eggs, pumpkin and oil and stir until mixed.

Gradually add the remaining flour until dough is not too dry, but not too wet. If it seems very dry, add a tiny bit of water.

Attach the dough hook to the stand mixer and knead until smooth and elastic.

Put the dough into a greased bowl and let sit for 60 minutes or until doubled.

Press down the dough, and turn it out onto a lightly oiled work surface. Divide it into however many sections you need. You'll have over 3 pounds of dough.

Shape dough into loaves — two 9×5 ot two 8×4 inch loaves and a mini loaf or some rolls.

Cover the pan(s) and let the loaves/rolls rise until almost doubled, about 45 minutes. Toward the end of the rising time, preheat the oven to 350°F.

Bake the bread for 30 to 35 minutes, or until its crust is a deep golden brown, and a digital thermometer inserted into the center registers about 190°F.

Remove the bread from the oven, and turn it out onto a rack to cool. Store completely cool bread or rolls well-wrapped, at room temperature, for several days; freeze for longer storage.

loaves; or 1 loaf and 12 to 16 rolls; or 24 to 32 rolls.