Up until this weekend, the only time I baked brownies in a glass or Pyrex dish was when I was making the microwave version. Because even though glass is pretty, metal pans have always seemed more reliable in terms of heat conduction and most recipes are developed for metal, anyway. But I've noticed a lot of people still bake brownies in glass and have always wondered why. Was it because they only had a particular size dish in glass? Was it for aesthetic reasons? Or was it that their recipe just worked better with glass. I guess it really depends on all the variables.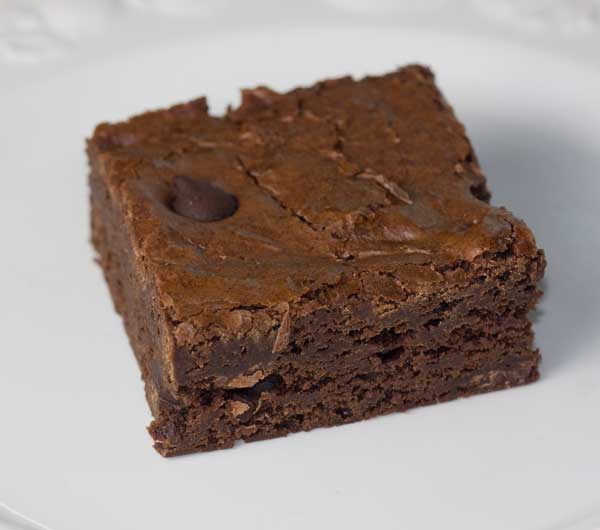 This weekend I found a recipe that works really well in a glass dish. The brownies have a lovely shiny top (mine was shinier before I chilled it), are fairly flaky, and have a fudgy but not too dense (bordering on cakey without being cake) center. They're also less greasy than high butter recipes, but still have plenty of satisfying chocolate flavor.
Mmm Brownies
Originally submitted it as Mmmmm Brownies on Allrecipes.com, this is a lot like a recipe I used to make as a teenager that called for chocolate chips. I've made it a couple of times over the years with variations, but this batch was particularly good.  I used a mixture of brown sugar and granulated, a mixture of chopped chocolate and melted chips, used cold eggs to ensure they wouldn't cook in the batter, reduced the salt, and added more chocolate chips at the end. The brownies finished baking in exactly 25 minutes and after a 90 minute cool time and a brief chill, they were just perfect. Next time I'm going to double the recipe!
Glass Dish Brownies Can Be Baked In Metal Pan
Update:  FYI, you don't have to bake these in a glass dish!  Metal works just fine, and you can bake for either 25 or 30 minutes depending on how fudgy you want the brownies.  For the sugar, you can omit the brown and use ½ cup total of granulated sugar.  And for the chocolate, you can use just about any form of semisweet and/or bittersweet as long as it totals 9 oz.  Or just just 1 ½ cups (9 oz) of chips.
Recipe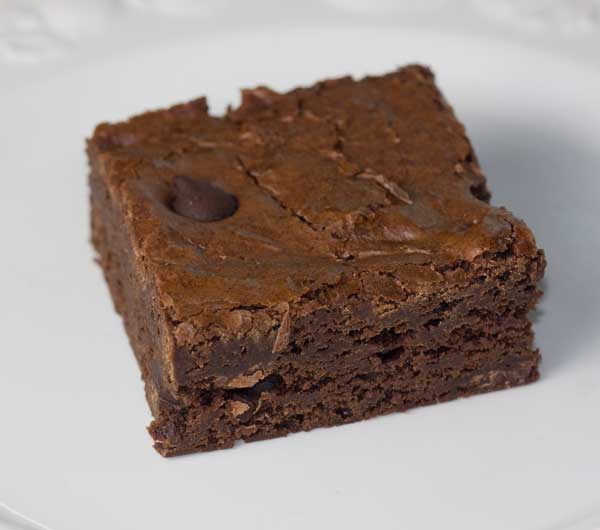 Glass Dish Brownies
Brownies baked in an 8 inch square Pyrex glass dish.
Ingredients 
¼

cup

granulated sugar

(50 grams)

¼

cup

light brown sugar

(50 grams)

2

tablespoons

unsalted butter

(28 grams)

2

tablespoons

water

(28 grams)

3

oz

semisweet or bittersweet, 60%

(84 grams)

1

cup

dark chocolate chips

(170 grams)

2

large

eggs, cold

½

teaspoon

vanilla extract

⅔

cup

all-purpose flour

(84 grams)

¼

teaspoon

baking soda

¼

scant teaspoon salt

Another ½ cup dark chocolate chips
Instructions 
Preheat the oven to 325 degrees F. Grease an 8 inch square Pyrex dish and line with a strip of parchment so that the brownies can be removed from the pan.

In a medium saucepan, gently melt the butter. Add the water and both sugars and bring to a boil. Remove from heat and stir in chopped chocolate and chocolate chips until melted and smooth. Chocolate will begin to thicken as you stir.

Whisk the cold eggs in a second bowl, and then whisk or stir them into the chocolate mixture. Whisk in the vanilla. Combine the flour, baking soda and salt; stir into the chocolate mixture. Add the remaining chocolate chips (make sure that the batter is not so hot that it melts them) and spread batter evenly into the prepared pan.

Bake for 25 minutes on the center rack until brownies appear set. Let cool to room temperature and then chill slightly. Lift from pan and cut into squares.