Today's cookies are a long awaited reward for some friends who ran the Capitol 10K, a big running event here in Austin.  Have I mentioned just how active people are in this city? It's good because it makes me feel less guilty serving desserts. All this running demands fuel, right? Fuel in the form of chewy, sweet, White Chocolate Macadamia Nut Bars.
Technically, these are blondies, but since they're chewier and thinner than some of my other blondie recipes, I'm calling them bars. The recipe is adapted from Classic Home Desserts: A Treasury of Heirloom and Contemporary Recipes
. In the past I've always used pecans and butterscotch chips in place of the macadamia nuts and white chocolate, but today I finally followed directions and used the same add-ins as Sax. Here's what they look like wrapped in 4×6 inch treat bags. Even though I'm serving them tomorrow, I'm going to store them in the freezer so that they'll be extra fresh. Blondie type bars almost always freeze well.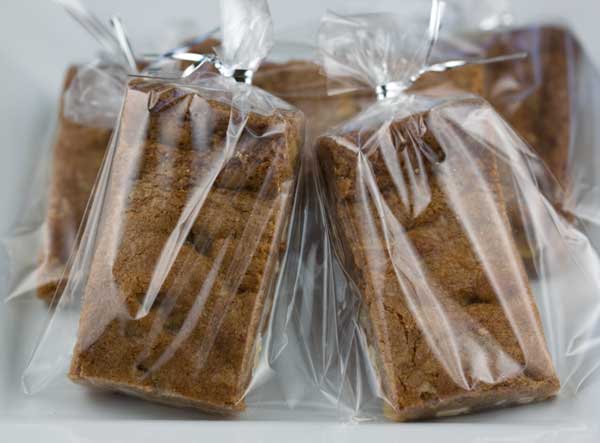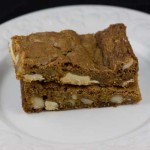 Print Recipe
Chewy White Chocolate Macadamia Nut Bars
White Chocolate Macadamia Nut Blondies adapted from a wonderful blondie recipe in Richard Sax's Classic Home Desserts.
Ingredients
3/4

cup

plus 2 tablespoons

100 grams sifted all-purpose flour**

1/8

teaspoon

salt

1/2

teaspoon

baking soda

1

large egg

3/4

cup

plus 2 T. packed

160 grams light brown sugar**

1

teaspoon

pure vanilla extract

1/2

cup

114 grams unsalted butter, melted and cooled**

1/2

cup

roasted macadamia nuts

I use lightly salted

1 4

oz

bar white chocolate

chopped (I use Ghirardelli)
Instructions
Preheat oven to 325 degrees F. Line an 8 inch metal baking pan with foil. Spray bottom only with cooking spray.

Mix the flour, salt and baking soda together in a small bowl.

In a mixing bowl, using a handheld electric mixer, beat the egg and brown sugar for about two minutes or until light and frothy.

Beat in the vanilla extract and then the COOLED melted butter. Add the flour mixture and stir with a big spoon or heavy duty scraper until it is mostly blended in, then stir in the nuts and white chocolate and stir until fully mixed.

Pour the batter into the pan, smooth the top, and bake on center rack for about 27 minutes or until a toothpick inserted in the center comes out with a few moist crumbs -- the top will be quite brown. Remove from oven and place on a wire rack. Cool completely before cutting into squares or rectangles.
Notes
You only need to sift the flour if you are measuring by volume. If you have a scale, you can just weigh out exactly 100 grams. This is because the original recipe called for "sifted flour" and sifted flour is lighter and doesn't have the same weight per volume as un-sifted flour.
Butter should be cool when added. One trick is to melt half a stick of butter in the microwave, the chop up the remaining butter and stir it into the hot melted butter. It will cool the butter as it melts.
Make sure the butter is cool.