If you need an excuse to bake a carrot cake, this carrot cake baked in a glass dish needs you! The tasting panel chose it in a side-by-side comparison to another recipe, but I'd like to hear from another baker. The recipe appears similar to other carrot cakes, but the texture is tight crumbed and light and the cake is thicker and taller thanks to the dish size. But what is really special about this cake is its dark brown color, which I've attributed to baking soda.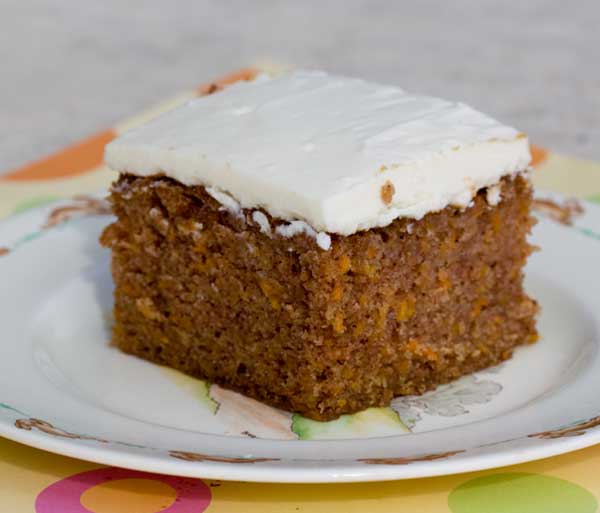 Using a full tablespoon of baking soda in a recipe makes me edgy.  Some people taste it and some people don't.  For me, it leaves a lingering sensation on the tongue which isn't entirely unpleasant depending on what it's baked into.  For  instance, baking soda's aftertaste is okay with ginger cookies, and based on this recipe, carrot cake.
Baking Soda for a Browner Carrot Cake
After I made this cake I made a half batch version of an almost identical recipe that used 1 teaspoon of baking soda and some baking powder. It also called for some brown sugar. Without the added baking soda, the color was less brown even with added brown sugar. So baking soda, not brown sugar, is what gives carrot cakes a browner color. I first realized this back when I made this banana bread baked at a low temperature. It has over a tablespoon of baking soda and becomes very dark as it bakes.
Alkalinity of Baking Soda Breaks Down Carrots
There's also the factor of the chemistry of baking soda in carrot cakes. Baking soda makes the batter alkaline, and the alkalinity of the batter breaks down the cellulose walls of the carrots (thank you Cook's Illustrated) so that they release moisture into the batter. So along with a browner cake, you get a moister cake with carrots that are more integrated into the cake. Using baking powder gives you more flakiness.
Glass Dish vs Metal Pan
So back to the dish. I usually bake cakes in metal pans, but sometimes for aesthetic reasons I use a glass dish. The most common size for cakes is 9x13 inch, but I wanted to make a slightly taller cake and baked this one in an 8x12 inch glass dish. For a more even bake, I used 325 instead of 350, which goes with the rule of cutting the temperature by 25 degrees when using glass over metal. I usually do, but a lot of times I'll forget to lower the heat when using glass and won't have any problems other than slightly chewier or browner edges.
Recipe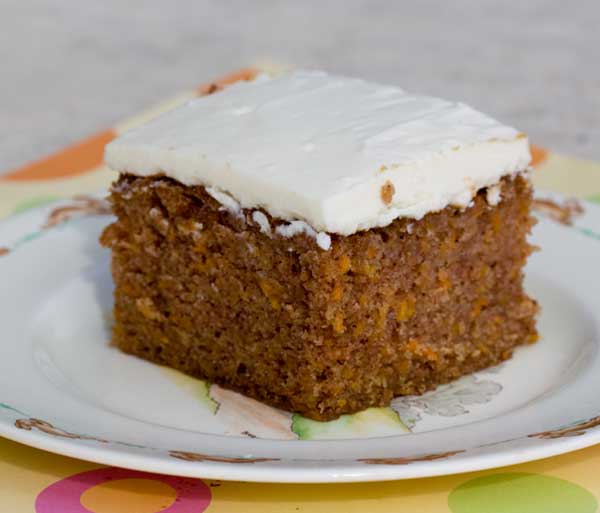 Carrot Cake Baked in an 8x12 Inch Glass Dish
A thick, dark, carrot cake baked in an 8x12 inch glass pan and topped with cream cheese icing.
Ingredients 
2

cups

all-purpose flour

9.8 oz

1

tablespoon

baking soda

1

tablespoon

ground cinnamon

¼

scant teaspoon of kosher salt

1

cup

vegetable oil

2

cups

granulated sugar

½

cup

buttermilk

3

large eggs

2

tablespoons

mayonnaise

or just use another egg

1

teaspoon

vanilla extract

2

cups

10 oz grated carrots (or shredded and chopped)
Frosting
8

ounces

cream cheese

softened

2

ounces

butter

softened

1

cup

powdered sugar

1

teaspoon

of vanilla extract
Instructions 
Preheat the oven to 325 degrees F. Grease an 8 x 12 inch glass baking dish.

In a large bowl, mix together the flour, baking soda, cinnamon and salt.

In a second mixing bowl, mix together the oil, sugar, milk, eggs, mayonnaise and vanilla.

Add the dry ingredients to the wet ingredients and stir until mixed. Stir in the carrots.

Pour the batter into the pan and bake for 45 to 50 minutes or until cake appears set. It will go from orange to a deep brown. Let the cake cool completely, then frost with cream cheese frosting.

To make the frosting, beat the butter and cream cheese until smooth, then stir in the powdered sugar. Beat until creamy, then beat in the vanilla. Spread over cake
Notes
The deep yet smaller pan size makes this cake thick. If you only have a 9x13 inch pan, that will work. Just watch the baking time (check at 40 minutes) and expect a thinner cake).