This weekend we visited Half Price Books and found a big stack of Eating Well magazines for a dollar each.  Score!  Or so you'd think.  I didn't feel like spending much money and only bought two.  Maybe I'll go back and buy the rest on Saturday, but for now here's a recipe from one of the issues I did buy.  This Almond Butter-Quinoa Blondie recipe is from the April 2013  Eating Well where it was adapted from Patricia Green's book, Quinoa Revolution.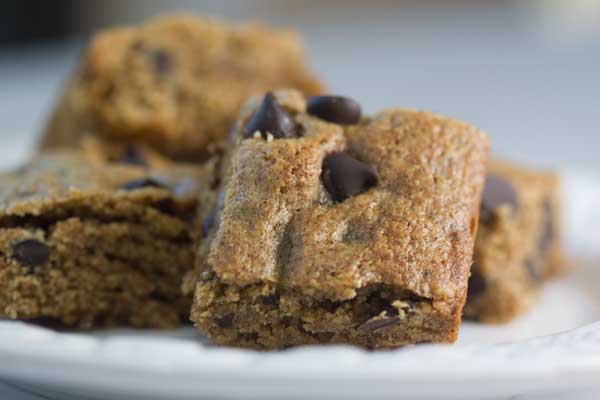 Quinoa is a grain that I am still learning to appreciate, and I was worried its flavor would overpower the blondies.  It didn't, but you can definitely taste it.  As far as finding quinoa flour, I appreciated that the author of the article recommended buying quinoa and grinding it up yourself in an old coffee grinder. Unless you have a big slew of quinoa flour recipes, this is so much more economical than buying a whole bag of quinoa flour; though I suspect the store bought flour would be somewhat finer and give you a smoother textured blondie.  My blondies were delicious, but had a coarser texture due to the flour.
Here's a link to the recipe on Eating Well.  The only thing I did differently than Eating Well was to halve the recipe and bake it for about 22 minutes in an 8 1/2 by 4 1/2 inch metal loaf pan.