A few weeks ago I bought some tri-color quinoa from the bulk food section at Whole Foods. After grinding most of it into flour to use in Quinoa Chocolate Chip Blondies, I started thinking about ways to use the rest and came up with these toasted quinoa bars.Because they were experimental, I made them in a loaf pan so that I wouldn't feel bad if I had to throw them out. But as luck would have it, they held together and tasted great.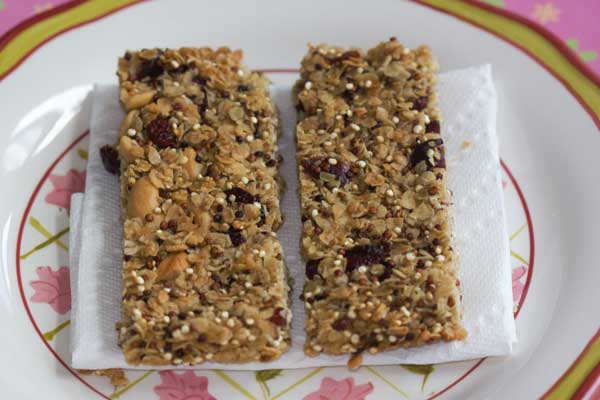 As mentioned, my biggest concern as I put these in the oven was that the bars wouldn't hold together and I'd be stuck eating them like granola. Sure enough, when I tried to lift the foil out of the pan while warm, the bars started to crumble. I let them cool a little more then finished off the cooling process in the refrigerator. This time, they held together nicely, though they did crumble a little around the edges. But overall, the flavors went really well together and the bars were pretty thanks to the tri-color quinoa.
New Improved With Peanut Butter
UPDATE: This recipe has undergone a complete makeover and is much better, but he new version DOES contain peanut butter. If you don't want to use peanut butter, almond butter should work.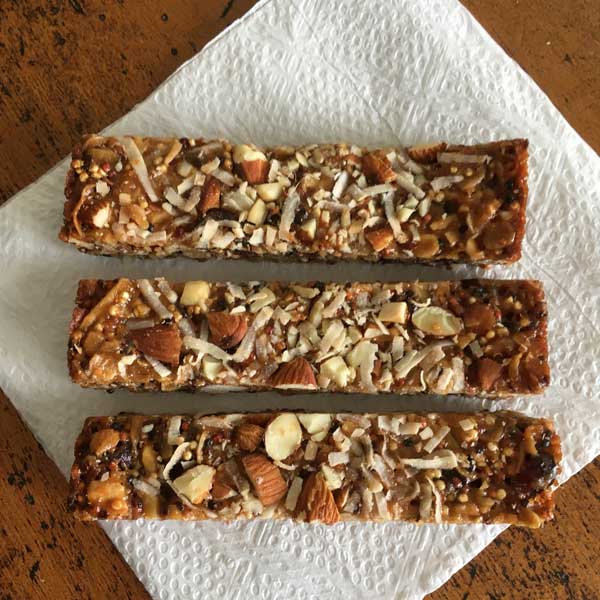 Finally, the inspiration for this new version is from a sight called Super Healthy Kids, but I made quite a few changes. I didn't need a full 9x13 inch pan, and thus scaled the recipe down to ⅓. In addition, I used a 9x5 inch loaf pan.
Recipe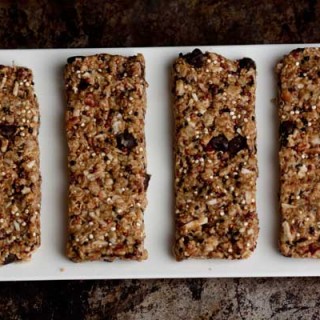 Toasted Oat and Quinoa Bars
Granola bars made with quinoa, oats, cashews and dried cranberries.
Ingredients 
⅓

cup

tri-color quinoa

⅓

cup

oats

quick cooking or old fashioned (not instant)

¼

cup

shredded coconut

unsweetened

⅓

cup

finely chopped roasted nuts

cashews or a mixture of cashews and almonds

2

or 3 tablespoons dried cranberries

1

teaspoon

coconut oil

1

tablespoon

brown sugar

3

tablespoons

peanut butter

¼

cup

honey

⅛

teaspoon

salt

¼

teaspoon

of vanilla
Instructions 
Preheat oven to 350 degrees F. Line a 9x5 inch metal pan with nonstick foil. Alternatively you can use regular foil and grease it or you can use parchment. Set aside.

Rinse the quinoa using your favorite method. I like to put it in a bowl, cover it with water, dump it all into a sieve, then rinse some more.

Drain the quinoa and spread it on a foil lined baking sheet. Add the oatmeal to the baking sheet and bake the two together for 5 minutes. Add the coconut and nuts to the baking sheet and continue to toast for another 5 minutes. Transfer to a mixing bowl.

In a saucepan, combine the coconut oil, brown sugar, peanut butter, honey and salt. Bring to a boil over medium heat.

Remove from heat and stir in the vanilla.

Pour the hot peanut butter mixture over the oats and add the vanilla and salt. Stir until well blended, then press tightly into the pan.

Bake for 18 minutes.

Let cool to room temperature, then chill for several hours. Lift from pan and cut into slices.
Notes
This recipe was designed for a large, 9x5 inch loaf pan -- preferably one that doesn't slant outwards too much, as you want a pretty flat and wide bottom to press the bars into.
For a 9 inch square pan, double the recipe.
For a 9x13 inch pan, triple the recipe.
If you try the recipe, let me know. I'd love to hear what you think about these toasted quinoa bars.