I discovered Whippet cookies at a grocery store in Quebec called Maxi.  If you've never heard of them, they are similar to Mallomars, with a soft sandy base cookie topped with a big blob of marshmallow and coated all over with chocolate. They are popular in Quebec, and for good reason. Whippet cookies have it all-- varying textures, interesting flavors and an enticing appearance. I couldn't wait to try making a version at home, and when I got back to Texas, I ended up making at least five batches using different methods.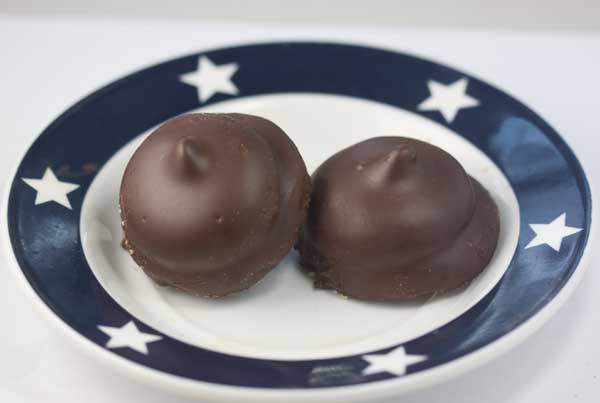 Base Cookie
I started with a recipe from Gale Gand from Food TV's website. I made it twice -- first with Gale's cookie base and second with packaged vanilla wafers. Gale's base cookies were crumbly and soft, but a little dryer than I'd hoped, while the packaged cookies worked surprisingly well.  Determined to find a good scratch cookie base, I settled on a modified Todd English recipe which includes a little wheat/graham flour, honey and cream. You get the best of both worlds in flavor, taste and texture.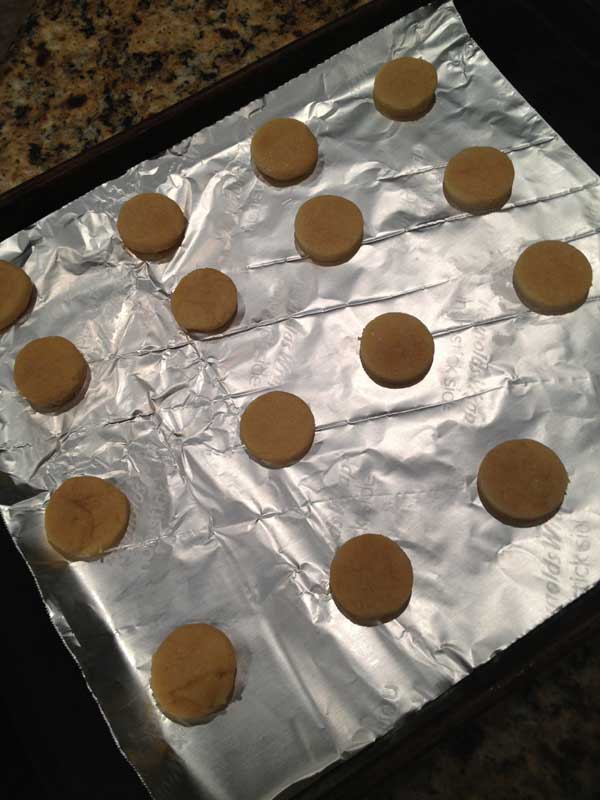 I also experimented with and without the pastry bag and found it was helpful, but not really necessary. With a pastry bag, you have more control over the process and get cookies with a lovely point.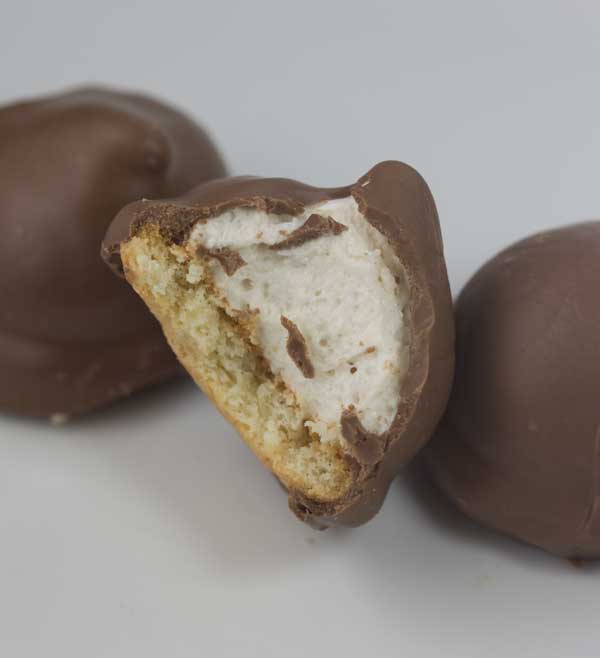 Without it, you get cookies that look more like this.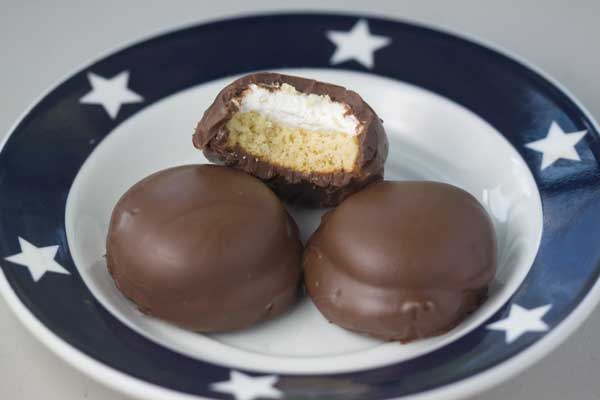 Close up!
Marshmallow Topping
For me, making the marshmallow topping was definitely the most exciting part of this recipe because up until last week, I'd never done it. For the first couple of batches, I used Gale Gand's marshmallow topping which was included with original cookie recipe. It tasted great, but the marshmallow mixture kept coming out gloppy. So next, I tried David Lebovitz's marshmallow recipe and it worked perfectly. So for my final recipe, I used a modified version of David's recipe for the filling.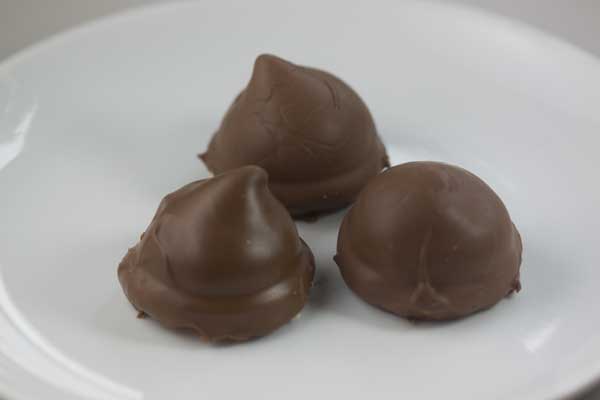 Chocolate Coating
After making marshmallows, the most interesting part of the recipe was the coating.  I was dreading the dipping process because I could picture the marshmallows falling off or melting right into the chocolate, but what happened was they held together perfectly and dipping was actually quite fun! I improved my dipping skills dramatically and brushed up on tempering by using a great tutorial from Chef Eddy, who also introduced me to the idea of buying food grade cocoa butter.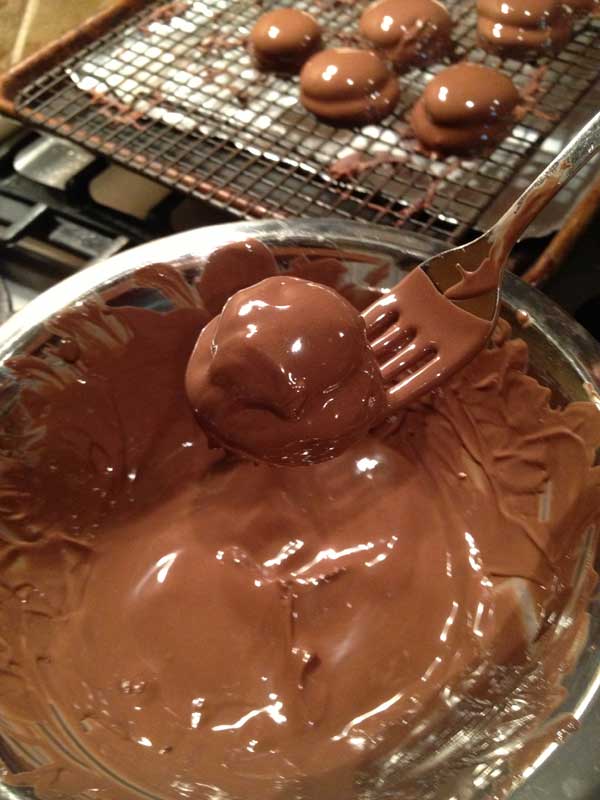 Final Whippet Cookie Clone
So this is the recipe I came up with in the end. The base is a wheat and honey cookie from Todd English, the marshmallow topping is adapted from David Lebovitz's recipe and the coating is whatever chocolate you can afford. I'd love to hear your variations and modifications. I will also mention that I tried using Alton Brown's Vanilla Wafer recipe as a base as well as an old soft, sour cream Amish recipe. Gale and Todd's recipes came out on top, as the others were either too sweet or too hard. After Gale and Todd's recipes, I'd say packed Nilla Wafers were the third best choice. Still, you could have a lot of fun matching cookie bases to marshmallow in this recipe. I'm thinking peanut butter for the next round....
Recipe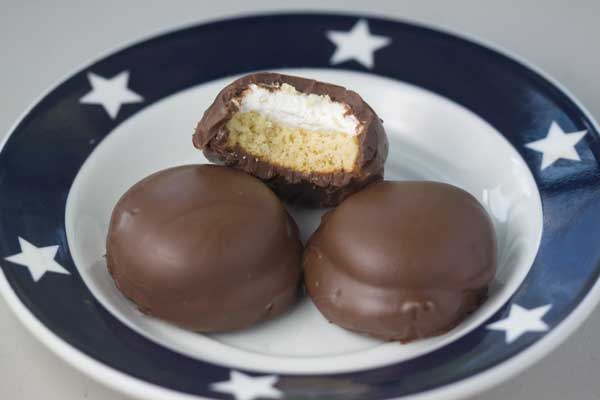 Homemade Whippet Cookies
Homemade chocolate covered marshmallow cookies.
Ingredients 
Cookies
1 ¾

cups

7.9 oz all-purpose flour**

½

cups

plus 2 tablespoons

2.8 oz whole wheat (graham) flour

¾

scant teaspoon salt

⅜

teaspoon

baking soda

10

tablespoons

5 ounces unsalted butter, softened

⅓

cup

confectioners' sugar

2

tablespoons

and 2 teaspoons granulated sugar

2

tablespoons

beaten egg

2

tablespoons

honey

1

tablespoon

heavy cream

1

teaspoon

vanilla extract
Marshmallow Topping
2

large egg whites at room temperature

1

envelope

gelatin (2 ½ teaspoons)

(7 grams), knox brand

¼

cup

+ 8 teaspoons cold water

½

cup

granulated sugar

2

tablespoons

and 2 teaspoons light corn syrup

Pinch

of salt

1

teaspoon

vanilla extract

1

pound

good quality tempered chocolate plus 1 tablespoon of shortening or cocoa butter or coconut oil.
Instructions 
Combine the all-purpose flour, whole wheat flour, salt and baking soda and set aside.

In a standing mixer fitted with the paddle, beat the butter with the confectioners' sugar and granulated sugar until light and fluffy. Beat in the egg, followed by the honey, cream and vanilla. Add the flour mixture and stir until a dough forms.

Pat the dough into a ¼ inch thick (thinner, if you prefer) slab on large baking sheet lined with parchment paper or nonstick foil. Chill for at least 30 minutes or until very firm. Dough starts out very soft, so chilling is necessary.

Preheat the oven to 350°. Using a 1 or 2-inch round biscuit cutter, cut out about 30 rounds (you'll get more with the smaller cutter). Arrange on two large cookie sheets and bake one sheet at a time on center rack for 10 minutes or until the bottoms are nicely browned. Transfer the cookies to a rack to cool.

Prepare the marshmallow. Fit a large pastry bag with a ½ inch round tip.

Put the egg whites in the bowl of a stand mixer fitted with the whisk attachment.

Put ¼ cup of water in a small bowl and sprinkle the packet of gelatin over it. Stir well.

In a small saucepan, combine the remaining 8 teaspoons of water, sugar, corn syrup and salt. Using medium heat, heat without stirring until a candy thermometer registers 240 degrees (soft ball stage).

While the syrup heats, beat the eggs with the whisk attachment until stiff peaks form. If eggs form peaks before syrup reaches 240, stop the mixer. When the syrup hits 240 degrees, turn the mixer back on and pour it into the egg whites in a thin stream. Use a rubber scraper to make sure you get it all.

Scrape the gelatin into the still-hot saucepan and stir it so that it thins and dissolves from the residual heat. Add it to the mixer while it is still going. Add the vanilla and keep on beating for 5 minutes or until bowl feels cool and mixture is thick enough to pipe. Pipe mounds of marshmallow on top of the cookies and let the marshmallow topped cookies sit on a rack for at least two hours. After the two hours have passed, you can move on to dipping OR you can freeze the cookies and dip them when convenient.

For dipping, use your favorite method. I recommend tempering the chocolate, but that takes practice. Temper the chocolate if you know how, or just melt the chocolate and fat in a double boiler. Dunk each cookie one by one in chocolate and lift with two forks, letting chocolate run down the sides. Set on a rack that you've placed over a sheet of foil or parchment to catch drips.