Chocolate Covered Peanut Butter Pretzels were inspired by a recent trip to Make it Sweet, a cake decorating shop in North Austin which I finally got to visit.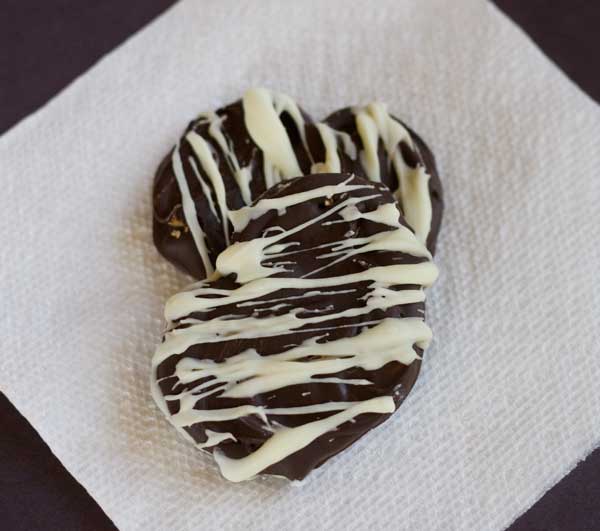 I live south and rarely venture north of the river, but I agreed to take a break from baking last weekend and go to a pinball arcade with the family.  On the way to "Pinballz", we saw the Make it Sweet sign and I remembered that the old All in One Bake Shop had taken on a new location and name. So (fast forward through the whole pinball experience) we stopped at Bake it Sweet, where I almost hyperventilated upon walking in the door. They had everything I'd been ordering or had thought about ordering from on-line retailers -- glucose to make some of the Milk Bakery recipes, hi-ratio shortening (which some decorators use in frosting), sprinkles in more shapes than you can fathom and a few different high quality vanilla extracts. I was a little overwhelmed, but I did walk out with something -- a bag of these Callebaut couverture.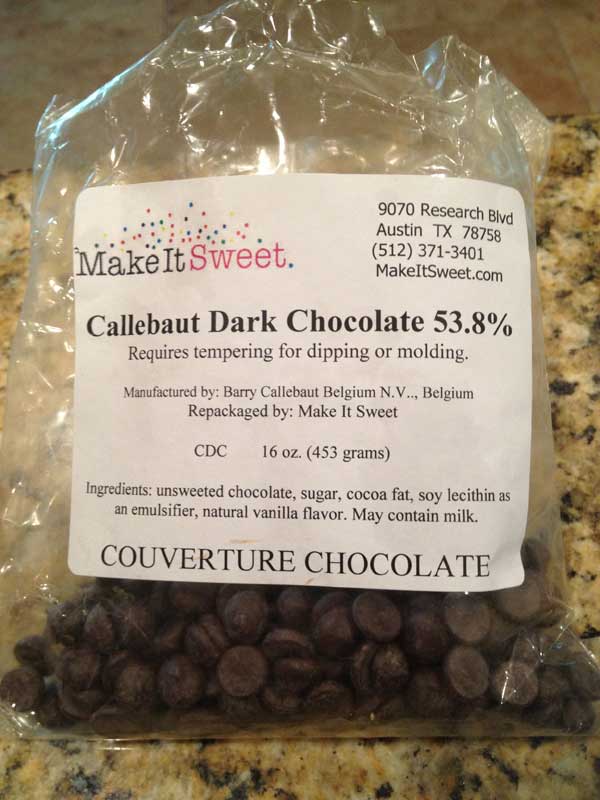 This chocolate requires tempering, and what I've learned about tempering is that there's more than one way to do it and that it seems like different types of chocolate respond best to different methods. This Callebaut responded well to the simplest method possible, the microwave. After reading dozens of chocolate tempering tutorials (my favorite is from Chef Eddy) and tempering with a double boiler and thermometer, I felt like I was cheating a bit when I used the microwave method. All I did was put the chips in a bowl, select 50% power, heat for 30 seconds, stir (even though the chips didn't look a bit melted), repeat for 30 seconds, then stir madly until all chocolate was melted.  I know my chocolate reached temper because it set up without refrigeration and had a nice little snap to it.  In my previous experiments with the double boiler method, I just couldn't get the chocolate to set without refrigerating it. Sorry for all the commentary. It was a long introduction to what I think is a fun little candy craft called Chocolate Covered Peanut Butter Pretzels. You can use fancy chocolate, every day chocolate, milk chocolate or even dark chocolate chips.The pretzel in the top photo was made with Callebaut and the pretzels in the step-by-step photo were made with a melted Hershey's Dark bar. The chocolate actually got darker after it set.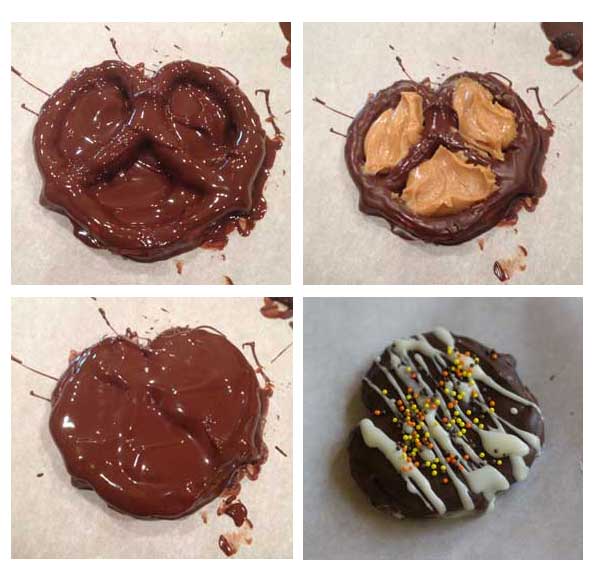 Recipe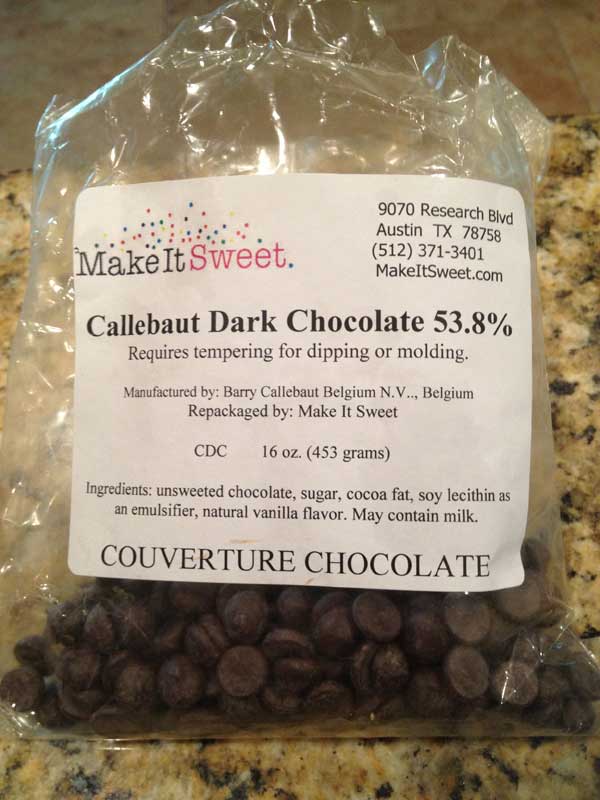 Chocolate Covered Peanut Butter Pretzels
Chocolate Covered Peanut Butter Pretzels
Ingredients 
12

regular size pretzel twists

though minis would be great!

6 to 8

oz

of chopped dark or semisweet chocolate

Some creamy peanut butter

3

oz

more or less of chopped white chocolate
Instructions 
Line a tray or baking sheet with parchment paper.

Melt the chocolate in a microwave-safe bowl at 50% power, stirring after 30 seconds. Repeat, microwave for another 30 seconds and stirring until completely melted.

Dip a pretzel in the chocolate and let excess chocolate drip back into the bowl.

Lay it on the parchment paper. Spoon a small amount of chocolate into each pretzel loop -- don't fill it completely, just put in enough to make a "floor" to hold the peanut butter.

Repeat until you've used all the pretzels, then put them in the refrigerator to set.

Remove from the refrigerator. Spoon tiny bits of peanut butter into each pretzel loop.

Return melted chocolate to microwave and heat at 50% power for about 20 seconds to re-soften.

Spoon chocolate over tops of each pretzel so that it completely covers the peanut butter.

Return to the refrigerator to set or attempt to let set at room temperature. This will take much longer, but it might give you a shinier pretzel. It really depends on what type of chocolate you are using and whether it was in temper when you put it on.

When chocolate is set, repeat melting procedure with white chocolate. Drizzle the white chocolate. Scatter a few sprinkles on top if you feel like it, then put in the refrigerator to set.
Notes
The chocolate amounts are not precise -- you may need more, you may need less.