Have you started thinking about pie crust yet? I use to obsess over it this time of year trying to remember which of my gazillion recipes is the best, but I guess I'm mellowing  with age because these days I'm happy with one. Okay, two. The two recipes that have garnered the most compliments are the basic Crisco recipe (with half butter flavor, half regular shortening) and a recipe called Grandma Ruth's from Allrecipes.com. I had to choose between the two this week when I made this Chocolate Cream Pie.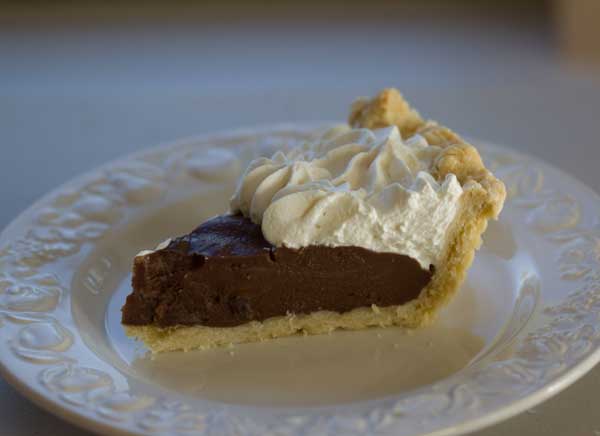 Because the Chocolate Cream Pie filling recipe is from Crisco, I went with Crisco's Classic Double Crust so that I'd have plenty of dough to work with even though it's a single.  I'm not exactly pie crust challenged, but I haven't made enough crusts to get a job at The Crisco hotline (1-877-FOR-PIE-TIPS (877-367-7438).  By the way, I dare you to call. Wait, no I don't.  Only call if you have a question about pie crust. I wonder what percentage of their calls are actually questions about pie crust and how many are just people who want to talk?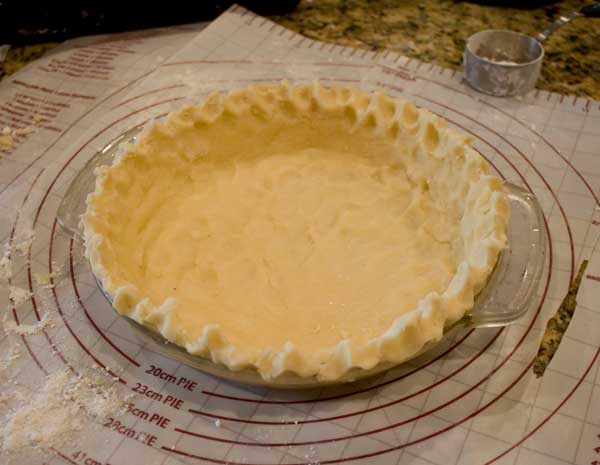 Now back to this pie. The filling is stiff and easy to cut and has just the right level of sweetness. Its chocolate flavor comes from 2 ounces of unsweetened chocolate, unlike some recipes that are sweetened with bittersweet chocolate or have cocoa in the filling. Speaking of which, my other favorites are Sunset's, which is slightly richer and makes more filling, Michelle's, which is just about perfect in every way, and Earl's (with whipped cream instead of meringue) which is inexpensive and better than the ingredient list and my photo makes it seem.I might make another "Earl's" just so I can swap out that awful picture.
Recipe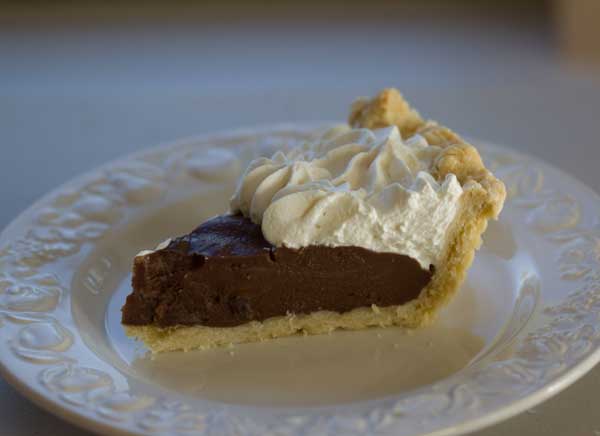 Chocolate Cream Pie
A basic chocolate cream pie recipe that calls for unsweetened chocolate and milk
Ingredients 
Single or Double crust Classic Crisco Pie Crust

1

cup

sugar

⅓

cup

cornstarch -- scant

¼

teaspoon

salt

2

cups

whole milk --don't skimp

2

large egg yolks

slightly beaten

2

1 oz. squares unsweetened chocolate, chopped

1

tablespoon

butter

1

teaspoon

vanilla extract
Topping:
8

oz

of heavy whipping cream

¼

cup

confectioners' sugar

1

teaspoon

of vanilla
Instructions 
Parbake your pie crust by blind baking as directed on the package or if using scratch, covered with parchment and pie weights at 375 for 20 minutes and uncovered at 350 for 20 minutes or until done.

Combine sugar, cornstarch and salt in 2 quart saucepan. Whisk in milk gradually. Cook and stir over medium heat until mixture thickens.

Remove from heat. Blend small amount of hot mixture into egg yolks. Blend back into hot mixture, stirring to combine. Cook and stir over medium heat until mixture boils.

Boil for 1 minute, stirring constantly. Remove from heat. Add chocolate, butter and vanilla. Stir until chocolate melts. Pour into prepared pie crust. Press plastic wrap onto surface of pie filling to prevent skin from forming. Refrigerate several hours until completely cool or overnight.

When the pie is chilled, whip the cream and beat in the confectioners' sugar and vanilla. Pipe it around the edges or spread it over the top.
Notes
Recipe adapted from the Crisco collection.