This is a rambly old post about cookie exchange cookies or cookies that you might consider for a cookie swap. I'm keeping it here because the post contains links to some of my all-time favorites.
With December in full swing, I thought I'd share some of my favorite and most reliable cookie exchange cookies. Some are old and a few are new additions to the list, but what they all have in common are the good reviews they've received from friends and are good for cookie exchanges.
So here we go!
First up are Italian Wedding Cookies aka Tri-Color Cookies aka Rainbow Bars. I used to be able to find these at little Italian bakeries in New York, but since my neighborhood here in Austin doesn't have any little Italian bakeries, I had to learn how to make them myself. I tried quite a few different recipes and finally settled on a recipe.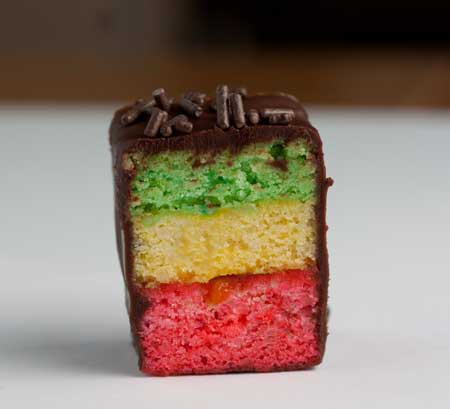 These Peppermint Brownies are good cookie exchange cookies (even though they are brownies). You're guaranteed to make a good impression with these, no matter what. They're cool looking. Just keep them away from the other cookies so they don't make everything taste minty.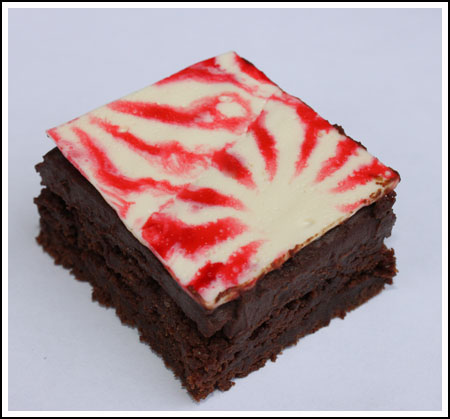 Melted Marshmallow Brownies are a new addition to the list. They're not Christmas-y, but if you're in the kitchen baking, why not give them a try?  The chewiness will be a conversations starter at parties and people might ask you for the recipe.  Besides, you can always jazz them up a bit with by putting them on a cute plate or garnishing with colored candies.
And of course I had to add Brownie Bark! This is a new creation and I haven't yet served it at a holiday party, but I've served it at non-holiday parties and it's always a hit. I like to drizzle the cookie bark with melted white and dark chocolate before breaking it up.
The Monster Bar is also really good and would be fun to make with Christmas colored M&Ms.
And then there are these Chocolate Covered Peanut Butter Pretzels! These are kind of relaxing and fun to make, but they do require some time due to having to wait for the chocolate to set. They freeze well and look very festive wrapped in cellophane.
I also recommend the Crispy Mini Chocolate Chip Cookies for those of you who like cookies that are not only miniature, but crisp through and through. For the holidays, you could add a few colored candies and put them in cellophane bags with a silver twist-tie.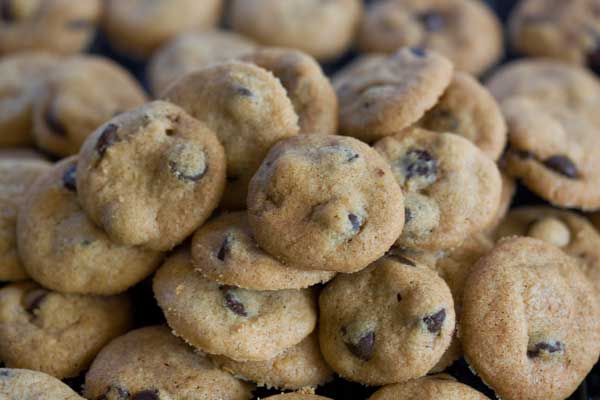 A relatively new discovery, these are the best M&Ms Bars I've tried. I don't have to say this again but I will anyway: Christmas colored M&Ms.
Speaking of which, this is the only M&Ms Cookie I use. A mixture of shortening and butter is the key to the fabulous texture which is a little bit crispy and a little chewy in the center.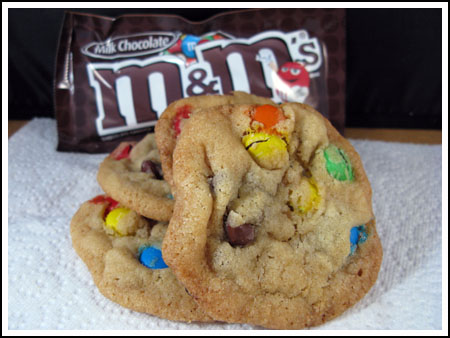 An oldie but a goodie, these Sparkle Cookies were all the rage years ago when I first started blogging. I always forget about this recipe, and that is too bad because it is a good one. The cookies are festive and dainty, yet very chocolaty.
If you like a little cream cheese with your chocolate and want to impress all the kids in the room (or at least the ones who like cheesecake), make Ultimate Black Bottom Cupcake. Not a cookie, but more like a brownie in cupcake form therefore passable. You could make these in holiday cupcake papers and throw a few green & red sprinkles on top.
Grandma coming over? Fine Cooking's Gingerbread Biscotti is a good bet. These are loaded with flavor and crunch and can be made way ahead of time.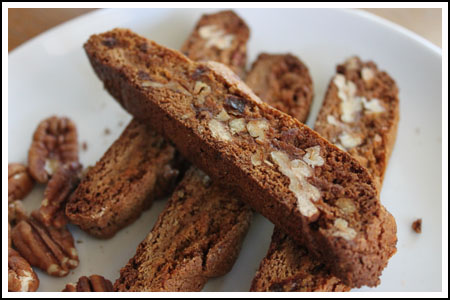 Secret Ingredient Sugar Cookies are excellent! The dough isn't great for using cookie cutters, but you can make plain round cookies and decorate with holiday sprinkles.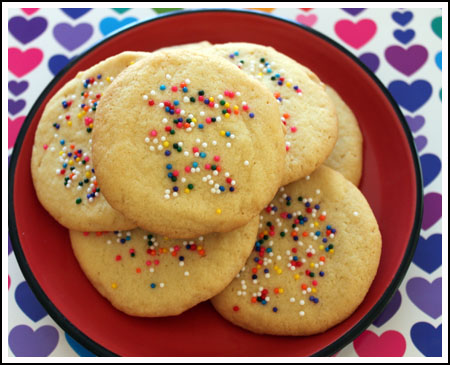 Graham Cracker Candy -- Easy and delicious. I also like the version that calls for Saltines.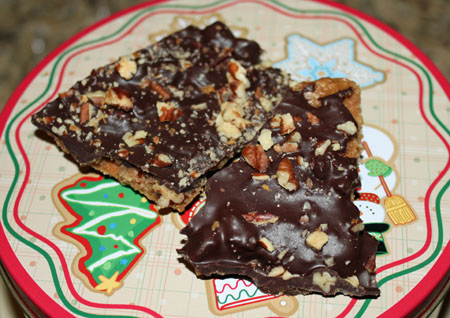 Butterscotch Pecan Crinkle Cookies are perfect for butter pecan lovers.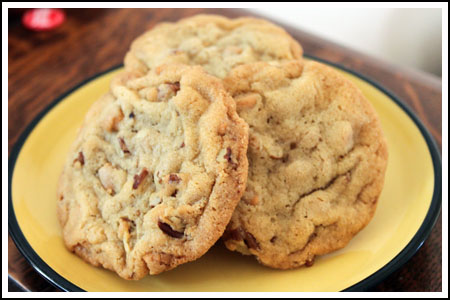 Peanut Butter Marshmallow Krispy Brownies start with a boxed mix which you top with a mixture of marshmallow, Rice Krispies, chocolate and peanut butter. If you make them a day ahead and chill them overnight, I don't think they'd be too messy for a cookie party or event.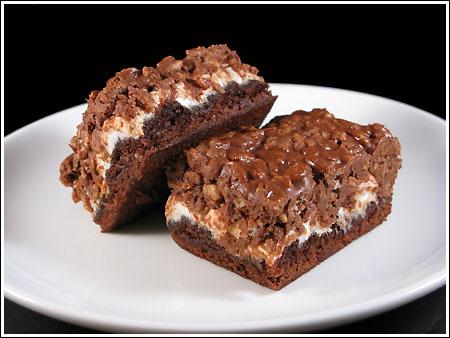 If you're overwhelmed with shopping but still need to make something fun (and good), another old favorite is Chinese New Year Candy.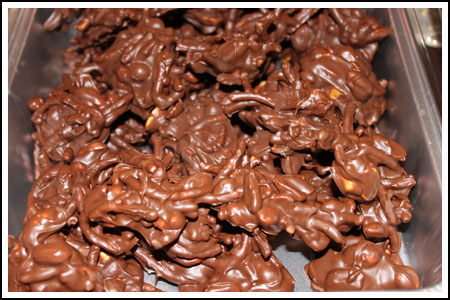 If you are a fan of Lemon Squares, here's a good recipe. Lemon squares are good cookie exchange cookies mainly because people forget about them. Be the person who doesn't forget!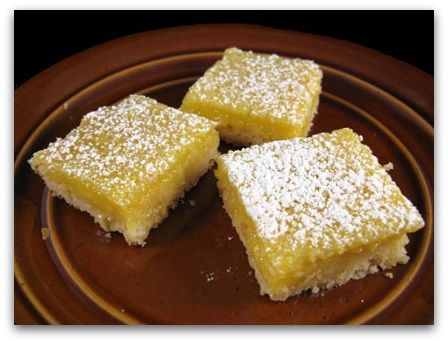 Peanut Butter Blossoms! No holiday party is complete without them...unless it's a peanut-free party.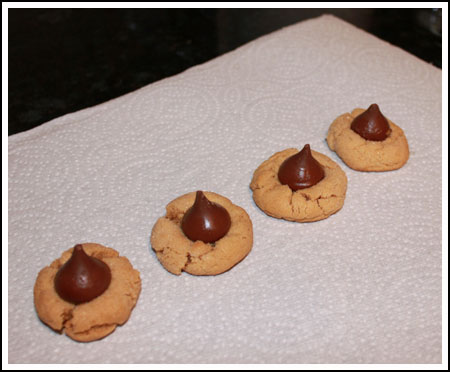 Iced Anise Cookies are perfect for this time of year and so pretty.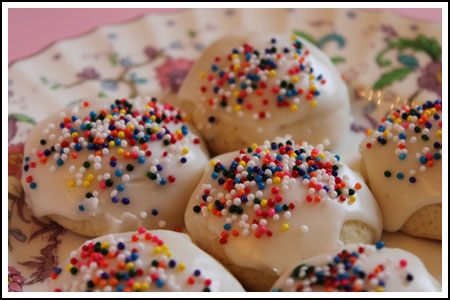 50 Good Cookies live up to their name.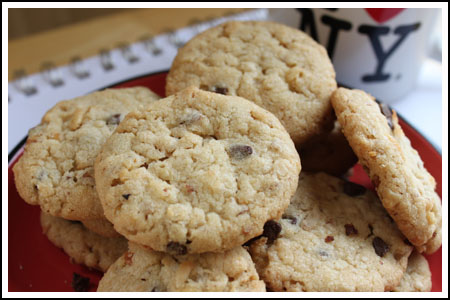 Another one for the mint lovers out there -- Grasshopper Brownie Cookies. Sorry about the old photo, but the cookies are good. Remember -- keep mint cookies away from the other cookies.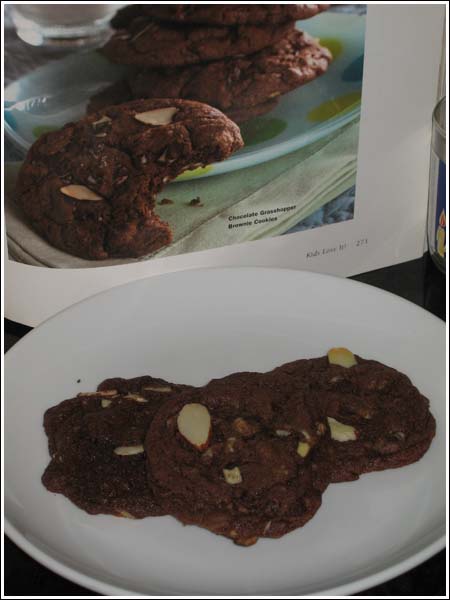 And finally, here's one for the ginger lovers out there. This is my favorite gingersnap recipe and I hope it will be yours, too. These are super simple and don't require an electric mixer.