Small Boston Cream Poke Cake is a half batch recipe for Boston Cream Poke Cake baked in an 8 inch square pan.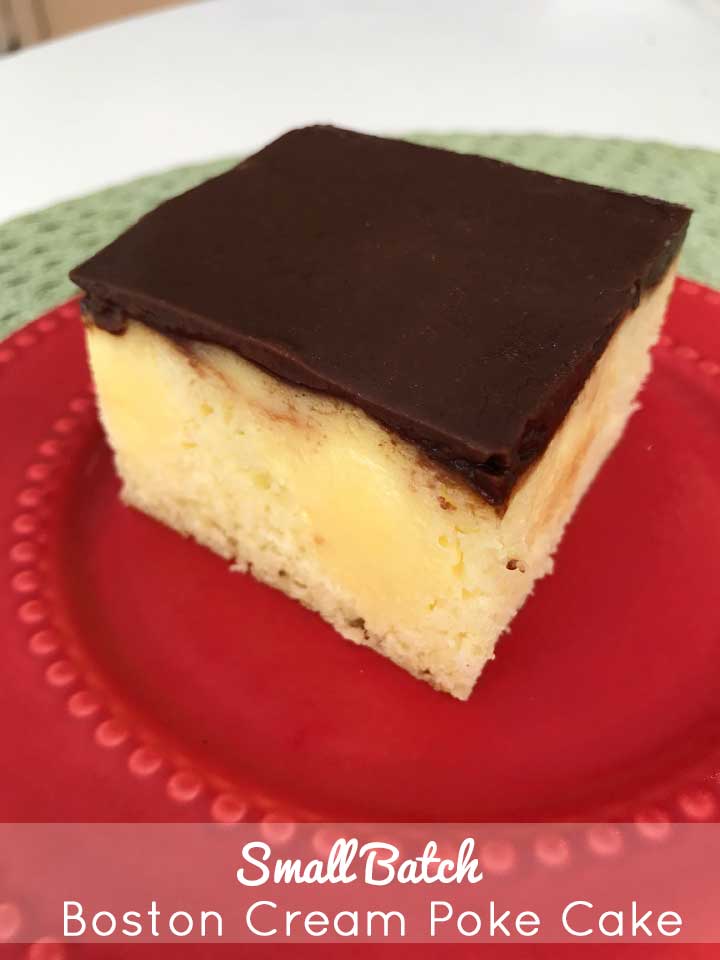 8 Inch Pan Boston Cream Poke Cake
I originally posted this as a full size 9x13 inch poke cake, but since I almost always halve the recipe I figured the half batch version might be more useful for people looking to make the cake for a smaller group.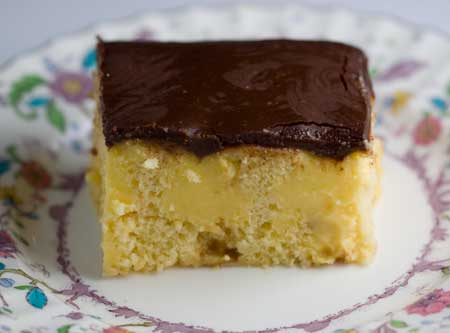 Half Box of Cake Mix
Using half a box of cake mix might feel weird at first, but after a while you'll wonder why you haven't always made 8 inch cakes. I suspect at some point as households become smaller the cake mix companies will make box mixes for one layer cakes, but for now it's really easy to just weigh out half the amount of cake mix using a scale. You can store the remaining cake mix in a zipper bag and tuck it back into the box until you are ready to make another half size cake. I suggest a six inch enhanced cake mix marble cake!
Update: I haven't tested this recipe in a deep dish pie pan, but I think it would work really well in a 9 inch deep dish pie pan instead of an 8 inch square pan. Next time I make it I'll use a pie dish and see how it goes.
Recipe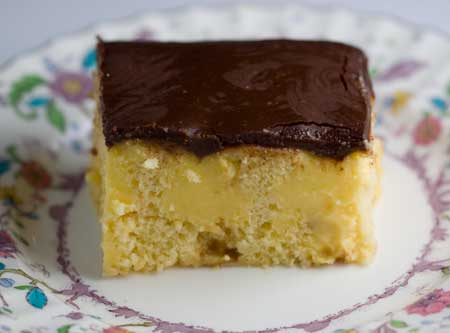 Small Boston Cream Poke Cake
An easy Boston Cream Pie flavored poke cake made with pudding, cake mix and a simple homemade glaze.
Ingredients 
Half Box

216 grams

yellow cake mix plus

half of all ingredients called for on box

2

cups

milk

2%

1

(3.4 oz)

box regular or French vanilla pudding (instant)

2

tablespoons

unsalted or salted butter

1

ounce

unsweetened chocolate

chopped

1

cup

sifted powdered sugar

2

tablespoons

boiling water

½

teaspoon

vanilla extract
Instructions 
Mix the cake mix as directed on the back of the box using half of all ingredients, then bake the cake as directed in an 8 inch square pan. Let the cake cool completely, then poke holes in the cake with the handle of a wooden spoon. Try to space them a little less than 1 inch apart and make sure they're pretty deep.

Combine pudding mix and milk in a large mixing bowl (preferably one with a spout). Using a whisk (or mixer if you prefer), beat just until smooth - -about a minute. Pudding should still be thin and runny. The point is to just get rid of the lumps. Carefully pour the pudding into the holes. Do this slowly until holes are completely filled, but pudding is not flowing all over the top of the cake. You'll probably have some leftover pudding.

Put the cake in the refrigerator and chill for about an hour or until the cake is very cold.

Prepare the topping. In a saucepan, melt the butter. Add the chocolate and stir over low heat until chocolate is melted. Remove from heat and beat in the sugar and boiling water, beating with a whisk until smooth. Beat in the vanilla. Pour over the cold cake. Return to the refrigerator and let the frosting set. Chill until ready to serve.