This is my favorite yellow cake recipe ever. It uses the two stage method, or as I like to call it, the "written in reverse" method because a) I like the song and b) you mix the dry ingredients first, add in the fat, then add the liquid in stages. So it's not completely in reverse, but you do start with the dry ingredients instead of creaming the butter with the sugar.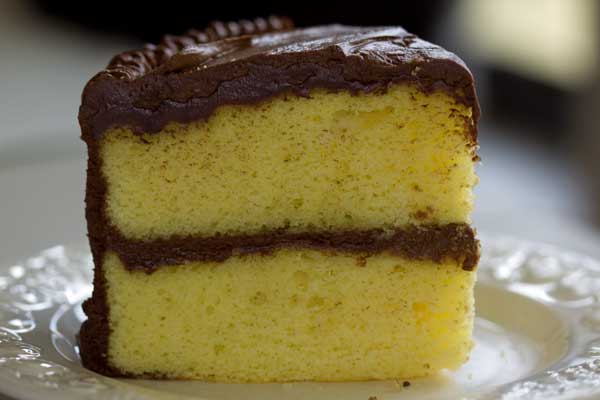 Yellow Cake Flavor
Anyhow, I like this recipe because it makes a yellow cake that is actually yellow (some yellow cakes turn out white) and because the texture is light and non-crumbly, and the flavor is a little more interesting than just plain vanilla thanks to a special extract.
More Yellow Cake Tips!
Yellow cake is supposed to be simple, but the truth is it requires way more attention to detail than a lot of other cakes -- even chocolate.
1. You should definitely use cake flour for best results. Cake flour weighs about 4 oz per cup and all-purpose flour weighs about 5, so if you use 3 cups of all-purpose flour you'll be using closer to 15 oz of flour than 12. Don't swap flours unless you know what you are doing (and using a scale).
2. McCormick Vanilla Butter & Nut (now called Cake Batter Flavor) extract is my new favorite yellow cake ingredient. Along with an interesting flavor that seems perfect for yellow cake, it has a bit of yellow food color mixed in.
3. And finally, egg yolks add a bit of color, but more importantly they add a softer texture. Please don't be tempted to substitute whole eggs.
UPDATE:  This cake is great with the special extract, but don't skip it just because you can't find it because regular vanilla is fine. Also, this recipe halves well, so you can make a small layer cake using 6 inch round pans if you prefer.
Recipe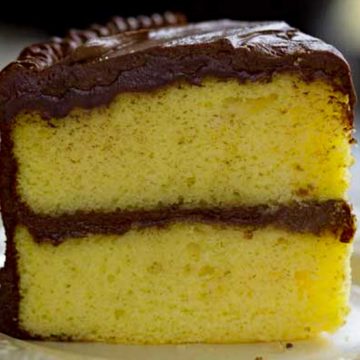 Yellow Cake With Chocolate Frosting
A classic American style yellow cake recipe with chocolate frosting. This recipe uses the two-stage method in which dry ingredients are mixed with part of the liquid and the remaining liquid is added in stages.
Ingredients 
4

large

eggs at room temperature

2

large

egg yolks

1 ½

teaspoons

McCormick vanilla butter & nut extract

or 1 teaspoon vanilla

1

teaspoon

vanilla

1 ¼

cups

buttermilk

room temperature

3

cups

cake flour

350 grams

2

cups

granulated sugar

(385 grams)

4 ½

teaspoons

baking powder

½

teaspoon

salt

2

sticks

unsalted butter

(230 grams)
Chocolate Frosting
1

stick

unsalted butter

softened (114 grams)

pinch

or two of salt

3

cups

powdered sugar

(350 grams)

¾

cup

cocoa powder

2

tablespoons

sour cream

6

tablespoons

heavy cream plus milk as needed or 3 of each
Instructions 
Preheat the oven to 350° F. Grease and flour two 9 inch round pans. Side should be at least 2 inches high.

Whisk the eggs, yolks, extracts and ¼ cup of the milk in a bowl.

In a stand mixer bowl with the paddle attached, combine the flour, sugar, baking powder and salt. Stir until thoroughly mixed.

Add softened butter (and shortening if you are using half and half) to the flour mixture and stir with a spoon or mash with a scraper until butter coats flour. Add the remaining 1 cup of milk to the flour mixture and stir until thick and pasty.

With the mixer, beat on medium for about two minutes. Gradually add the egg mixture, scraping down sides of the bowl. Beat on medium for about 30 seconds.

Pour the batter into the pans and bake for about 30 minutes or until cakes spring back when touched. Let cool for 10 minutes in pan, then invert and let cool completely.

To make the chocolate frosting, mix the softened butter, salt and powdered sugar together in a bowl. Stir in the cocoa powder, sour cream and cream and beat until well mixed. Add vanilla, then continue beating with an electric mixer and adding milk as needed until icing is thick and creamy. Add more sugar if it's not sweet enough for you.
Notes
This cake halves perfectly. Halve all the ingredients and use 6 inch round pans. Also, for the frosting you can use a different ratio of cream if you prefer or even use whole milk in place of cream. The cream adds richness, but whole milk is still very good.