This is a very delicious and rich yellow cake recipe with chocolate frosting. It is one I first made while testing multiple yellow cake recipes.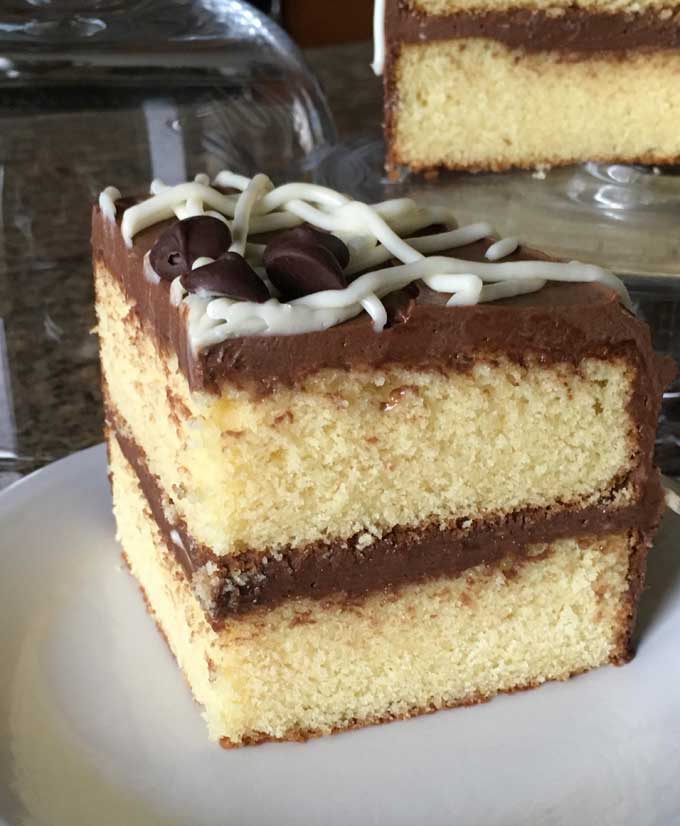 This recipe was the sixth yellow cake tested. What was interesting about it, other than that it was recommended by my friend Rina who is a fabulous baker and makes a lot of cupcakes, is all the butter. This recipe calls for 2 1/2 sticks — 10 oz.   I was curious to see how a cake made with loads of butter would compare to the other 5.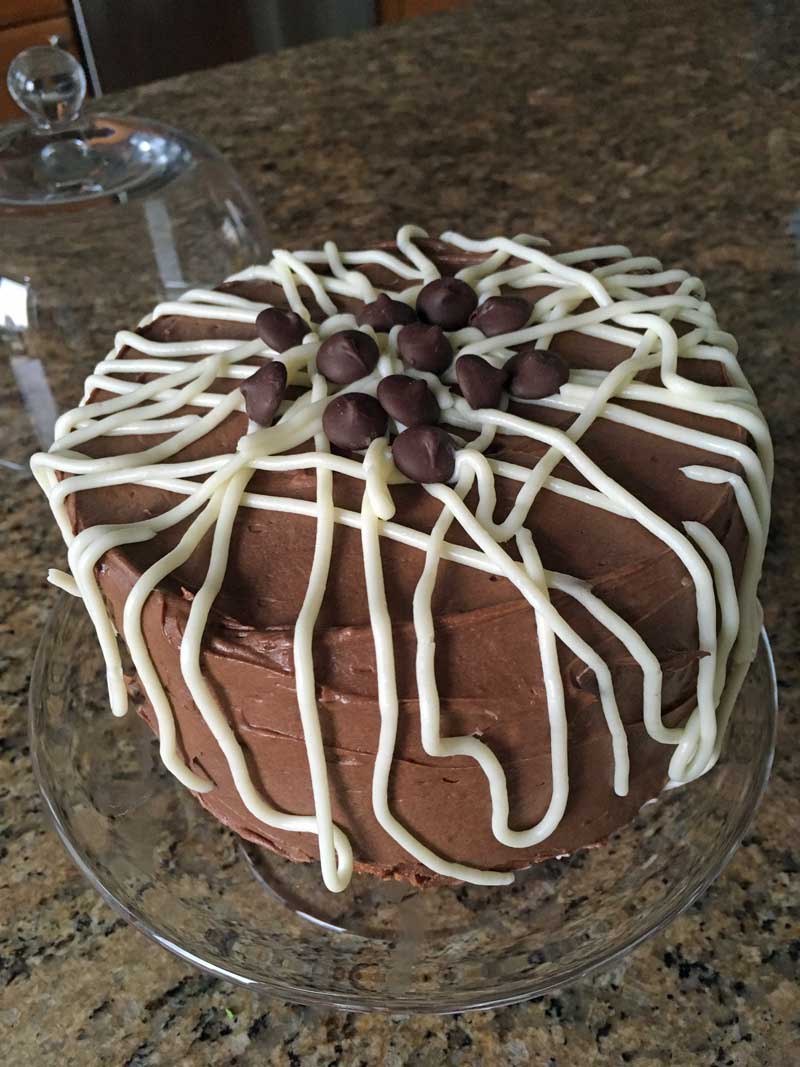 This recipe is from a blog called Egg Beater and I paraphrased the directions heavily, so make sure to click on Egg Beater for more detailed points about baking her cake. But this is the way I made it and I got good results. The cake has a great butter flavor (how could it not, right?). Plus I'm fairly certain people who like rich desserts would go for this. It is a rich cake – so much so that putting a rich chocolate icing on it felt like buttering a biscuit or dipping French Fries in mayonnaise. But last time I checked, this wasn't a diet blog so I'm going to stop babbling about that and get more into the texture.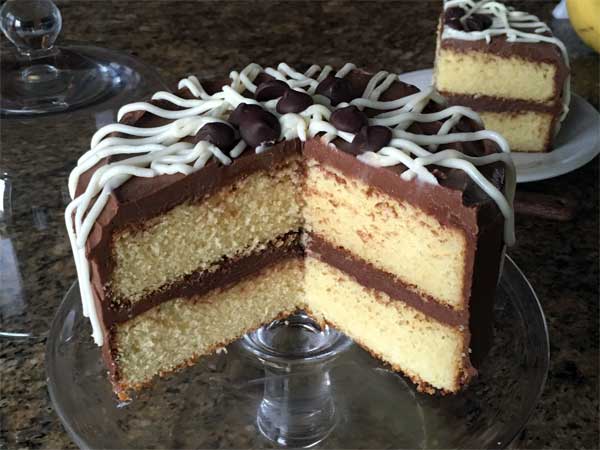 Yellow Cake Texture
Did I mention the cake was moist? When you pinch a piece off with your fingers, it sticks together in a slick clump. It doesn't slice quite as neatly as the others, but if you are making cupcakes that shouldn't be a problem. In fact, for cupcakes this might be the perfect recipe because cupcakes need as much moisture as possible. Cupcake portion sizes are small by nature, and when you bite into a cupcake, it's kind of a bonus if it sticks together and doesn't fall apart. So this one's a winner too.
Recipe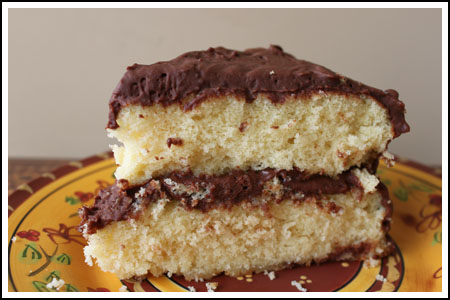 Last of the Yellow Cakes – Rich Yellow Cake
Rich Yellow Cake made with lots of butter, eggs, and yolks. The topping is an easy, silky, chocolate buttercream frosting.
Ingredients 
20

tablespoons

unsalted butter

10 oz, room temp

2

cups

granulated sugar

1/2

teaspoon

Kosher salt

2 1/2

cups

sifted all purpose flour

11 oz

2

teaspoons

baking powder

3

large eggs

room temp

4

large yolks

room temp

3/4

cup

whole milk

room temp

1

tablespoon

vanilla
Easy Chocolate Buttercream
3/4

cup

granulated sugar

1/4

cup

all purpose flour

3

Tbsp

unsweetened cocoa

1

cup

milk

1

cup

butter

2 sticks, salted or unsalted plus ½ teaspoon salt

2

teaspoons

vanilla extract

6

oz

bittersweet chocolate

melted and cooled
Instructions 
Preheat oven to 350 degrees F. Grease and flour two 9×2 inch round cake pans.

Cream the butter in bowl of a stand mixer until fitted with a paddle attachment. Add sugar and continue beating until light, scraping bowl often. Add the salt and continue creaming for another 5 minutes at medium high speed.

While the butter and sugar are creaming in the stand mixer, sift flour and baking powder together. Remember, the flour should have already been sifted before measuring. Set aside in a bowl.

Combine the eggs and yolks together in a separate bowl.

Combine the milk and vanilla in a measuring cup.

When the creamed mixture start to look fluffy, turn mixer up and add the egg/yolk mixture gradually by spoonfuls (I did 6-8 additions), making sure mixture comes together fully after each addition. Scrape down bowl and continue mixing until uniform.

By hand or with very lowest speed of blender (I always do this by hand, especially when using all purpose flour), add the flour mixture and milk mixture alternately, beginning with flour and ending with flour so that you add dry, wet, dry, wet, dry. When all flour and liquid is incorporated and batter appears uniform, divide batter among the pans.

Bake at 350 degrees F until done. My cake was done in about 28 minutes, but all ovens are different so check at 18 min.Cake is done when middle bounces back and/or small sharp knife inserted in center comes out clean and sides pull away from pan.

Frosting: Off the heat, combine the sugar, flour and cocoa in a small (2 qt) saucepan. Gradually add milk and whisk until smooth.

Put the mixture over medium heat and cook, whisking constantly, until mixture thickens and boils. Reduce heat to low, cook 2 more minutes, whisking all the while. Remove saucepan from heat; cool completely. This should take 40 minutes to an hour. At this point, you might want to go ahead and melt your chocolate so it too will be cool.

In large bowl with mixer at medium speed, beat softened butter until creamy. Gradually beat in cooled milk mixture, vanilla and melted chocolate. Depending on the temperature of your ingredients, you'll either have a beautiful frosting or a big goopy mess. Never fear! If what you've got is too goopy (this is usually due to ingredients being too warm), stick the whole mixing bowl in the refrigerator for another 40 minutes or until the mixture is thoroughly chilled. Remove it when chilled, put it on the stand mixer with the whisk attached, and beat until it lightens in color and fluffs up. Frost the cake.