Today's recipe is from Come Early Stay Late by chef Brian Malarkey. You may recognize him from Top Chef Miami, but in San Diego he's a celebrity chef  and creative force behind restaurants Searsucker, Burlap, Gingham, Gabardine and Herringbone. This book is an account of his journey and a collection of recipes from the restaurants. Titles include things like Summer Loving Watermelon Salad, Sauteed Shishito Peppers, and Chicken Brie Sandwich with Tarragon Aioli; plus two that I've already made -- Carrot Cake Plus Ginger Cream Cheese Frosting and this Olive Brittle.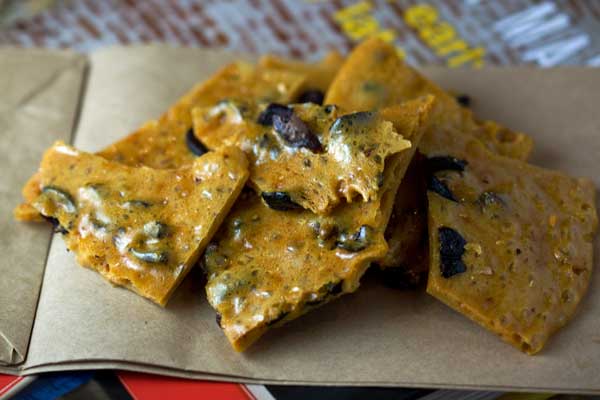 Malarkey credits all desserts to pastry chef Rachel King, whose specialty is "classics with a twist". Along with the brittle and the carrot cake, there are recipes for Searsucker's
Apple & Ale Muffins, Red Velvet Sandwich Cookies, Key Lime Pie, Lemon Bars (the recipe calls for 7 eggs!) and Coconut-Filled Brownies. As much as I like Malarkey's book, I say bring on a book from Rachel King! The desserts chapter is terrific.
But back to the Olive Brittle. It was unique, to be sure -- different, but slightly addictive. I wouldn't serve it as a full dessert but rather as a sweet appetizer or fun cocktail party snack. It would also make a fabulous hostess gift. In fact, if someone gave it to me as a gift I would have to open it up and try it on the spot!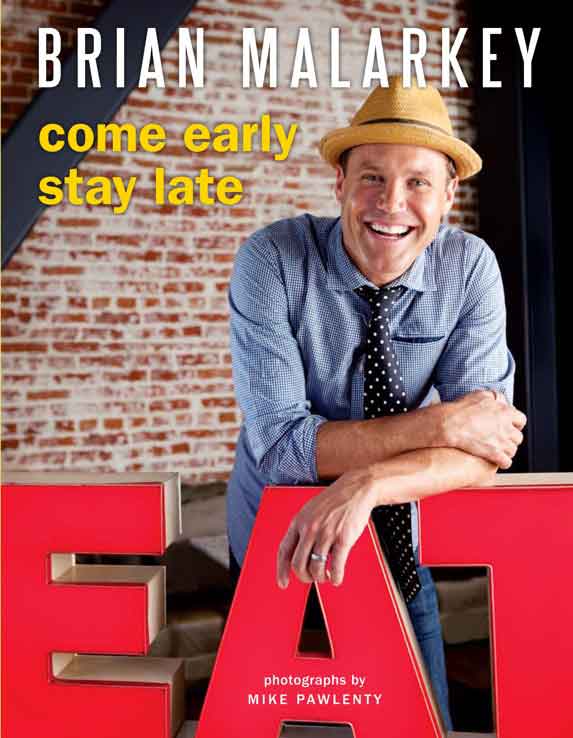 Here's the recipe as written in the book  I included a few personal notes at the bottom.
Recipe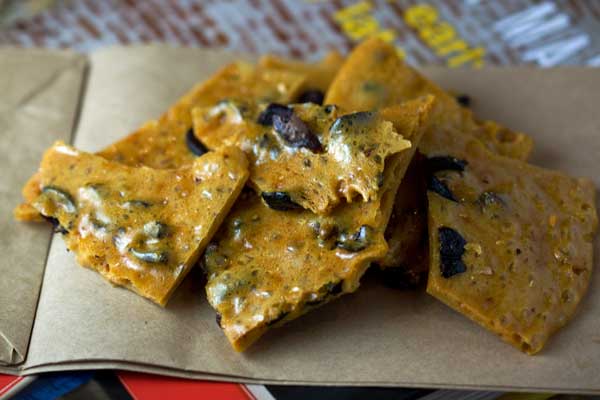 Come Early Stay Late Olive Brittle
A sweet and salty brittle using olives instead of nuts. Nuts may be substituted.
Ingredients 
½

cup

olives

pitted and chopped (I used Kalamata)

½

cup

water

1

cup

granulated sugar

½

cup

light corn syrup

1

tablespoon

of butter

1

teaspoon

of baking soda for aeration
Instructions 
Preheat the oven to 300 degrees F.

Put the olives on a small sheet tray and bake them until they are dry – about 1 hour.

In a medium saucepan on high heat, combine the water, sugar and corn syrup. Cook the mixture until it turns a golden brown, about 8 to 10 minutes.

Stir in the butter. Continue cooking until the butter is melted and thoroughly incorporated. Take off heat and stir in the baking soda.

Stir in the olives and immediately pour the mixture out onto a Silpat or a parchment lined sheet pan. Flatten with another Silpat or a layer of wax paper and a rolling pin if needed (I didn't really flatten it because I didn't want to lose too many bubbles).

Once the brittle has cooled completely, break it into bite-sized pieces. You can store this in an airtight container for up to 1 week.
Notes
Chop the olives into very small pieces. I made this twice, and in my first batch I left the olive pieces fairly large. People definitely preferred the second batch with the smaller pieces.
One reason I had to make this twice was because there is no temperature given. Knowing exactly when to take candy off the stove is a skill and an art, so most home cooks would be better off with a candy thermometer. I undercooked mine the first time, and used a candy thermometer the second. I added the butter when the mixture was about 290 and took the candy off at 300 F. Also, burner sizes and pans will affect whether or not you really need to use high heat. I was better off using medium-high.
It takes longer than some other brittles to set – not terribly long, but it won't harden until it is completely cool.