If you're looking for a fairly easy recipe for dense, chewy, double chocolate chip or white chip cookies, this one always gets good reviews. I can't pinpoint exactly why people like these cookies so much, but I think it's the texture.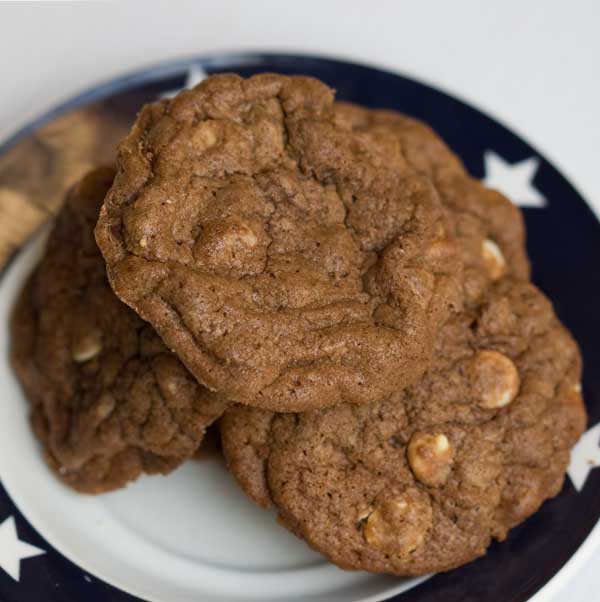 White Chip Chocolate Cookies with Shortening
The key to the texture is shortening, which has a higher melting point than butter and curbs some of the spreading and flattening that can occur with butter cookies. The downside to shortening is trans-fat. I'm hoping all the mainstream shortenings will eliminate them soon, but until then there are alternatives -- one being butter flavored Spectrum, a shortening made with non-hydrogenated palm oil.
Spectrum Butter Flavor
I've used Spectrum in the past, but was never crazy about the palm oil flavor. When I discovered the butter flavored Spectrum, my hope was that the butter flavoring would mask or cancel out some of the palm flavor. And maybe it does, to some extent because the palm oil flavor seems less noticeable. Update: Can't find the butter flavored Spectrum anymore!
So here's a re-do of Chewy Chocolate Brownie cookies using butter flavored Spectrum. My family loved them and didn't noticed the palm oil. But I'm curious to know if any of you taste palm oil in products that have been reformulated to remove trans-fats. I was told some people are more sensitive to it than others.
Recipe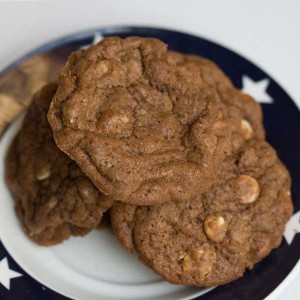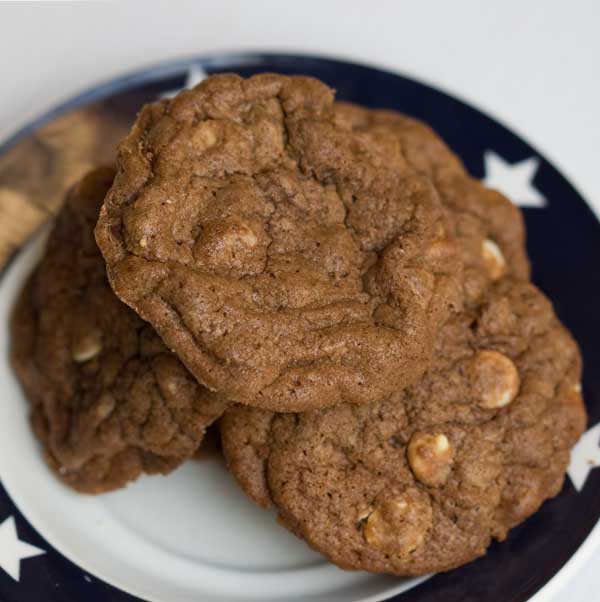 White Chip Chocolate Brownie Cookies
Soft and chewy chocolate cookies with white and chocolate chips.
Ingredients 
⅔

cup

butter flavored shortening, trans-fat free**

(135 grams)

1 ½

cups

firmly packed brown sugar

(300 grams)

1

tablespoon

water

1

teaspoon

vanilla extract

2

large eggs

1 ½

cups

all-purpose flour

(210 grams)

⅓

cup

unsweetened natural cocoa powder

½

teaspoon

salt

¼

teaspoon

baking soda

1

cup

semisweet chocolate chips

1

cup

white chocolate chips
Instructions 
Preheat oven to 350ºF. Line two baking sheets with regular foil or parchment paper. I don't recommend using spray or grease because it causes the cookies to spread too much.

With an electric mixer, beat the shortening, brown sugar, water and vanilla until fluffy. Beat in eggs, one at a time.

In a separate bowl, mix together the flour, cocoa, salt and baking soda. Stir the flour mixture into the shortening mixture until incorporated. Stir in chips. Drop by heaping tablespoon about 2 inches apart onto prepared baking sheets. Bake on center rack for about 12 to16 minutes or until the cookies appear set.

If you want to the cookies to have more ridges and folds, as soon as they come out of the oven, gently tap the edges pushing them inward with a spatula.

Let cool on the baking sheets for about 5 to 10 minutes or until you can scrape them up off the foil without breaking them (less of an issue with parchment). They're still a little delicate at this point. Let cool slightly, then transfer to the refrigerator to cool completely (or not -- I like to chill them a bit).
Notes
I used butter flavored Spectrum.