Last year we went to Florence where I learned a new name for biscotti – "cantuccini". Having never heard of cantuccini, I thought there might be some distinguishing feature between "cantuccini" and "biscotti", but from what I've read on the internet it seems cantuccini is the term designating the twice baked cookies you dip in your Vin Santo or coffee, while biscotti is just an Italian catch-all word for cookies. At any rate, whenever I see biscotti I think "Ha, that's cantuccini!".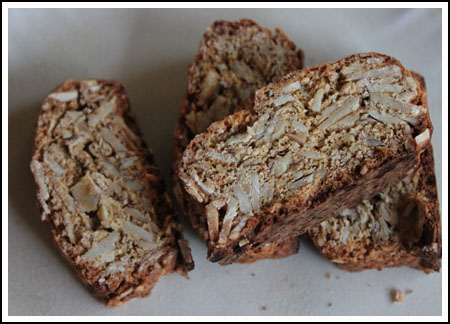 So I was thinking a lot about Florence this week and decided to make myself a batch of cantuccini. While there are lots of variations, the cantuccini we ate in Italy were kind of hard, packed with nuts, and had an orange flavor. Come to think of it, just about every dessert I ate in Florence had a little orange in it, but that's another story.
The recipe I finally chose was Susan's (aka Foodblogga) traditional almond biscotti -- a recipe she got from her mother. It hit the spot and had all the flavors I remembered, though it was a bit sweeter than most.
Coconut Palm Sugar aka Coconut Sugar
Since it came together so easily and I'd only made a half batch, I tried making a second batch of Susan's recipe using some coconut palm sugar. If you missed my last post about it, it's a product put out by Sweet Tree and it's said to have a lower glycemic index than table sugar. I haven't researched coconut palm sugar enough to know if it's really that beneficial, but I do like the flavor and if there's any truth to the health claims, well all the better. My pancreas will take any help it can get.
The biscotti (Whoops, I mean cantuccini) were very good, and like the evaporated cane juice crystals I sometimes use in my other favorite biscotti, it added a subtle burnt caramel taste which in this case was delicious with the orange, almonds and cinnamon.
Foodblogga's biscotti recipe is at the link.
The coconut palm sugar version is written below as I made it. I reduced the sugar somewhat from the original, added a pinch of salt, and got stuck using sliced almonds instead of whole. The biscotti looks kind of strange with the sliced almonds, but it was easier to slice and still tasted good.
Coconut Palm Sugar aka Coconut Sugar Cantuccini
2 cups whole almonds or sliced almonds
⅔ cup coconut palm sugar (200 grams)
1 teaspoon orange zest
¼ teaspoon ground cinnamon
1 ¼ teaspoons baking powder
¼ teaspoon Kosher salt
1 ⅔ cups all purpose flour (210 grams)
2 large or jumbo eggs
¾ teaspoon pure vanilla extract
An egg, lightly beaten for brushing tops of loaves
Preheat oven to 350 degrees F. Line a large cookie sheet with parchment paper or non-stick foil
Place almonds in a single layer on cookie sheet and toast in the oven at 350 degrees F. for 8-10 minutes. Remove and set aside to cool.
In a large bowl using a large spoon, mix the coconut sugar with the orange zest. As you mix, press the zest with the back of spoon to release its essence. Stir in the cinnamon, baking powder, salt and toasted almonds. When well mixed, stir in the flour.
Whisk the eggs and vanilla together in a separate bowl. Stir the egg mixture into the sugar mixture. It will be very thick and dry, so using lightly floured hands, keep squeezing the mixture until it comes together in a ball. If you used large eggs as opposed to jumbo, the batter might be even a little bit dryer. It should still bake up just fine. Divide that ball into 2 equal pieces.
On a lightly floured surface or a large sheet of non-stick foil or parchment, shape one piece of dough into a log shape that is approximately 10 inches long, 2 inches wide, and ¾ of an inch high. Wetting your hands with a little water makes this process a little easier. Repeat with remaining dough so that you have two big logs. Place the logs on a baking sheet spacing them out as much as you can to leave room for spreading. Each log will spread out about another inch or so.
Brush tops with lightly beaten egg.
Bake at 350 degrees F for 35 minutes, or until the tops of the loaves are dark and siny. Cool on a rack for about 15 minutes before slicing. Keep the oven on during the 20 minute cooling period.
After 20 minutes, turn off the oven. Place a loaf on a cutting board, and using a large serrated knife, slice cookies ¾ of an inch thick on the diagonal. Place slices on their sides back on to the baking sheets; place in the still warm oven with the temperature off and the door closed for 30-60 minutes. The longer they stay in the oven, the harder they will become. Remove from oven and cool completely before storing in a tin.
Makes about 24