Maida's Palm Beach Brownies recipe is the fudgiest brownie recipe I know. It calls for 8 oz of butter, 8 oz of chocolate and 5 eggs, and 3 ¾ cup of sugar to balance things out! I don't worry about the richness with the recipes like this because it means a smaller piece will satisfy, but it is an expensive recipe which is why I've tried making half batches through the years. It works better made in full in the 13x9 inch pan. Also, there are some quirks. Or not really quirks, but just things to keep in mind since it's older. This is not a brownie recipe I recommend to beginners.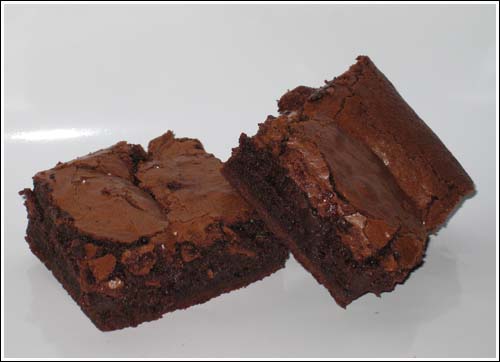 They require a good bit of mixing, but the mixing pays off if you like a very crispy crust.   Of course the very high heat also contributes to the crust.  Maida Heatter calls for a heat of 425, so what you end up with are brownies with burnt edges that need to be trimmed (which she notes in the book).  They are characterized by being very fudgy in the center and very crisp on the top and bottom.  If you make them, don't make your final assessment until after you have cooled and chilled the brownies. Consider it a critical part of the directions. The brownies always seem grainy right out of the oven, bordering on cakey and overall unimpressive. Once cooled and chilled, they are just right.
Well, I sound like a Negative Nancy here. It's not like these are terrible brownies because they're actually among the greatest of all time. Just be warned. And don't try to make substitution or scale down unless you are feeling risky or are flush with chocolate, butter and eggs. You can definitely make half (as per the note) but your oven, the slope of your pan, what it's made of, the brand of chocolate, the power of your mixer, the antics of kids, roommates, puppies, people at the door and distractions can all affect the results.
For the original Maida's Palm Beach Brownies recipe, check Maida Heatter's Great Book of Chocolate Desserts.

Recipe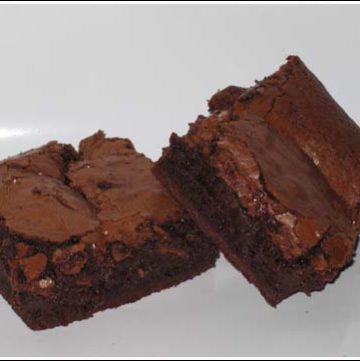 Maida's Palm Beach Brownies
A brownie with a thick crust and fudgy center
Ingredients 
8

oz

unsalted butter

(230 grams)

8

oz

unsweetened chocolate

(230 grams)

5

large

eggs

2

tsp

pure vanilla extract

½

tsp

almond extract

optional

¼

teaspoon

salt

4

teaspoons

instant espresso powder

3 ¾

cup

granulated sugar

(730 to 750)

1 ⅔

cup

unbleached all purpose flour, sift after measuring

2

cups

walnuts

toasted and broken into pieces (I omitted)
Instructions 
Adjust an oven rack one-third up from the bottom and preheat oven to 425 degrees. Line a 9x13x2-inch metal pan with nonstick foil or parchment paper.

Melt the butter in a heavy saucepan. When almost melted, reduce heat to low and add chocolate. Stir until chocolate is very soft, then remove from heat and let chocolate melt in the residual heat of the butter.

In the bowl of a stand mixer, beat the eggs with the vanilla and almond extracts, salt, espresso and sugar at high speed for 10 minutes. On low speed, add the chocolate mixture and beat only until mixed. Remove the bowl from the mixer and stir in the flour and the nuts.

Pour the batter into the prepared pan. Bake for 35 minutes, reversing the pan from front to back once to ensure even baking (Maida covers her brownies loosely with foil halfway through to prevent burning, but I didn't). At the end of 35 minutes, the brownies will have a firm crust, but when tested with a toothpick will appear underbaked. Take them out anyway.

Remove the pan from the oven and let stand until cool. Invert the brownies onto a cookie sheet and remove the foil. Cover with length of waxed paper and another cookie sheet..invert again. This cake is best covered and refrigerated for a few hours or overnight before it is cut into bars.
Notes
I baked half of the recipe in an 8x8 inch metal pan and omitted the walnuts. Mine were done in about 22 minutes. I plunged the hot pan in ice water to quick-cool for about 20 minutes, then transferred the brownies to the freezer for an hour or so, then put them in the refrigerator. The brownies were excellent If you make the full version, use a metal pan or reduce the heat by 25 degrees F.  You definitely do not want to bake these at 425 in a glass dish!