Today's recipe is from Extreme Brownies: 50 Recipes for the Most Over-the-Top Treats Ever by Connie Weiss. Weiss, a pastry chef who sells her sweet treats at the Old Beach Farmers' Market in Virginia Beach, knows a thing or two about brownies and shares recipes that live up to the book's title. These deeply chocolate peanut butter cup packed brownies which Connie made for The Today Show are a good example.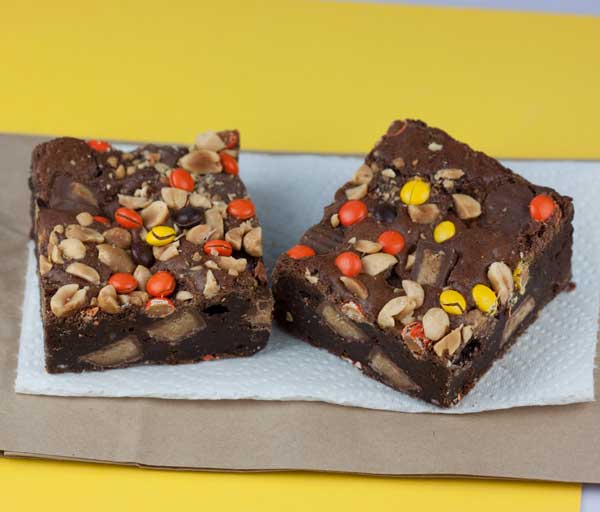 As the book promises, they are extreme. A 9x13 inch pan makes 12 dramatically large or 24 generous size brownies.  And while you could always cut them smaller for meetings or parties, the large size brownies are perfect for bake sales and would look beautiful individually wrapped and labeled.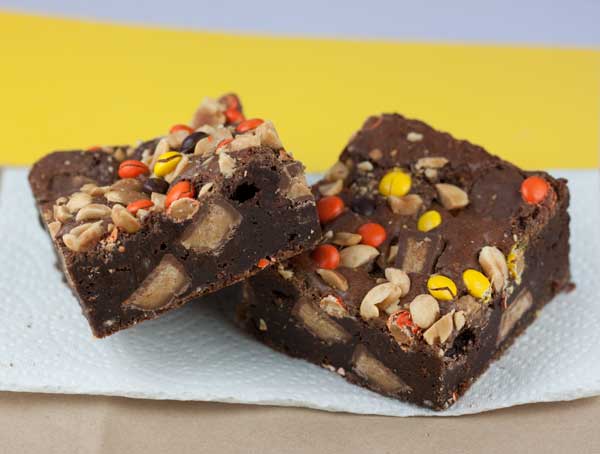 Overall, I was pleased with the recipe and have bookmarked quite a few others including the PMS Brownies, Connie's Caramel-Stuffed Sea Salt Brownies, Chookie Brownies (Connie's rendition of a "brookie") and Tuxedo Brownies, which have a fluffy layer of white filling between the fudge brownie and chocolate icing.  There are also a lot of interesting sounding blondies.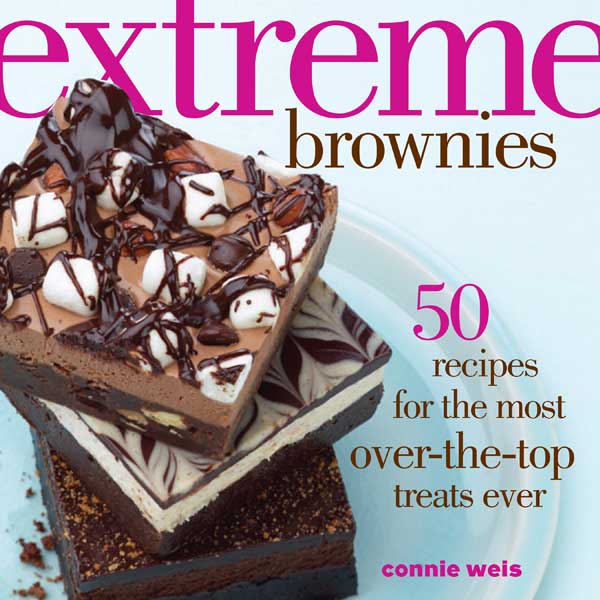 Many thanks to Connie Weiss and Andrews McMeel for sharing the recipe.
Recipe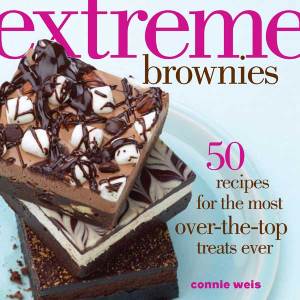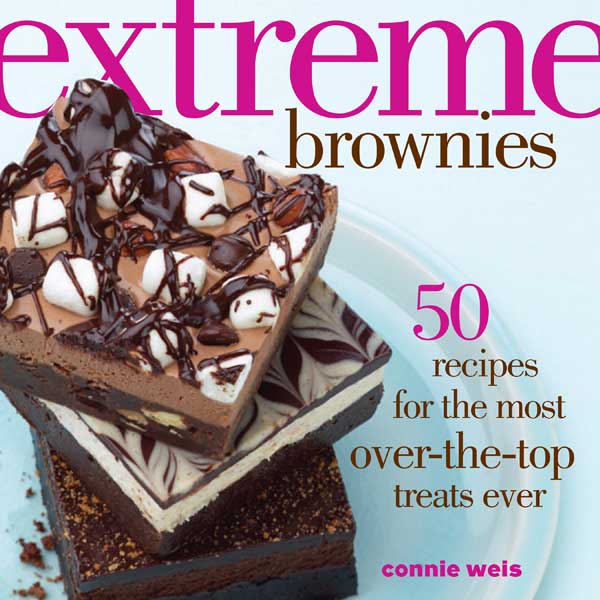 Extreme Brownies Peanut Butter Cups Brownies
" When I'm in the kitchen, I like to listen to either the TV or radio (preferably NPR) for background fodder as I'm cooking. One day on the Today show, Hoda Kotb held up a package of brownies she'd bought at a grocery store as one of her favorite things that she likes to share with viewers. I made a mental note that my brownies looked a lot better, and one day I would send her some. About six months later I did, and I hoped I would get a reply from Hoda, maybe with an autographed picture. Instead, I had an email from the producer asking me if I would like to come on the show to do a cooking segment. I was thrilled, and in July 2012, some friends and I went to New York and had a blast with my 15 minutes of fame. One of the results of that appearance, however, is that I always have people at my booth asking for the Today show brownie, so as much as I like to change up my selection, this is one I always have to bring." -- Connie Weiss
Ingredients 
Vegetable shortening for pan

1

12-ounce package miniature peanut butter cups (or use Reese's Unwrapped Minis)

3

sticks

12 ounces unsalted butter

4½

ounces

unsweetened baking chocolate

1½

cups

9 ounces 60% cacao bittersweet chocolate chips

6

large eggs

at room temperature

1½

cups

10.5 ounces granulated sugar

1½

packed cups

12 ounces light brown sugar

1

teaspoon

salt

1

tablespoon

pure vanilla extract

1½

cups

6.8 ounces bleached all-purpose flour

¾

teaspoon

baking powder

2

tablespoons

coarsely chopped salted peanuts

¼

cup

1 ounce milk chocolate chips (I used Reese's Pieces)
Instructions 
Adjust an oven rack to the middle level of the oven and preheat to 350°F. Prepare a 9 by 13-inch baking pan with heavy-duty aluminum foil (Note: The book tells you how to do this if you don't know how). Lightly grease the foil in the pan.

Unwrap the peanut butter cups; set aside.

Cut the butter sticks into 1-inch slices. In a small, heavy saucepan, melt the butter pieces over the lowest setting. While the butter is melting, chop the unsweetened chocolate into ¼-inch pieces and add to the melted butter along with the bittersweet chocolate chips. Use a small whisk to speed the melting process. When the chocolate is melted and completely smooth, turn off the heat but leave the saucepan on the burner while proceeding with the recipe.

Using a large whisk, lightly beat the eggs in a large mixing bowl. Place the sugars and salt in a separate small mixing bowl, then whisk into the eggs just until incorporated. Briefly whisk the melted chocolate mixture, then gradually whisk into the egg mixture until just combined. Briefly whisk in the vanilla.

Place the flour and baking powder in the small mixing bowl; whisk together to combine. Sift through a medium strainer directly onto the batter; stir in with a silicone spatula until just combined. Pour the batter into the prepared pan and spread evenly with a small offset spatula. Push the peanut butter cups into the batter; do not place any within ½ inch of the pan sides. Use the offset spatula to cover the candy with the batter. Sprinkle the chopped peanuts over the batter, then place the milk chocolate chips evenly on the batter. Bake for 35 minutes, until a toothpick inserted in the center comes out clean. Transfer the pan to a cooling rack and let cool at room temperature for at least 15 minutes, then refrigerate the pan for 7 to 8 hours, or overnight. See page xix for instructions on removing and cutting the slab, and for refrigerated storage (up to 3 weeks) and freezing guidelines.
Notes
From Extreme Brownies: 50 Recipes for the Most Over-the-Top Treats Ever by Connie Weis/Andrews McMeel Publishing, 2014.