This Walnut and Fig Loaf Cake is adapted from a recipe in The Triangle News and Observer.  It's a fig cake, but instead of actual figs it gets its flavor and texture from fig preserves.  I had about 3/4 of a bottle of fig preserves leftover from another little cooking project, so this recipe seemed perfect.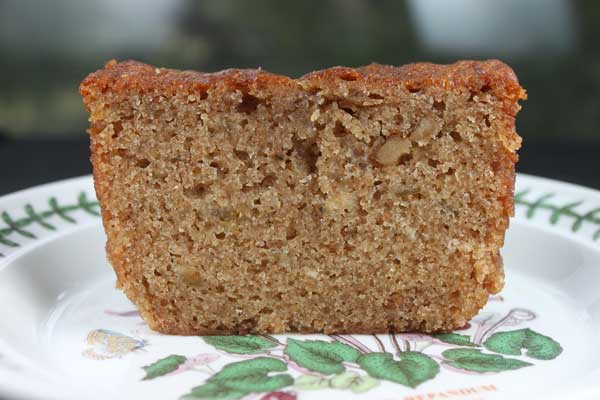 The Observer Fig Cake is made in a 9×13 inch pan and drizzled with a buttermilk glaze.  We didn't need a full cake, so I halved the recipe, adjusted the bake time and made it in an 8×4 inch loaf pan.  It was dense, sweet, rich and had a bold fig flavor. To cut the sweetness, I recommend adding a lot of walnuts. You can't see that many in the picture here because I was low on walnuts, but I think this cake would be good with a lot of them — or pecans. It's a sweet and spicy little cake that slices very evenly.
Recipe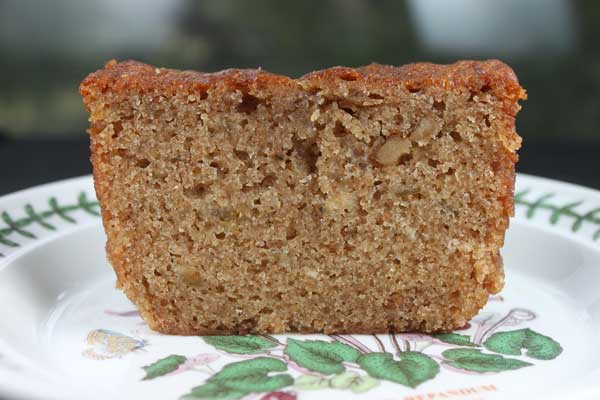 Walnut & Fig Loaf Cake
A small (1 pound) loaf cake made with fig preserves and walnuts
Ingredients 
1

cup

4.5 oz all-purpose flour

2

tablespoons

of buttermilk powder

or use milk equivalent

3/4

cup

sugar

1/2

teaspoon

baking soda

1/2

teaspoon

ground nutmeg

1/2

teaspoon

ground cinnamon

1/4

teaspoon

ground allspice

1/4

teaspoon

ground cloves

1/2

teaspoon

salt

1/2

cup

vegetable oil

1

large egg plus 2 tablespoons lightly beaten egg

1/2

cup

water or if using buttermilk instead of powder

1/2 cup buttermilk

1

teaspoon

vanilla

1/2

cup

fig preserves

2/3

cup

chopped walnuts
Instructions 
Preheat oven to 325 degrees. Generously grease an 8x4 inch loaf pan. Line bottom and narrow sides with a strip of parchment paper and dust the long sides with flour.

Stir flour, buttermilk powder (if using), sugar, baking soda, salt, and spices together in a mixing bowl.

In a large measuring cup or another bowll, whisk together oil, eggs, water (or buttermilk), vanilla and fig preserves. Add liquid mixture to flour mixture and stir until smooth, then stir in the walnuts. Pour into the loaf pan and bake at 325 for about 1 hour or until loaf tests done. Let cool in pan for about 20 minutes, then carefully loosen with a knife. Don't remove from pan yet. Let cool completely, then turn from pan.