This is a new spiced fig quick bread recipe I made yesterday using fig preserves. It is adapted from a cake recipe that called for a lot more sugar and oil, but I found that reducing both of those things and baking it as a loaf transformed it into a lighter, less sweet, quick bread. This version happens to be full of walnuts as well, but they are optional.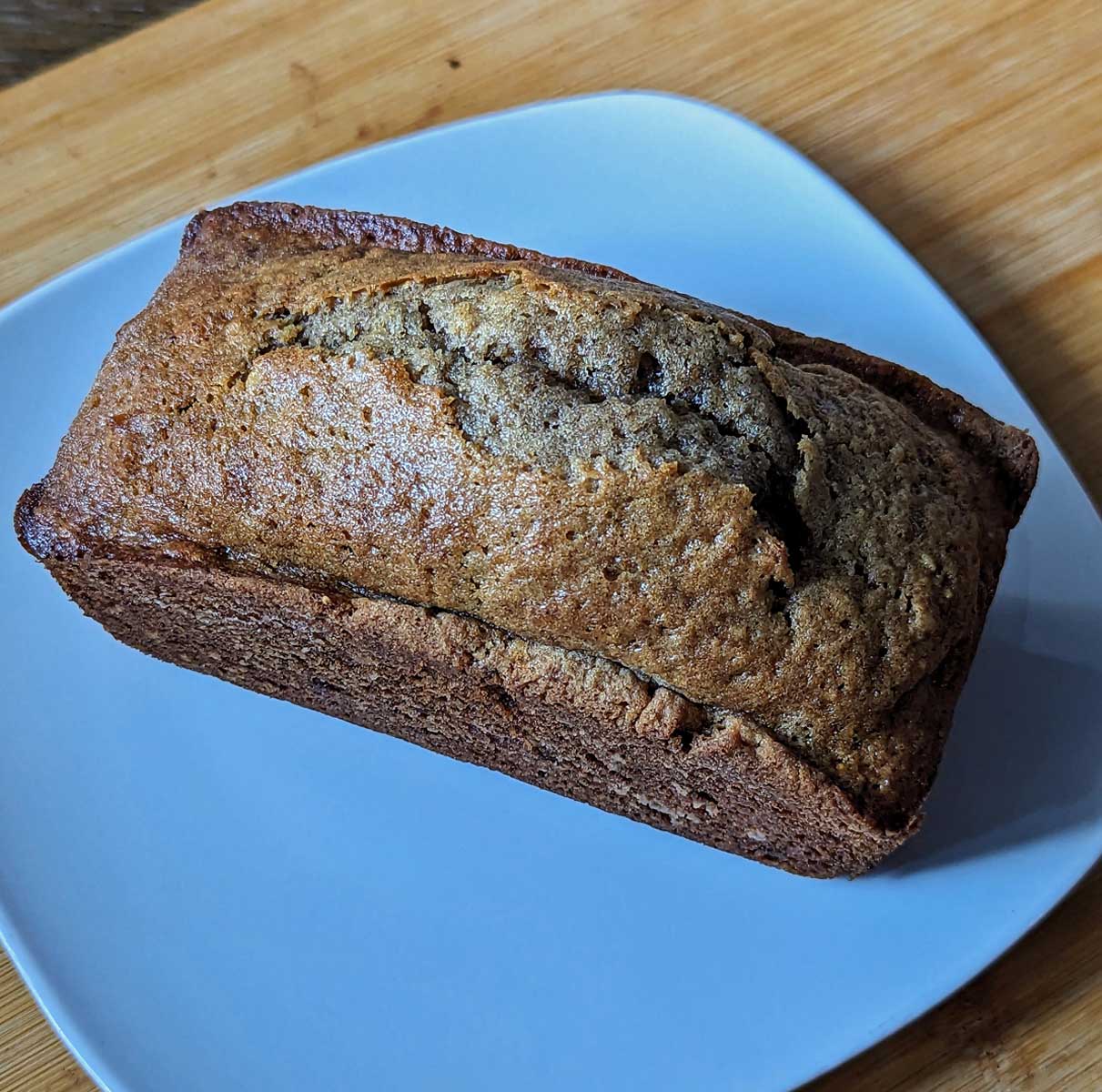 Ina Garten's Fig Preserves
Since my very kind neighbor has supplied me with plenty of fresh figs, I made the preserves using Ina Garten's fig preserves recipe. That recipe makes such sweet preserves that I ended up having to make a small batch of microwave preserves without any sugar (Elise's Mom's recipe) to blend in and even out the sweetness. So in the end, the preserves I used in Spiced Fig Bread were a "normal" sweetness. If you are planning on making Ina's, maybe take the commenter advice and cut the sugar back some. Or just use store-bought preserves or any other fig preserve recipe you like.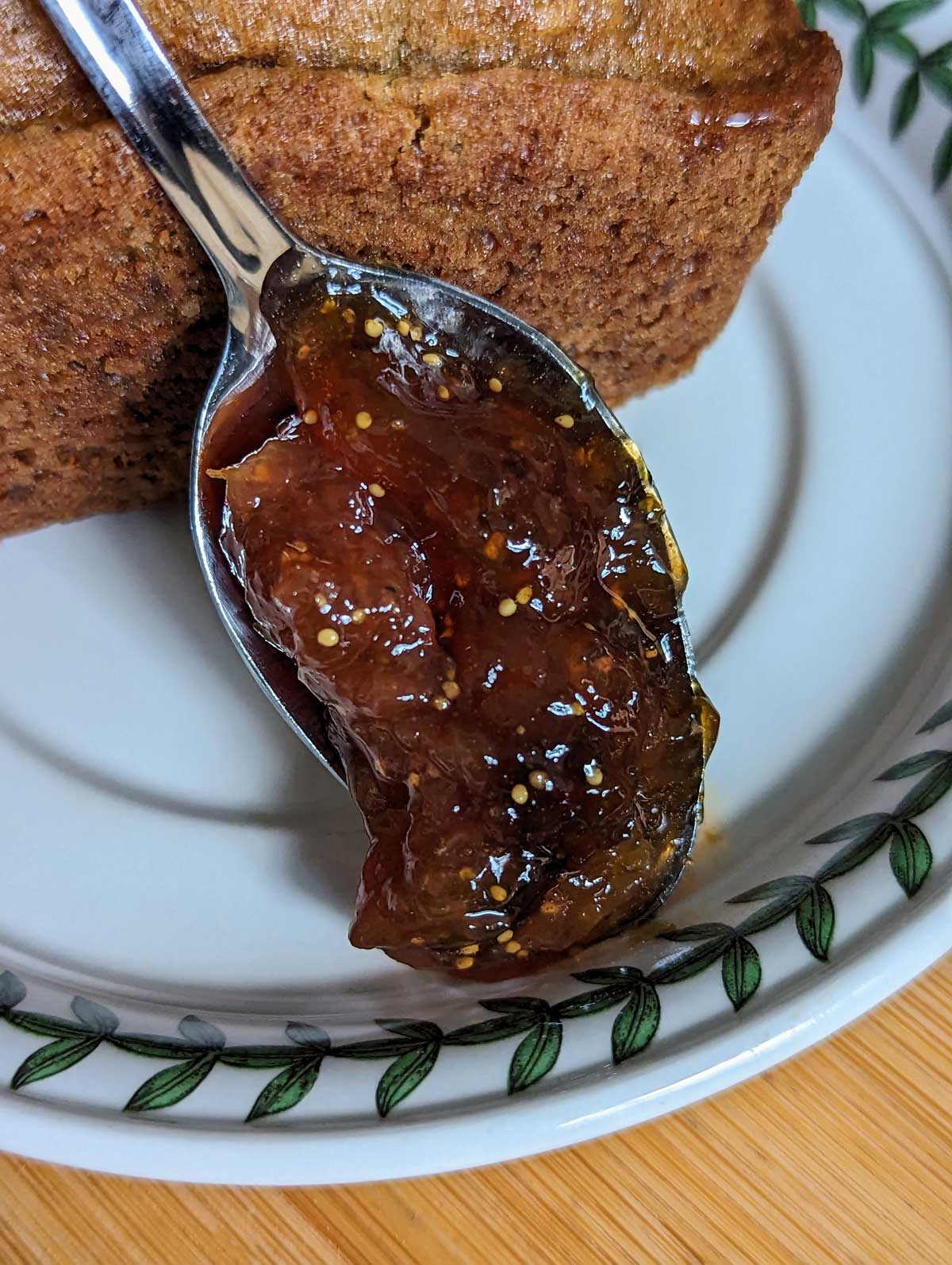 Buttermilk Powder
Everything else in the recipe is pretty simple and straightforward, and I did use buttermilk powder rather than straight buttermilk. Feel free to use ½ cup of buttermilk in place of the powder and water. However, I recommend keeping a bag of good buttermilk powder in your pantry or refrigerator (my preferred method of storage). It's a helpful ingredient to have around and won't go bad on you like buttermilk. Right now I'm in love with the Bob's Red Mill brand. I usually use Saco, but bought the Bob's just to reach a free shipping quota on another site. Wow! Everything I've used it in has risen higher.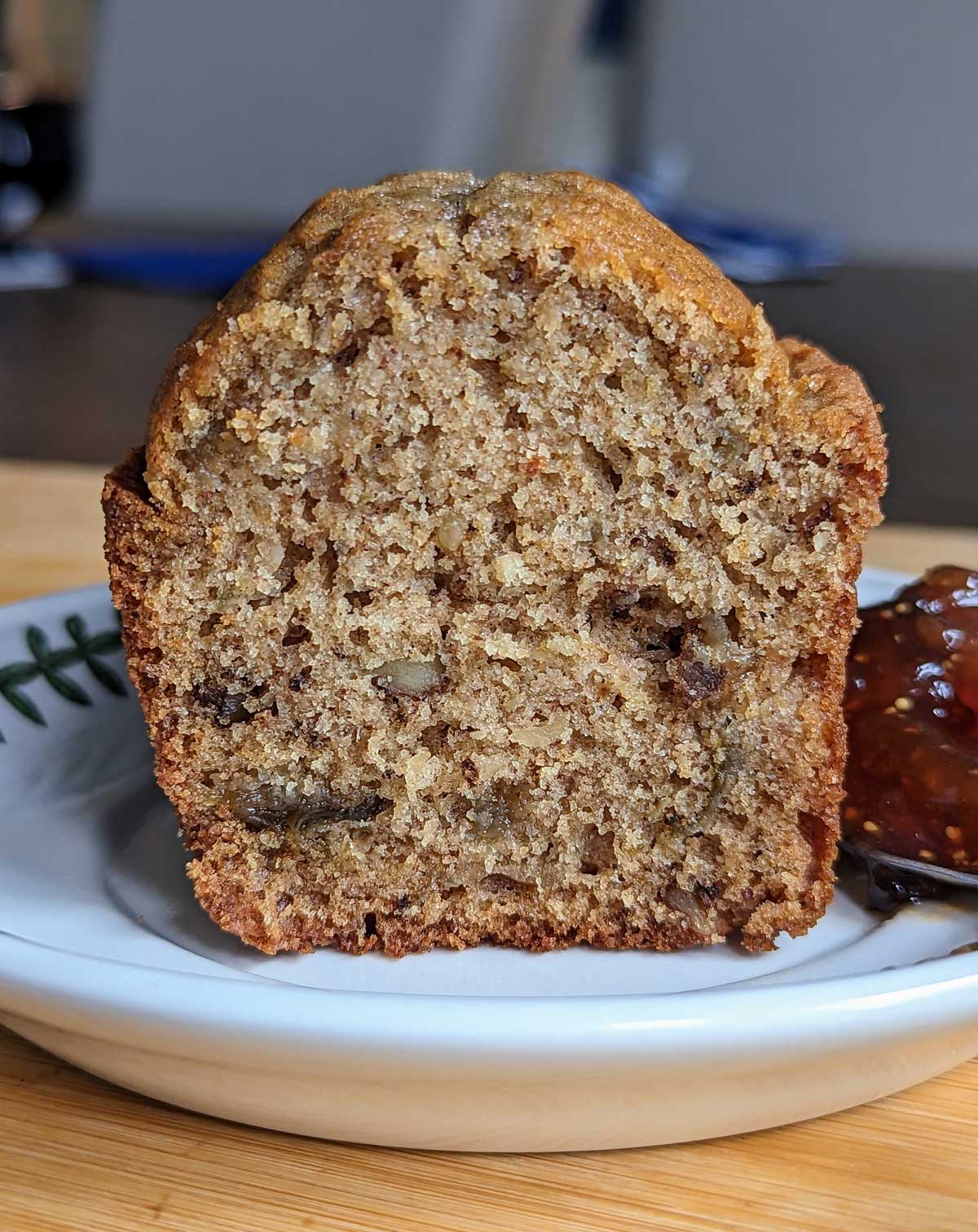 Spiced Fig Bread Loaf Size
The recipe is for one loaf that should fit an 8x4 inch pan, or you can make two small 5.75x3 inch loaves which is what I did. These are the little Wilton loaf pans. I call them minis, but I think true minis are actually smaller and these are just small loaf pans. I love using them because I can make one loaf for us to sample and more to give away. In this case there's only one extra to give away or freeze.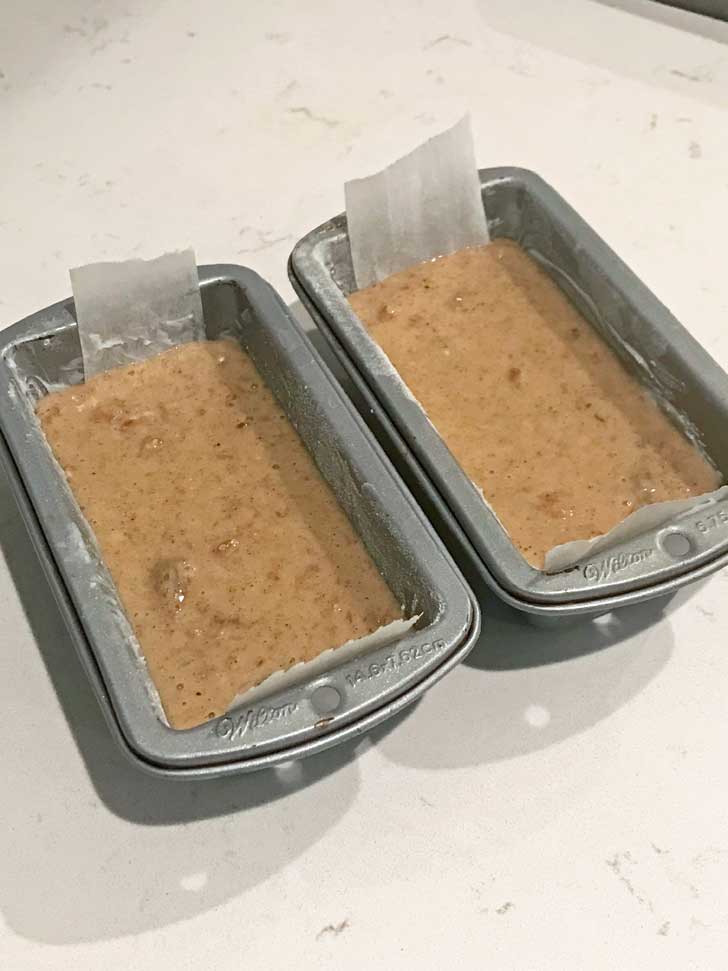 Bake Time and Temp
My original cake version of this was baked at 325 degrees F, but I've updated it to bake at 350 degrees. For an 8x4 inch loaf pan it should take about 40-45 minutes. Smaller loaves will take around 35.
Recipe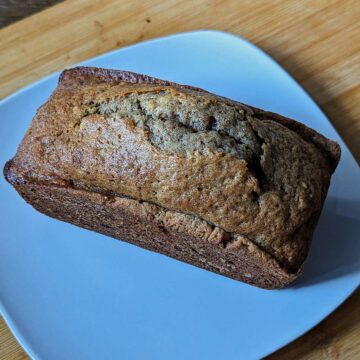 Spiced Fig Bread
Very flavorful and not too sweet.
Ingredients 
1

cup

all-purpose flour

(128 grams)

2

tablespoons

of buttermilk powder (or leave out and replace water with ½ cup of buttermilk)

**

⅓

cup

sugar

½

teaspoon

baking soda

½

teaspoon

ground nutmeg

½

teaspoon

ground cinnamon

¼

teaspoon

ground allspice

¼

teaspoon

ground cloves

½

teaspoon

salt

⅓

cup

vegetable oil

1

large

egg plus 2 tablespoons lightly beaten egg

½

cup

water or if using buttermilk instead of powder

½ cup buttermilk

1

teaspoon

vanilla

½

cup

fig preserves

(120 grams)

⅔

cup

chopped walnuts
Instructions 
Preheat oven to 350 degrees. Generously grease an 8x4 inch loaf pan. Line bottom and narrow sides with a strip of parchment paper and dust the long sides with flour.

Stir flour, buttermilk powder (if using), sugar, baking soda, salt, and spices together in a mixing bowl.

In a large measuring cup or another bowl, whisk together oil, eggs, water (or buttermilk), vanilla and fig preserves. Add liquid mixture to flour mixture and stir until smooth, then stir in the walnuts.

Pour into the loaf pan and bake at 350 for about 45 minutes or until loaf tests done. Let cool in pan for about 20 minutes, then carefully loosen with a knife. Don't remove from pan yet. Let cool completely, then turn from pan.