Cream Cheese Brownie Pie – 'Tis the Season!
In our house it's always pie season, but now that it's *really* pie season, here's a good recipe. This pie's an oldie, but it's a recipe I tend to forget about just when I need it most. It's easy and everyone loves it. Even people who don't love pie like this one because basically it's just a cream cheese brownie baked in a pie crust and topped with fudge sauce. What's not to like?
This original version calls for Pillsbury brownie mix. I couldn't find the brownie mix recommended in the original, so I asked a nice lady on the baking aisle what her favorite brownie mix was and she said her husband loved Duncan Hines Decadent Triple Chocolate Brownie Mix. I was happy that a) she had an opinion and b) she didn't look at me like I was crazy. Times are changing. Sometimes people don't love it when you walk up to them and ask them what their favorite brownie mix is.
For the crust, I recommend using your favorite or maybe trying this one from The New York Times by Melissa Clark.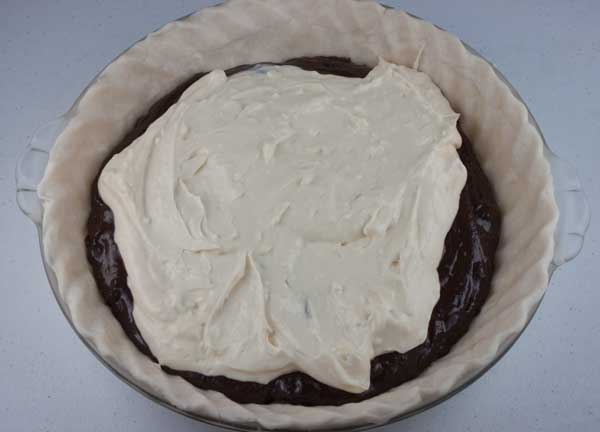 Recipe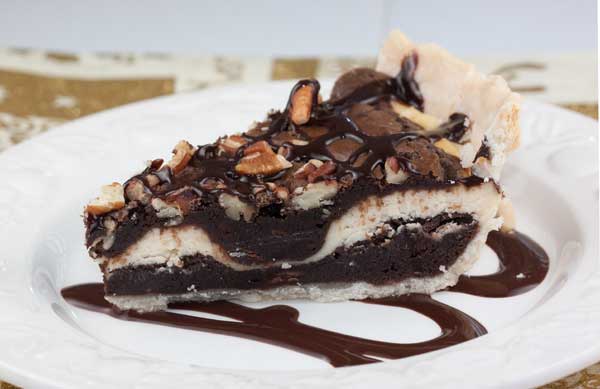 Cream Cheese Brownie Pie
Brownie pie with a cream cheese filling
Ingredients 
1

unbaked 9 or 9 1/2 inch deep dish pie pan lined with crust
Cream Cheese Mixture:
8

oz

cream cheese, softened

3

tablespoon

sugar

1

teaspoon

vanilla

1

large egg
Brownie Mixture:
1

18 oz

box of Decadent Triple Chocolate Brownie Mix, Duncan Hines brand or 15.8 oz box Pillsbury Double Chocolate

1/4

cup

oil

2

large

eggs

1

tablespoon

water

you may need 2 if using the Duncan Hines mix
Topping:
1/3

cup

or more if you like chopped pecans

1/4

cup

fudge sauce
Instructions 
Preheat the oven to 350 degrees F. Have ready a 9 inch deep dish pie crust.

In a small mixing bowl, beat the cream cheese, sugar and vanilla until smooth. Add the egg and beat until smooth. Set aside.

In a large mixing bowl, mix the brownie mix, eggs, water and oil until well blended.

Pour half the brownie mixture into the pie crust, then spread the cream cheese mixture over it. Spread remaining brownie mixture over that. Sprinkle with nuts.

Cover the pie loosely with a sheet of foil and set the time for 50 minutes. Bake for 50-65 minutes (check at 40 if using a smaller size brownie mix), but make sure to remove the foil the last 20 minutes so that the crust can brown a bit. The top should appear set and slightly cracked.

While pie is still warm, put some hot fudge or caramel sauce in a zipper bag, snip off the tip of the bag and drizzle sauce over the pie. Let cool to room temperature, then chill for at least 3 hours before serving.
Notes
If you can't find the Duncan Hines Triple Chocolate flavor, try using another brand and following instructions on the box for "cakey" style brownies (with two eggs). If you end up using a smaller size box of brownie mix, check the pie at 40 minutes.