Chocolate Layer Cake — Throw All Your Other Recipes Away! Just kidding.  Keep all your chocolate layer cake recipes as they are precious little gems, but try this one too. If you like cakes that are dark, dense, and moist, it may become your new favorite. The cake is interesting because you bake it at a low and slow 300 degrees. You can bake it in two 10 inch cake pans or make thinner layers and use 9 inch round pans. Given all the "3s" measurements, you could also make 2/3 of the cake and make a two layer 9 inch round chocolate cake.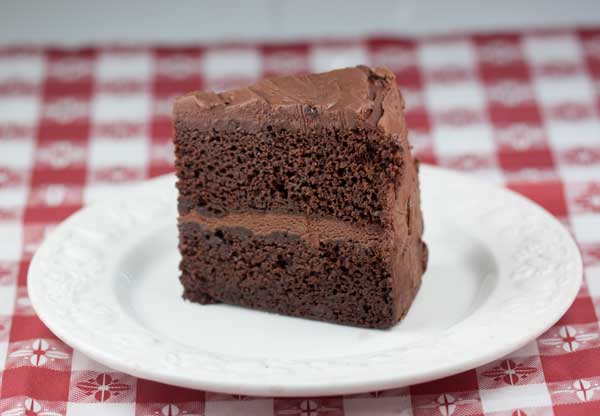 For consistency and overall appeal, my favorite chocolate layer cake is Hershey's Perfectly Chocolate Cake, but I think this one is slightly better. The original version is on Epicurious and has a ganache frosting that gets mixed reviews. My version calls for a more traditional cocoa frosting with a little sour cream, buttermilk and heavy cream mixed in for added richness. This cake is also perfect for cake balls. Eat what you want, mash up the rest, shape it into balls and dip them in chocolate.
Recipe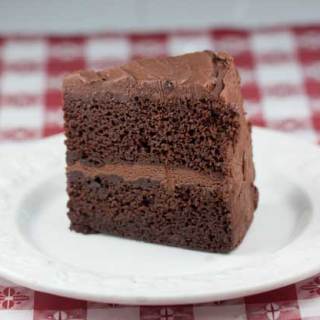 Chocolate Layer Cake
A rich dark chocolate layer cake similar to Hershey's Perfectly Chocolate Cake but better. The original recipe calls for two 10×2 inch pans, but this cake can be made in three 9 inch pans.
Ingredients 
Cake Layers
3

ounces

semisweet chocolate

chopped

1 1/2

cups

hot brewed coffee

3

cups

sugar

580 grams

2 1/2

cups

all purpose flour

340 grams

1 1/2

cups

unsweetened natural cocoa powder (not Dutch process)

130 grams

2

teaspoons

baking soda

3/4

teaspoon

baking powder

1 1/4

teaspoon

salt

3

large eggs

3/4

cup

vegetable oil

1 1/2

cups

buttermilk

shake well

1

teaspoon

vanilla extract
Favorite Chocolate Frosting
8

tablespoons

of unsalted butter

softened

1 1/2

tablespoons

of sour cream

room temperature

1

teaspoon

of vanilla

3

cups

confectioners' sugar

3/4

cup

natural style cocoa powder

1

pinch

of salt

1

teaspoon

vanilla extract

4

tablespoons

of heavy cream plus more as needed

4 to 6

tablespoons

of buttermilk plus more as needed
Instructions 
Preheat oven to 300°F. Spray three 9 inch round cake pans with flour-added cooking spray. Alternately, you may use two 10×2 inch pan. Line bottoms with rounds of parchment paper (this is a sticky cake).

Combine chocolate with hot coffee and stir until smooth. Let cool slightly while you prepare other ingredients.

In a large mixing bowl, mix together sugar, flour, cocoa powder, baking soda, baking powder, and salt.

In another mixing bowl, using a hand-held electric mixer, beat eggs for 3 to 5 minutes or until light and lemon-colored. Using a whisk or lowest speed of mixer, add oil, buttermilk, vanilla, and melted chocolate mixture.

Add flour mixture to egg mixture and beat on medium speed until blended. Use a heavy duty scraper as you mix and be sure to scrape bottom of the bowl.

Divide batter between pans and bake in middle of oven at 300 until a tester inserted in center comes out clean. Bake time for 9 inch pans is about 50 minutes. Bake time for 10 inch pans is 60 to 75 minutes.

Set the pans on a wire rack and let layers cool completely in the pan.

Loosen edges with a knife and invert layers onto racks. Carefully remove parchment paper and let cool completely.

At this point you can frost the chocolate layer cake or you can wrap layers tightly in plastic wrap and freeze until ready to use.

To make the frosting, In a large mixing bowl, use a heavy duty scraper to mix the softened butter, sour cream, vanilla, 1 cup of the confectioners' sugar, cocoa, salt and about 2 tablespoons of the cream until thick and cohesive (this keeps the sugar from flying everywhere). When you have a big cohesive chocolate blob, beat with an electric mixer until smooth, gradually adding remaining sugar and more cream and buttermilk (or whole milk) as needed. Scrape bowl and continue beating until smooth and creamy. Spread over one of the cakes. Stack cakes and spread over the sides.