Hershey's Perfectly Chocolate Cake is one of my favorite chocolate cake recipes.  While I tend to jump around trying new and different cake recipes, this is one I routinely fall back on when I need something tried and true.  In addition to that, it's a great tool for teaching new bakers how to make chocolate cake.  It's pretty much fool-proof, doesn't require lots of equipment and always gets compliments.  It's also less expensive than some other cakes since it calls for cocoa powder rather than chocolate and oil instead of butter.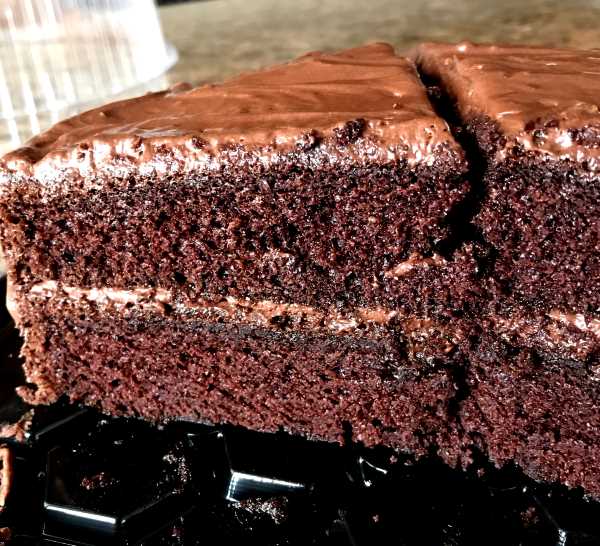 Hershey's Perfect Chocolate Cake
An all American chocolate layer cake from Hershey's.
Ingredients
2 cups sugar
1-3/4 cups all-purpose flour
3/4 cup natural or dark Hershey's cocoa
1-1/2 teaspoons baking powder
1-1/2 teaspoons baking soda
1 teaspoon salt
2 eggs
1 cup whole milk
1/2 cup vegetable oil
2 teaspoons vanilla extract
1 cup boiling water
Perfectly Chocolate Frosting
1/2 cup (1 stick) butter or margarine
2/3 cup natural Hershey's Cocoa (I don't recommend the dark in this one)
3 cups powdered sugar
1/3 cup whole milk
1 teaspoon vanilla extract
1 heaping tablespoon of sour cream (optional)
Instructions
Preheat oven to 350. Grease 2 9 inch round cake pans and then dust with flour. I
In a mixing bowl, stir together sugar, flour, cocoa, baking powder, baking soda and salt .
Add eggs, milk, oil and vanilla; beat on medium speed of mixer 2 minutes.
Stir in boiling water (batter will be thin). Pour batter into prepared pans.
Bake 30 to 35 minutes or until wooden pick inserted in center comes out clean. Let cool 10 minutes; remove from pans to wire racks.
Let cool completely, then make the frosting.
Frosting: Melt butter, then put it in the bowl of a stand mixer. Stir in cocoa, then begin adding powdered sugar alternately with the milk. Beat to spreading consistency.
Add small amount additional milk, if needed. Stir in vanilla and sour cream and beat until blended.
Notes
For a 13x9 inch cake, bake 35 to 40 minutes.
For a 3 layer cake, bake 30 to 35 minutes.
For a Bundt cake, bake 50 to 55 minutes.
Cupcakes: Line muffin cups (2-1/2 inches in diameter) with paper bake cups. Heat oven to 350°F. Fill cups 2/3 full with batter. Makes about 30