Caramel Cake is a Southern specialty, but I didn't discover it until well adulthood.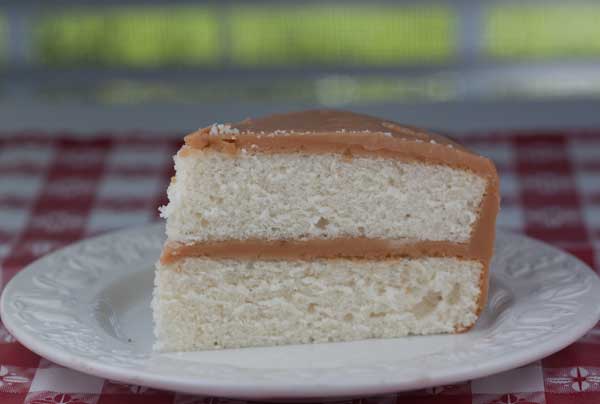 That introduction came via The Cake Mix Doctor's Caramel Cake. It's a doctored cake mix cake topped with a quick caramel icing made with confectioners' sugar.  It's a wonderful cake, but  I wanted to try a more authentic caramel icing and eventually found this caramel cake. It calls for an egg, which is an unusual ingredient in caramel icing, but it helps keep the icing soft.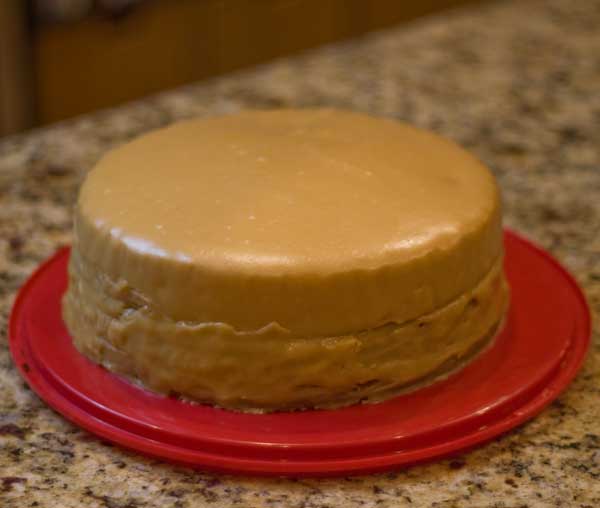 That one's still number one in my book, but I couldn't resist trying a few more, so this week I tried Rose's Favorite Caramel Cake from Saveur. The crumb of the cake was good, though a little on the sweet side.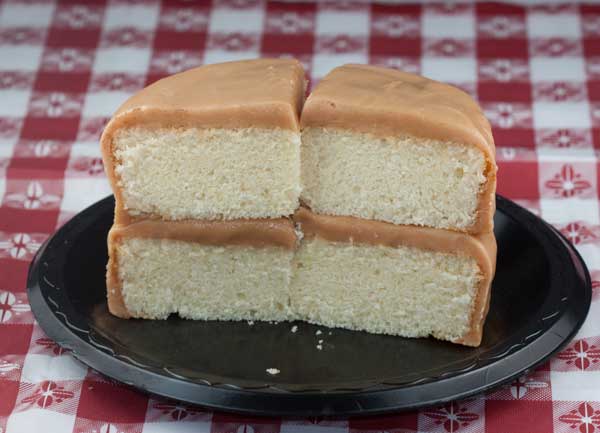 As for the  caramel icing, it was great, but with the 1 ½ hour simmer time it required quite a bit of patience to go from pale to this lovely shade.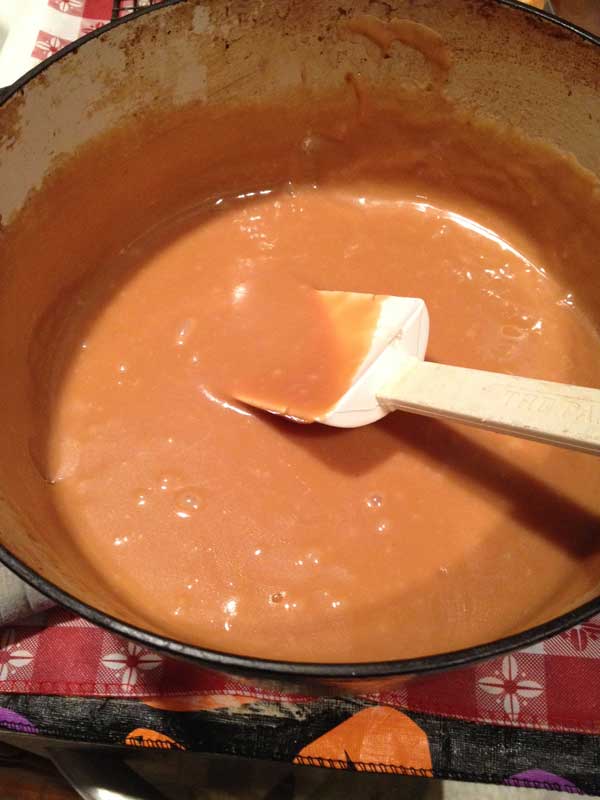 Letting the icing take its own sweet time to reach the soft ball stage was key.  Rushing the process meant the icing would either be too pale or burnt.  That lesson applied to Rose's caramel icing recipe, and it also applies to this new one.  Like Rose's, this recipe requires a long, slow simmer.  However, it's worth it.  Instead of evaporated milk, it's made from cream, so the icing is definitely rich.  The crumb is a little different too.  It 's not quite as sweet as Rose's and it's a bit lighter thanks to the egg whites which are folded in at the end.  The flavor's a little better too.
Honestly, all of them were good, but I still have a lot more caramel cake and caramel icing recipes to try.
Recipe
Caramel Cake and Caramel Icing
A white cake coated with a caramel icing made with butter, sugar and cream. This one takes practice, but it's worth it!
Ingredients 
Cake
10.5

oz

sifted cake flour

3 cups – measure after sifting or weigh

2

teaspoons

baking powder

½

teaspoon

salt

omit if using salted butter

5

large egg whites

room temperature

¾

cup

6 ounces unsalted butter, softened

2

cups

granulated sugar

1

teaspoon

vanilla

1

cup

whole milk
Caramel Icing
¼

cup

unsalted butter

¼

teaspoon

salt

2

cups

heavy cream

room temperature

3

cups

granulated sugar

¼

cup

light corn syrup

2

teaspoons

vanilla extract
Instructions 
Preheat oven to 350 degrees F. Grease and flour two 9 inch round pans and line bottoms with circles of parchment paper.

Mix or sift together the cake flour, baking powder and salt. Set aside.

With a handheld electric mixer, beat the egg whites until stiff peaks start to form (not too dry, not too soft) and set aside for a few minutes while you continue.

In a large mixing bowl, beat the butter and sugar until creamy, scraping sides of bowl often. Beat in the vanilla. The mixture is not as creamy and fluffy as some, so add about a tablespoon of the milk as you beat it.

Gradually add the flour mixture and the milk alternatively in 3 parts, beginning and ending with the flour. Stir with a silicone scraper and beat on low for every addition. When completely incorporated, beat with the mixer for about 30 seconds or until well blended.

Fold in the beaten egg whites in 3 parts, folding until incorporated.

Divide batter between the two pans and bake cakes for 28 to 35 minutes. Let cool in the pans for 10 minutes then invert from pans, peel away parchment and let cool completely.

To make the caramel icing, make sure all the ingredients are room temperature and then put everything but the vanilla in a large, heavy pot (I used Le Creuset French Oven) which you've rubbed with butter.

Bring to a simmer and let simmer for about an hour or more, stirring every so often, until mixture reaches about 240 degrees F. To achieve this, you'll need to maintain a slow but steady simmer – not too fast, not too slow. Check periodically to make sure temperature is rising. This process takes patience. Luckily, you only need to give it a stir every so often.

Remove from heat, let cool slightly, then add the vanilla. Stir well. With a wooden spoon or a heavy duty silicone scraper, beat the icing until it is a spreadable consistency. It should flow only slightly when poured. Don't let it cool too much or it will start to get hard.

Do your best to spread it all over tops and sides of cake. The frosting will firm as it cools.