Coconut oil brownies were inspired by one of my goals for this year: updating old, good, and maybe-forgotten recipes. There are a lot of those here because when I first started Cookie Madness it was basically a log of experiments and new recipes rather than a carefully curated collection. To keep up with the times, I am trying to post only recipes I've made multiple times, that were exceptionally good or that for whatever reason I feel strongly about. These coconut oil brownies meet all of those qualifications.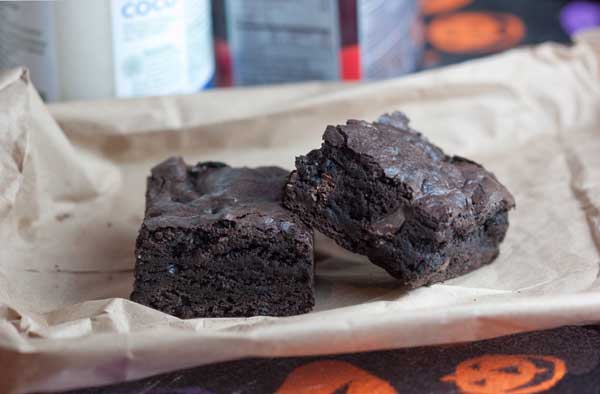 When I first started making these reduced fat brownies I used a combination of butter and grapeseed oil, but now I use coconut oil, which is readily available and popular. The coconut oil brownies have a dense and sturdy texture (kind of like boxed brownies) and a ton of chocolate flavor. They do appear to have a lot of sugar, but it's offset by all the cocoa powder and flour, so the brownies aren't radically sweet. The sugar does give them a chewy texture, so if you plan on monkeying around with the recipe you should take that into consideration and maybe try it as written first. I'm scared to tamper with this recipe anymore because I've found that when I make it just as written, it's perfect.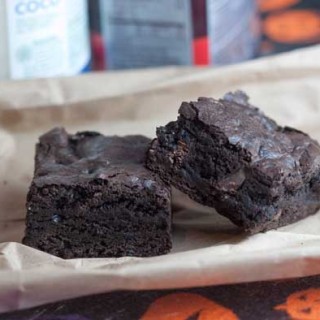 Coconut Oil Brownies
Making Coconut Oil Brownies involves a lot of gently stirring and scraping, so I use one tool – a heavy duty, heat resistant silicone scraper. I like the one I bought years ago from Pampered Chef. In fact, I liked it so much a bought a second.
Ingredients 
3

tablespoons

melted coconut oil

generous tablespoons

1

ounce

chopped unsweetened chocolate

28 grams

2/3

cup

unsweetened Hershey's Dark cocoa powder or Dutch cocoa powder

56 grams

2

large eggs

1

large egg white

1 1/2

cups

granulated sugar

294 grams

1 1/4

teaspoons

vanilla extract

1/2

teaspoon

baking powder

3/8

teaspoon

salt

1

cup

aerated and carefully measured all-purpose flour

126 grams

1/4

cup

extra dark chocolate chips
Instructions 
Preheat oven to 350 degrees F. Line an 8 inch metal pan with nonstick foil.

In a large saucepan, melt the coconut oil and chocolate together over very low heat stirring gently so that chocolate doesn't burn. When chocolate is melted, add cocoa powder and stir until smooth.

In a mixing bowl, mix the eggs, egg white, sugar and vanilla (I do this with my scraper). Mix in the baking powder and the salt, then combine the egg mixture with the chocolate mixture and stir well.

Add the flour and stir it in with the scraper. When flour is fully incorporated, make sure the batter is no longer warm and then stir in the chocolate chips. Batter will be thick and grainy. Transfer it to the pan and spread it evenly.

Bake on center rack for 28-30 minutes or until brownies appear set. It will be quite obvious that they are done!

Let cool completely on a rack or if you are impatient like I am, set the brownies in a shallow pan full of ice water to quick cool.

Lift from pan and slice into squares or for a cleaner cut, chill for a few hours and then cut. I always chill mine before cutting, then serve at room temperature.
Notes
I almost always use metal pans, but if you only have an 8 inch glass pan you could try that. It is usually recommended to reduce the baking temperature by 25 degrees when using a glass pan, so reduce temp to 325.