If you're working on a special date night Valentine's menu or you're like me and on a perpetual quest for small batch desserts, this cookbook will  come in handy: Dessert for Two: Small Batch Cookies, Brownies, Pies and Cakes.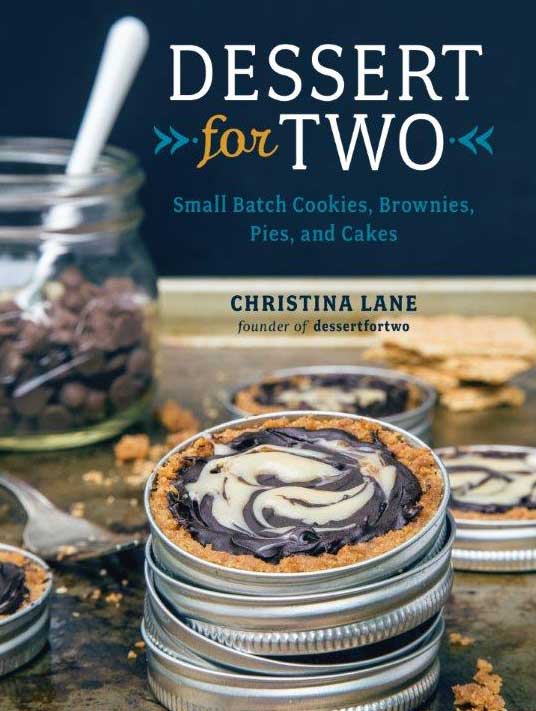 Written by Christina Lane, who specializes in downsizing sweet treats, Desserts for Two has cookie recipes that yield 1 dozen, pies made in muffin pans, bar cookies made in loaf pans and tarts made in jar lids which are so cute they made the cover. Dessert titles include Berry Minnie Cheesecakes, Apple Pie Moonshine Tiramisu, Lemon Meringue Cookies, Personal Upside Down Pineapple Cakes, Chocolate Bacon Truffles and the dessert I'm featuring today, the Warm Brownie Sundae which can be tailored to any palate by varying the ice cream and maybe adding a little sauce.  The presentation is definitely fun!
Plus now you have a great excuse to buy a pair of those 6 inch cast iron skillets that are popping up everywhere.
Dessert for Two can be found on the above Amazon link and at Barnes and Noble.  If you find a  favorite recipe from the book, let me know!
Recipe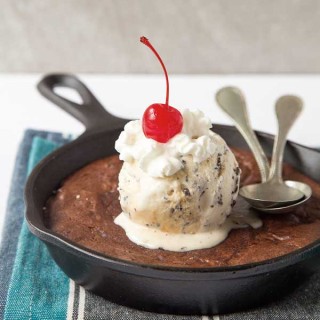 WARM BROWNIE SUNDAE
From Christina Lane: I like to end a Friday date-night-at-home dinner with this easy dessert. But, really, it's great for putting a pep back in your step on a lousy Monday, too. Use your favorite flavor of ice cream on top. I'm partial to chocolate chip, but mint chip is frequently perched on top of this brownie in my house, too. Yield • 1 (6-inch) round cake
Ingredients 
Cooking spray

4

tablespoons

60 grams

unsalted butter

½

cup

100 grams granulated sugar

¼

cup

+ 2 tablespoons

42 grams unsweetened cocoa powder

¼

teaspoon

salt

½

teaspoon

vanilla extract

1

large egg

¼

cup

30 grams all-purpose flour

2

tablespoons

23 grams semisweet chocolate chips

1

scoop of your favorite ice cream

Heavy whipped cream

optional

1

Maraschino cherry

optional
Instructions 
Preheat the oven to 325°F, and spray a 6-inch cast-iron skillet (or other ovenproof small skillet) with cooking spray.

Dice the butter into eight pieces and place in a microwave-safe bowl. Sprinkle the sugar and cocoa powder on top. Microwave on high for 30 seconds. Stop, stir, and then microwave for another 30 seconds.

Carefully remove the bowl from the microwave, and stir in the salt and vanilla. Stir for about 30 seconds to cool the mixture. Then, add the egg and stir well.

Sprinkle the flour on top, and then stir vigorously for fifty strokes, using a wooden spoon. The brownie batter will become thick and glossy. Finally, stir in the chocolate chips.

Scrape the mixture into the prepared skillet. Bake for 24 to 28 minutes. It's okay for the brownie to stay a little gooey in the middle.

Top with the ice cream, whipped cream, and a cherry and serve immediately with two spoons.
Notes
"Reprinted with permission from Dessert for Two by Christina Lane, The Countryman Press 2015"
.