This recipe goes by many names, which means it's well loved.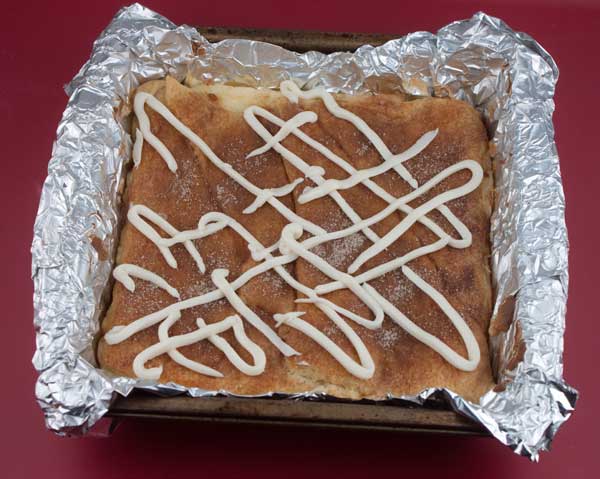 That, or it's running from the law!  Nah, It's a law-abiding good citizen of a cake, but it does have more than one title.  You can find it by looking for  Cream Cheese Squares or Cream Cheese Danish Casserole Or Sopapilla Cheesecake Bars. Some versions call for extra butter, but this version is the light version. Heh, not quite.  But it is a very simple, delicious morning treat that's not too expensive and can be made in minutes.  It's a marvelous little convenience recipe and I have no idea how I avoided making it all these year.
To start, you put crescent dough over the bottom of a pan and top it with a mixture of cream cheese, egg, sugar and vanilla.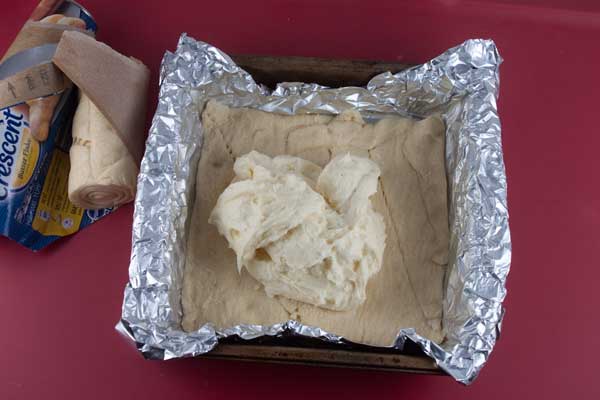 You then spread remaining crescent dough on top, brush with a little egg and sprinkle with sugar.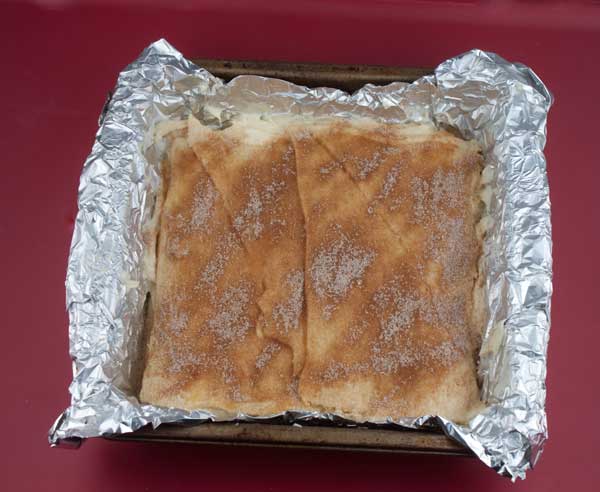 Then bake! After baking, you let it cool a bit (cream cheese filling is usually better warm rather than piping hot), then cut into squares.  If you have some leftover vanilla frosting around, you can add squiggles of that, too.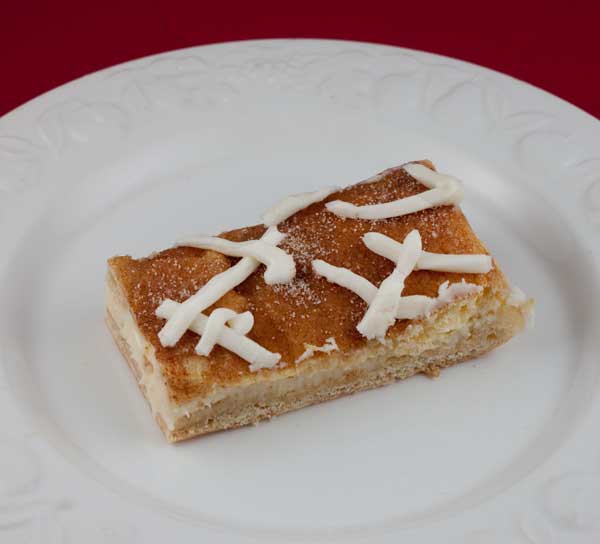 You can serve it at room temperature, slightly warmed or even straight up cold from the refrigerator.  It's actually good that way — kind of like a cheesecake bar.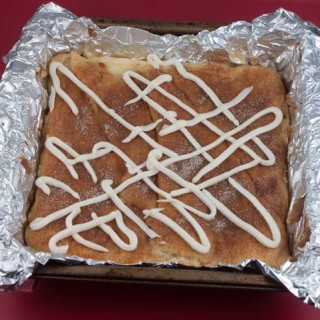 Crescent Roll Cream Cheese Coffee Cake
Crescent Roll Cream Cheese Coffee Cake Crescent dough with cream cheese baked between the layers
Ingredients 
1

tube of cresent rolls

1

package of cream cheese

8 ounces, softened

2

tablespoons

lightly beaten egg

from one egg that you've cracked into a cup and stirred

½

cup

sugar

¼

teaspoon

vanilla extract

More lightly beaten egg

from same egg

3

tablespoons

of sugar mixed with about 1 teaspoon of cinnamon
Instructions 
Preheat oven to 350 degrees F. Line an 8 inch square pan with nonstick foil

Arrange half the dough over the bottom of the pan and press pieces together to make a crust.

In a mixing bowl, beat the cream cheese with the 2 tablespoons egg, sugar and vanilla until smooth. Spread cheese mixture over dough.

Arrange remaining dough pieces over the cheese mixture, covering cheese completely. Brush with some of the remaining egg and sprinkle with cinnamon sugar.

Bake at 350 for about 22 minutes or until edges are lightly browned. Let cool completely
Notes
For a double batch, double the recipe and make it in a 9x13 inch pan. Do not double the egg. Instead, put the yolk in with the cream cheese mixture and brush the top of the dough with egg white. This is actually the traditional way of making it. Mine is a half version for smaller families.