If you love making yeast bread and have time for some serious baking (and cleaning), I recommend making chocolate babka from scratch.  However, if you want to go straight to the filling, shaping, baking and eating, then babka made with crescent dough is the perfect compromise.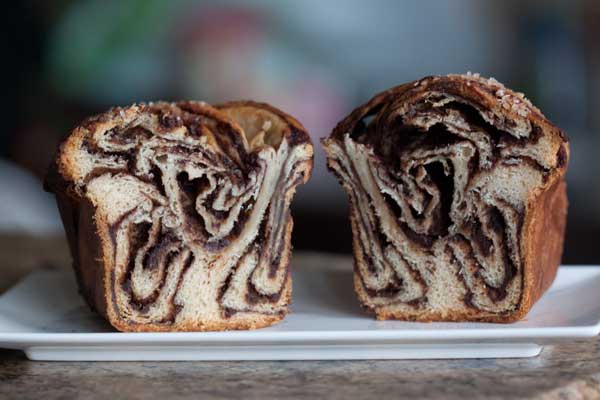 Obviously, babka made with crescent dough is not the same as scratch.  Scratch babka, or at least the recipe I've been using, is exceptionally light and buttery tasting.  Babka made with crescent dough is denser and heavier and has that familiar crescent dough flavor.  I'm going to assume that if you've read this far you're okay with that flavor or love it.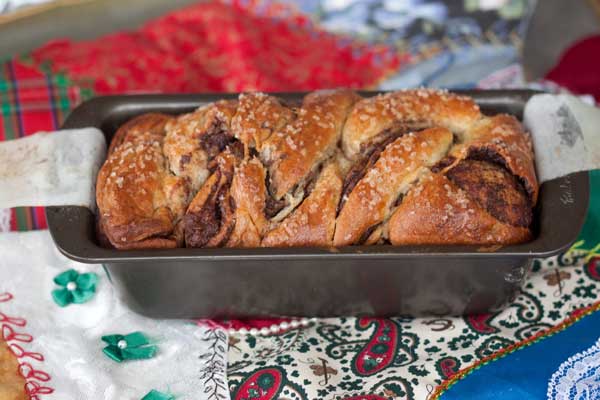 You don't need a lot of ingredients for this babka, but you will need is a decent work space to spread chocolate on the dough, some refrigerator or freezer space to chill dough before cutting, and an 8x4 inch (1 pound capacity) loaf pan.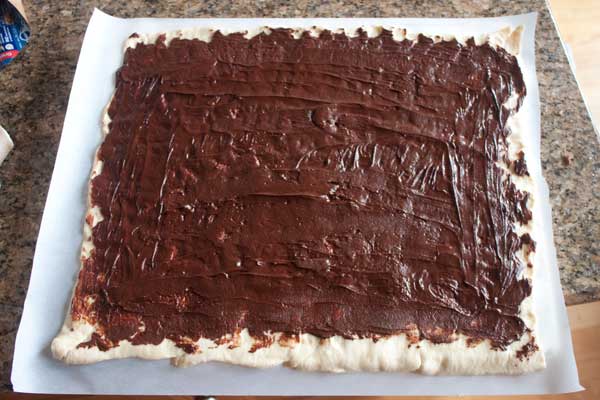 Since posting this I have re-tooled the recipe a bit and it settled on using the 12 oz can of crescent dough rather than 2 8 oz cans.  The 12 oz size works perfectly for a 1 pound loaf that fits the 8x4 inch pan.  If you want to make a larger loaf using a 9x5 oz can, you can follow the alternative directions.  But this recipe uses the 12 oz.
First, you unroll the dough from the 12 oz can of crescents. It should be somewhere around 7 inches tall by 18 inches across.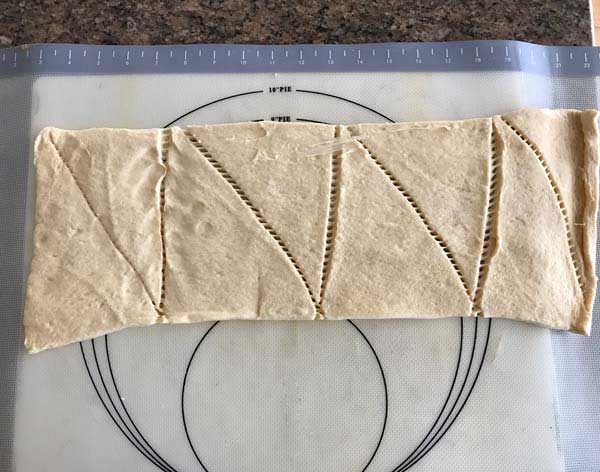 Next, you slice it in half and put the second half under the first to make a rectangle that is 14 inches tall and 9 inches across. You'll also need to push it together (as below) to seal in the seams.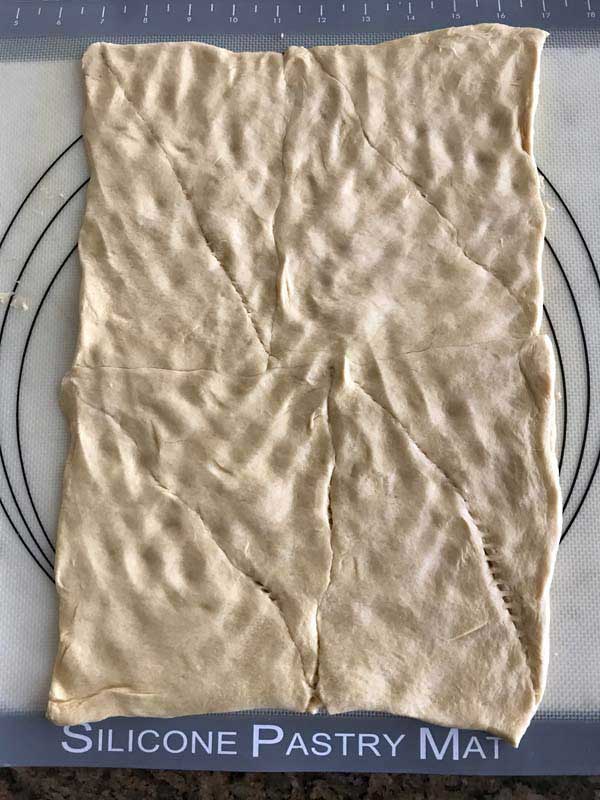 Spread the chocolate mixture over it. I use a mixture of melted chocolate chips, butter and sugar. Good quality chopped dark chocolate (no butter, no sugar) should also work, you'll just need to chop it quite fine so that it will cling to the dough when you roll it.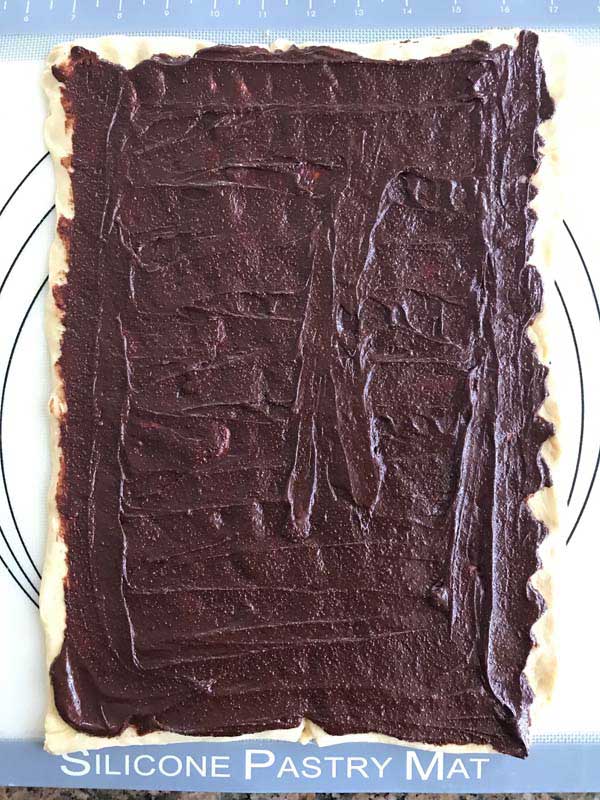 And then carefully roll. You can roll upward or downward. You'll end up with a cylinder that's a little over 9 inches in length. Carefully transfer the cylinder to the refrigerator and chill until the chocolate sets. This should only take 30 minutes or so.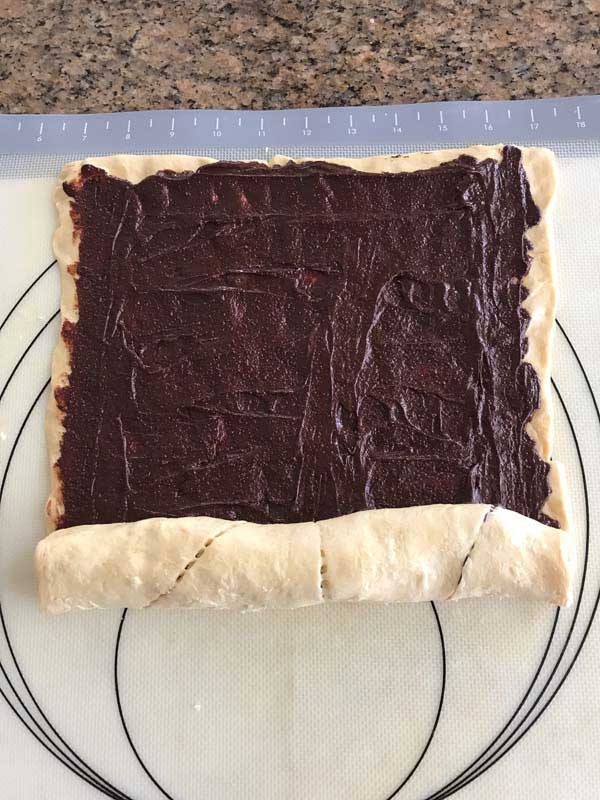 Now that your cylinder has a somewhat firm chocolate filling, you can slice it. Cut it vertically so that you have two long strands.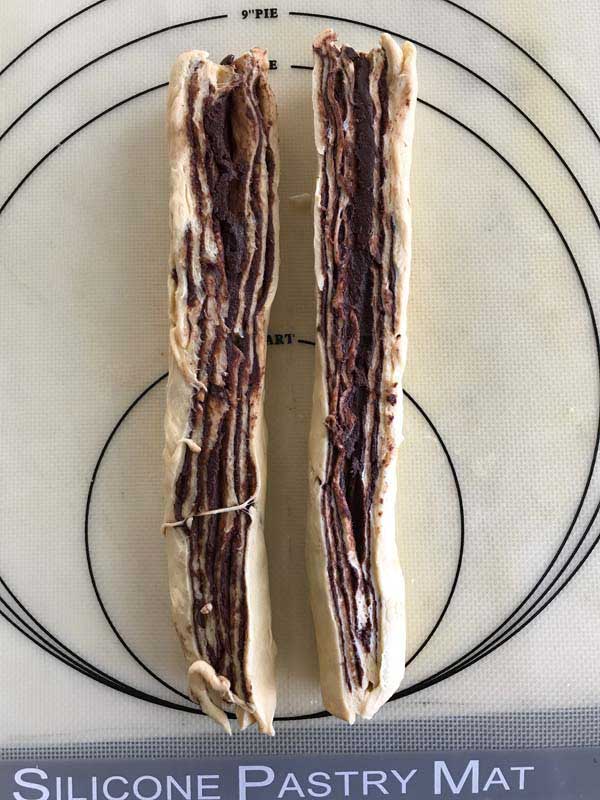 Pinch the tops together and make a nice twist!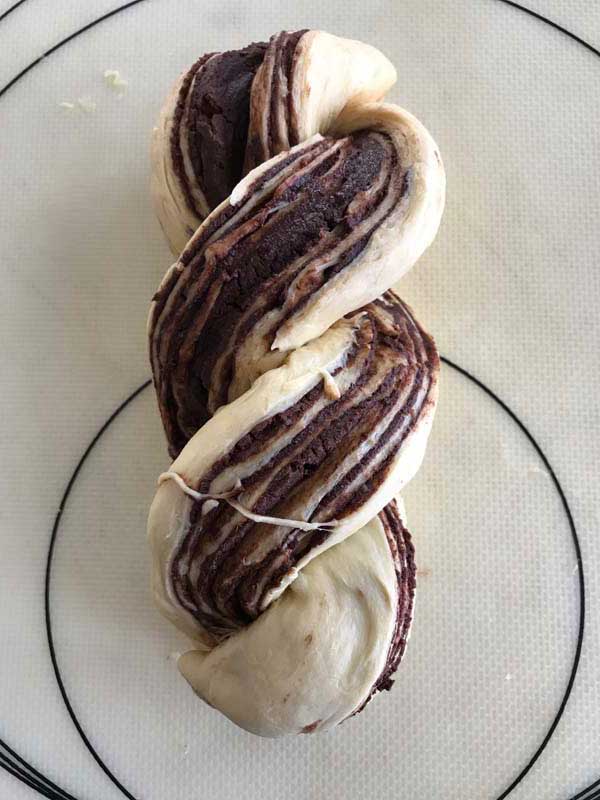 Now squash it into an 8x4 inch loaf pan. The pan I use is a 1 pound capacity 8x4 inch. Be careful because many loaf pans are 8 ½ by 4 ½ or 9x5. The 8x4 inch loaf pans are rather small, but super handy to have around. Dollar Tree sells disposable ones in packs of 3.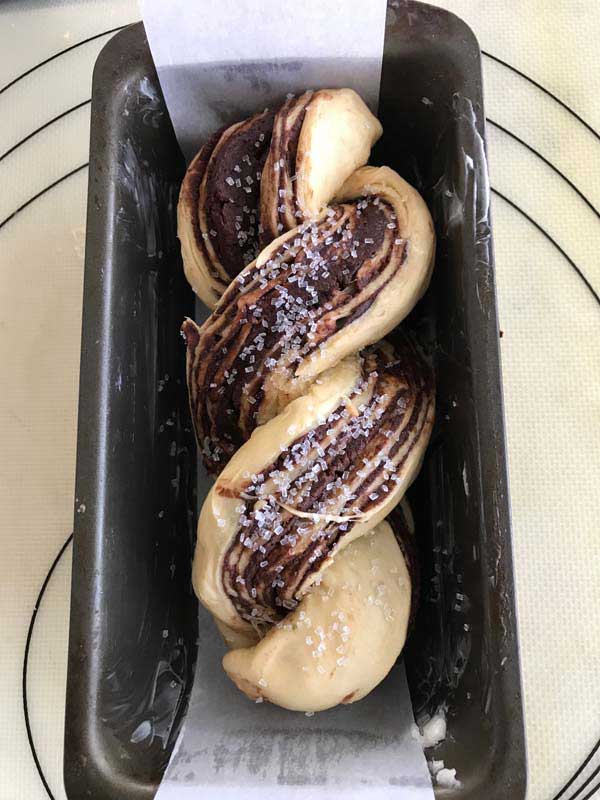 At this point you might want to sprinkle with cinnamon sugar or coarse, sparkling sugar. It adds some crunch, so I recommend it. Then lastly, you bake it. Bake at 350 for 45 minutes and be sure to cover loosely with foil after the first 25 to 30 minutes. Crescent dough browns quickly and if you don't cover it the edges might be a little too brown and crispy.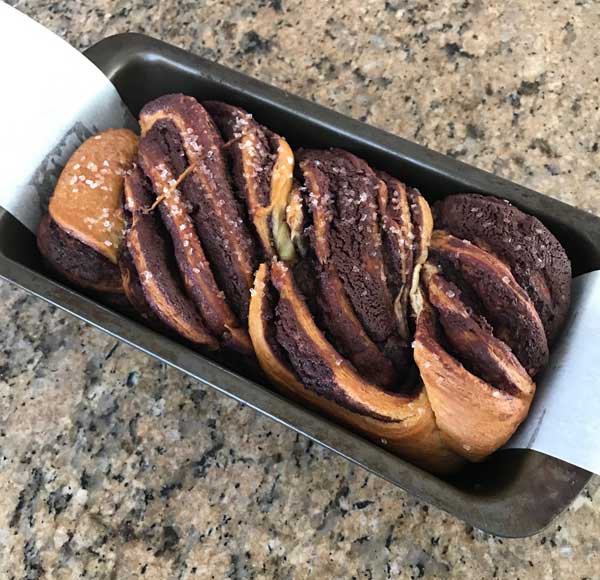 And here it is baked!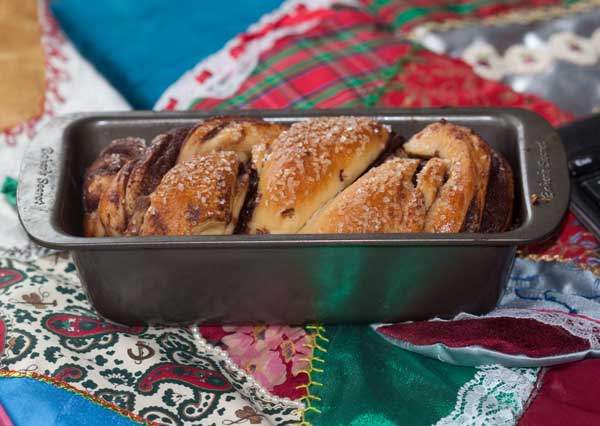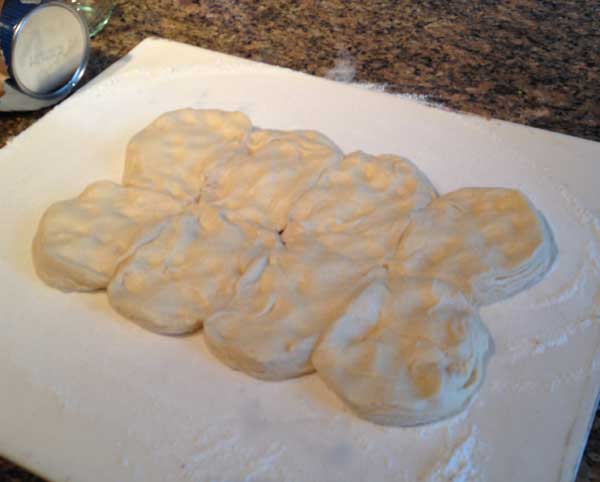 So here's the recipe. Since I wasn't sure how well babka made with crescent dough would work out, I used chocolate chips rather than spend money on bar chocolate.  The Ghirardelli bittersweet chocolate chips worked perfectly.  Other brands might be too sweet.
Recipe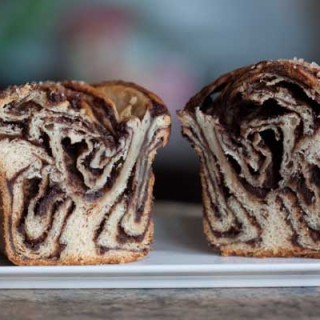 Chocolate Babka Made With Crescent Dough
A quick version of babka made with crescent dough.
Ingredients 
1

12 oz each package crescent roll dough (the "big and flakey" type)**
Chocolate Filling
2 ½

tablespoons

unsalted butter

⅔

cup

bittersweet chocolate chips

4 oz

2

tablespoons

granulated sugar

Sugar sparkles or coarse sugar
Instructions 
Have ready a large piece of parchment paper or use a work surface that you can transfer to the refrigerator such as a large plastic cutting board.

Open can of crescent dough and unroll as neatly as you can without undoing them at the seams. You should have a 7x18 inch rectangle. Cut it in half and put the second half under the first so that you have a 14x9 inch rectangle. (14 inches high and 9 inches wide).

Put the butter and chocolate in a microwave safe bowl and heat at 50% power, stirring ever 60 seconds (or use high and stir every 30 seconds). Remove from microwave and stir in the sugar. Spread the chocolate mixture evenly all over the rectangle going to the ends.

Working from the 9 inch side, roll a tight cylinder. Transfer the cylinder to the refrigerator and let it chill for 15-30 minutes to help set the chocolate filling and make the slicing process a little easier and neater.

While the dough is chilling, grease an 8x4 inch loaf pan and line with a strip of parchment paper.

Remove roll from the refrigerator and with a sharp knife, slice lengthwise down the center and put the split pieces on their backs so the cut side is up. Pinch the tops of the split pieces together and bring one strand over the other, alternating each time, until you have a twist. Set the twist in the prepared pan and sprinkle with coarse sugar (or cinnamon sugar).

Bake the loaf for about 45 minutes in a 350 degree oven. After it has baked for about 25 minutes, cover loosely with a sheet of foil to prevent the top from getting too brown.

Set finished loaf on a rack and let loaf cool for about a half hour. Remove from pan and let cool completely. If desired, wrap lightly in plastic and freeze for about an hour to help set chocolate.
Notes
The first time I used the buttery flavored crescent dough. It baked up nicely, but I didn't care for the artificial butter flavor.
Here are some older versions.  At one point I attempted to make it with biscuit dough.  The biscuit dough version was a little too heavy and dense.