Thanks to a mysterious stranger who left a note in a secondhand copy Cook's Illustrated, my quest for the perfect cinnamon roll has ended. This might sound too good to be true, but these quick cinnamon rolls with no yeast come together in about the time it takes to make biscuits. They are deeply flavored with buttermilk, vanilla and brown sugar, and have a nice height and texture.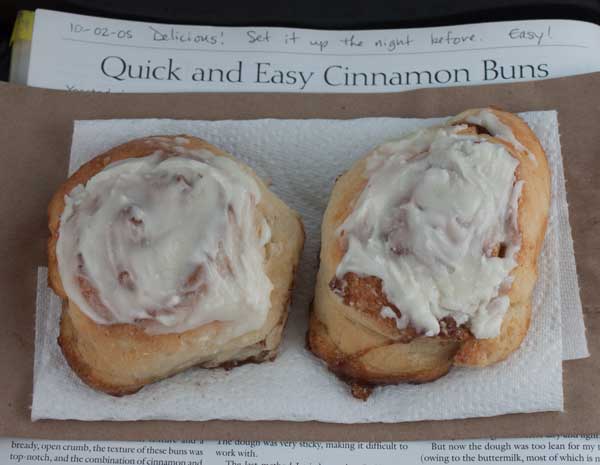 As a bonus, the recipe adapts to whatever size you need. You can double it very easily for a larger group, but if you're a party of two or three, you may like the recipe as I've written it, which makes 4 rolls.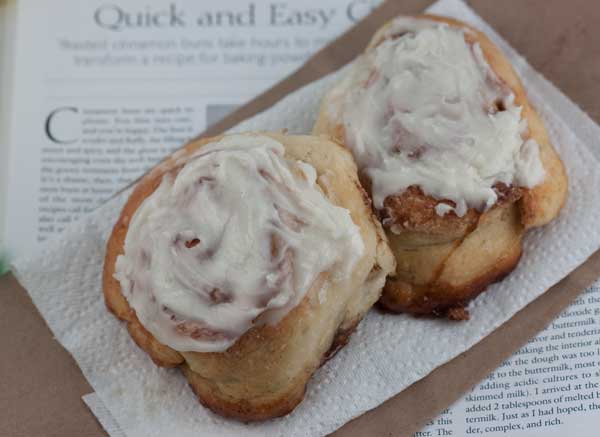 But let me back up a little bit. I own almost every issue of Cook's Illustrated and even though I don't always follow their directions precisely, I learn so much through reading. I never would have thought a cinnamon roll made with no yeast would be very good, but an article in the May/June 2002 issue explained that a combination of baking powder, a little baking soda and a good amount of buttermilk would give you a dough that would rise nicely with just the heat of an oven. And then of course there was the note from the nice person who donated the magazine to the used bookstore validating that claim. I vowed to make the rolls the next morning.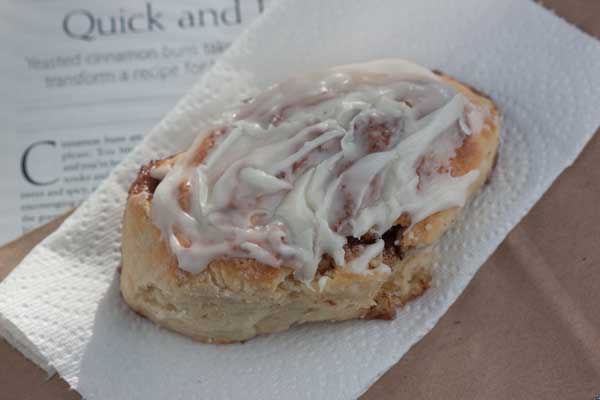 But some changes were in order. I've made enough cinnamon roll fillings to know I like a mixture of brown and white sugar, so I used a tad less brown sugar. I also halved the dough recipe, and used my favorite pure vanilla icing recipe for crowning touch. It comes together in about 2 minutes and really highlights the flavor of good vanilla (I like Nielsen Massey and Sonoma Syrup Vanilla Bean Crush), so even if you don't like the rolls for some reason, you may like the icing.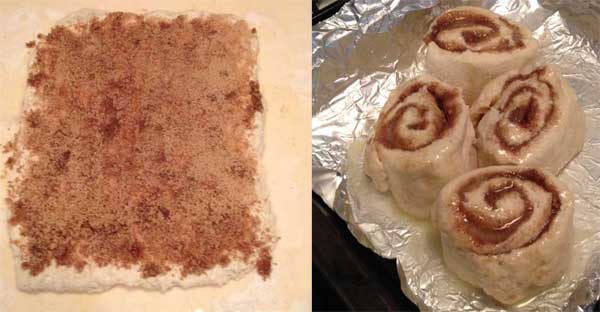 The ease of which these came together was impressive, but Todd, Fuzz, Lizzie and especially HAL (who goes nuts whenever I bake sweet yeast bread — I discovered this back in the kolache making phase) thought these were just as good as more time consuming cinnamon rolls. It may be too early to say, but there's a good chance these will be in next year's top 10.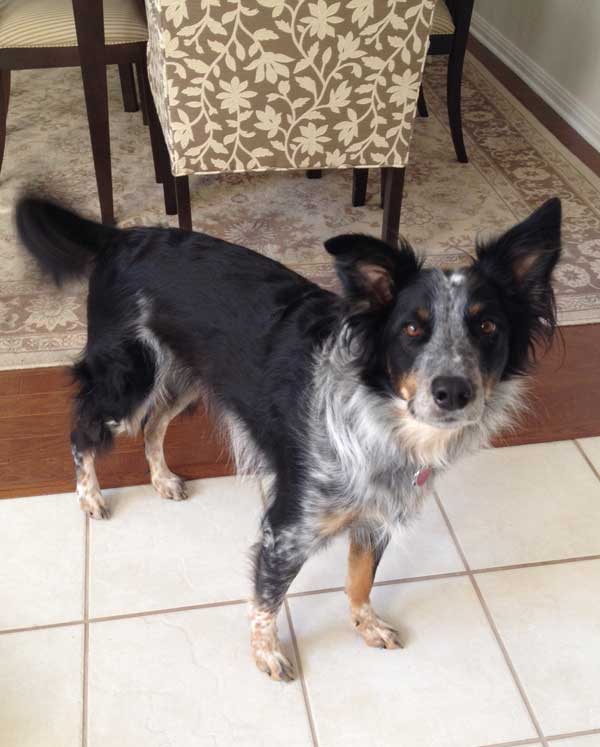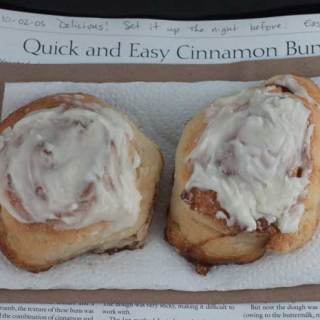 Quick Cinnamon Rolls Without Yeast
Quick cinnamon rolls made without yeast! These cinnamon rolls are unbelievably good for so little effort. I think they're better than a lot of the more time consuming rolls.
Ingredients 
Filling
5

tablespoons

light brown sugar

2

tablespoons

granulated sugar

1

teaspoon

cinnamon

Pinch

of salt

1/2

tablespoon

unsalted butter

melted
Dough
1 1/4

cups

all-purpose flour

6.25 ounces***

1

tablespoon

sugar

1/4

teaspoon

salt

5/8

teaspoons

baking powder

1/4

teaspoon

baking soda

½

cup

plus 2 tablespoons buttermilk

3

tablespoons

unsalted butter

melted
Icing
1

tablespoon

melted butter

1

cup

powdered sugar

1/4

teaspoon

vanilla

1

tablespoon

half & half or whole milk plus more as needed at room temperature
Instructions 
Preheat oven to 425 degrees F and line an 8 inch square pan pan with nonstick foil or parchment paper. I find nonstick foil a little easier to work with.

In a small bowl, stir together both sugars, cinnamon and salt. Add the melted butter and stir until mixed. Set aside.

In a mixing bowl, stir the flour, sugar, salt, baking powder and baking soda until uniformly mixed.

Mix 1 tablespoon of the melted butter in with the buttermilk and add to the flour mixture, stirring to form a soft dough. Scrape the dough onto a floured work surface (I use a big cutting board) and knead a few times until it is less scraggly. Use your hands to press it into a rectangle that is 9 inches high and about 6 inches across.

Drizzle another tablespoon of melted butter across the rectangle and spread evenly, then sprinkle filling evenly over butter.

Starting at the short end, roll into a tight cylinder. Cut into 4 equal rounds and arrange cut side up, sides touching each other, in the pan. Spread final 1 tablespoon of melted butter over rolls, making sure to cover sides that are exposed to air.

Bake rolls for about 25 minutes or until lightly browned. Carefully separate the warm rolls and transfer warm rolls to a sheet of foil or parchment to be iced.

Make the icing. In a 2 cup Pyrex measuring cup or a deep, small bowl, combine the melted butter (I just melted mine directly in the cup), powdered sugar and vanilla and stir until thick and crumbly. Add 1 tablespoon of the milk or half and half and stir until smooth, adding more milk as needed to make a smooth, spreadable icing. Spread icing over warm cinnamon rolls and allow it to melt slightly from the warmth of the rolls.
Notes
Notes: You need 6.25 ounces of flour, which means the volume measurement could be anywhere from 1 ¼ cups to a generous 1 1/3 cups. It depends on the moisture level and protein in your flour. For best results, always weigh flour.
This icing is super simple! Just melt the butter in a microwave-safe glass measuring cup, add powdered sugar and vanilla and stir until thick, then gradually add your liquid until you have the perfect consistency for glopping onto the rolls.
TO DOUBLE:
Double the filling and dough recipe and pat the dough into a rectangle that is 9 inches tall and 12 inches across. You don't need to double the icing. Just use 1 ½ tablespoons of butter, 1 ½ cups powdered sugar, about ½ teaspoon vanilla and about 1 ½ tablespoons of milk plus more as needed.