I just made the most beautiful oatmeal cookies! The Milk Bar Life Oatmeal Cookies recipe is from Christina Tosi's new book Milk Bar Life: Recipes & Stories
, a collection of recipes Tosi uses outside of Milk Bar.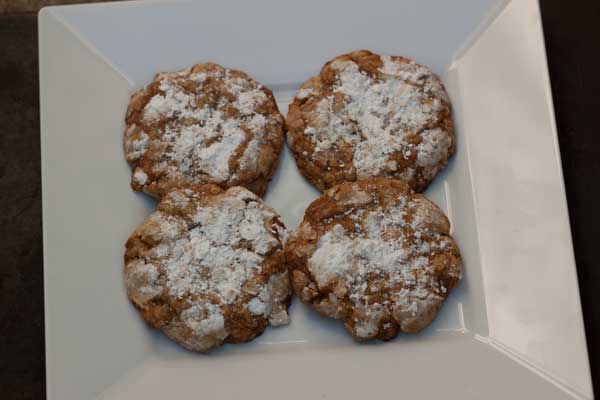 The cookies aren't fussy at all and come from a recipe passed down by Christina's grandma. Like other recipes in the book, this one includes a cute anecdote, which in this case involves Christina's Uncle Dan who told his roommates the powdered sugar on the cookies was mold to get them to stay away from them. Those roommates would have to be pretty gullible to think powdered sugar was mold. They're so pretty! In addition, the texture is perfect. The cookies are quite large, chewy on the inside, crispy around the edges and kind of light compared to others.
Milk Bar Life Oatmeal Cookies Ingredient Notes
For the flour, I used Gold Medal unbleached, but I plan on trying the recipe again with a higher protein flour just to see if they'll be a little thicker. Because the cookies are on the sweet side, nuts might be a good addition since nuts curb sweetness. I may try a couple of handfuls of nuts on the next round. And there will be a next round!
Gluten-Free Milk Bar Oatmeal Cookies
I recently tested the recipe with King Arthur's Measure for Measure gluten-free flour blend. It worked well, but the powdered sugar sank into the dough, so I recommend not rolling in powdered sugar if you use a gluten-free flour. The cookies took a little longer to bake, too -- more like 15 minutes. But that's always variable and it might just be because I tested in a different oven. Either way, they are still great cookies.
Recipe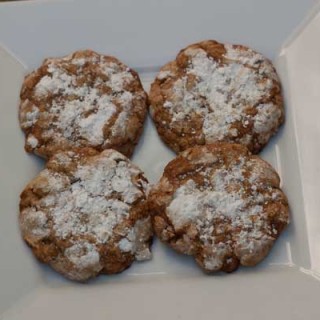 Grandma's Oatmeal Cookies
"This cookie is the reason I learned to bake. There was always an ill-fitting lid on a beat-up plastic storage container in the fridge full of this dough, or a plate of oatmeal cookies wrapped in thrice-used aluminum foil on the table. With great care, my grandma rolled every ball of dough in confectioners' sugar for a perfectly crackled finish, but she could never figure out why these cookies inspired the crazy in people.When he was away at college, my Uncle Dan would lie to his roommates and tell them the white stuff on top was mold, just to hoard a few more for himself. That was my grandma's favorite story to tell when she handed the recipe over to everyone who asked for it. Though she would never go for this (it would probably get stuck in her dentures), I like to sneak some shredded coconut into the dough when no one is looking." -- C. Tosi
Ingredients 
14

tablespoons

unsalted butter, at room temperature

1 3⁄4 sticks (170 grams)

¾

cup

packed light brown sugar

(150 grams)

⅔

cup

granulated sugar

(130 grams)

2

large

eggs

2

teaspoons

vanilla extract

1 ½

cups

all-purpose flour

(200 grams)

2 ¼

cups

old-fashioned oats

(200 grams)

1 ¼

teaspoons

ground cinnamon

1 ¼

teaspoons

kosher salt (only for Diamond)**

¾ teaspoon if using Morton

1

teaspoon

baking soda

½

cup

sweetened shredded coconut

optional

1

cup

confectioners' sugar
Instructions 
Heat the oven to 375°F.

Combine the butter, brown sugar, and granulated sugar in the bowl of a stand mixer fitted with the paddle attachment on high and cream together until light and fluffy, about 3 minutes. Add the eggs and vanilla and mix until incorporated, about 1 minute. Add the flour, oats, cinnamon, salt, baking soda, and coconut, if using, and mix until just combined, about 30 seconds.

Put the confectioners' sugar in a small bowl. Scoop and roll the dough between your palms into golf-ball-sized balls. Toss in the bowl of confectioners' sugar until completely covered and arrange the cookies 2 to 3 inches apart on a greased or parchment-lined baking sheet.

Bake the cookies for 9 to 10 minutes, until golden brown and crackled. Let cool completely on the pan. For storage instructions, see page 47.
Notes
Recipe courtesy of Milk Bar Life by Christina Tosi.
Anna's Baking Notes: I followed the instructions as written and didn't have any problems. Great recipe! The cookies are on the sweet side, but they're rolled in powdered sugar so that's to be expected. I haven't tried this with pecans or walnuts, but nuts might be good. The texture is great -- crispy edges with chewy centers. My cookies took about 14 minutes to bake. At 10 minutes they were quite pale, then 3 minutes later they were a lovely shade of brown.
Milk Bar Life Oatmeal Cookies are worth the price of the book. Enjoy!