I never thought I'd pick a snickerdoodle over a chocolate chip cookie, but a few years ago Todd brought home some snickerdoodles which gave chocolate chip a run for the money. And of course they beat the pants off plain sugar cookies! They weren't fancy in terms of appearance, but they were so soft and had a really good balance of vanilla, cinnamon and butter flavor. Ever since then I've been trying to find a snickerdoodle just as satisfying, and I think this recipe is it.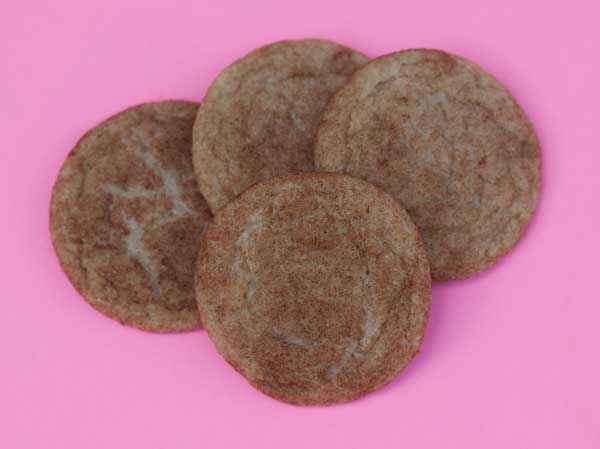 Butter Flavor Crisco Snickerdoodles
Shortening seems to be a traditional snickerdoodle ingredient, and in this case I'd recommend the butter flavored type. I've mentioned I don't care for the artificial butter flavoring in most things, but for some reason it goes really well with the other ingredients in this cookie. Plus you only use half shortening. The other half is real butter.
As you might guess by the name Brown Sugar Snickerdoodles, these Snickerdoodles have a higher proportion of brown sugar than white. But don't worry -- they still taste like the traditional version (only better) and the molasses flavor isn't overwhelming.
White Lily Flour or Regular All-Purpose
To give the cookies a softer texture, the recipe calls for White Lily, a flour made with soft winter wheat. I used to have to drive all over town looking for it or order it off Amazon, but now I live in North Carolina and it's easy to find. White Lily weighs about 4 oz per cup so it's similar to cake flour. If you don't have White Lily, you can weigh out the equivalent of regular all-purpose flour.
And finally, snickerdoodles are the best cookies for showing off good cinnamon, so if you're looking for an excuse to buy or mail order some good quality cinnamon, now you have one. But rest assured, these will be good with any cinnamon.
Recipe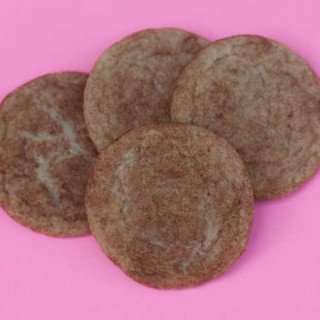 Brown Sugar Snickerdoodles
Brown Sugar Snickerdoodles with a ton of buttery flavor.
Ingredients 
1

stick

unsalted butter, softened

(114 gams)

½

cup

Butter Flavor Crisco

(96 gram)

¼

cup

granulated sugar

(50 grams)

1 ¼

cups

firmly packed brown sugar

(250 grams)

2

large

eggs

2

teaspoons

vanilla extract

3 ½

cups

White Lily (not self-rising) or about 3 cups (390 grams) regular AP**

(390 grams) -- Weigh!

2

teaspoons

cream of tartar

or us 2 tsp. baking powder and omit soda

1

teaspoon

baking soda

1

teaspoon

salt or ½ teaspoon if using salted butter
TOPPING
¼

cup

granulated sugar

4

teaspoons

cinnamon
Instructions 
Preheat the oven to 400 degrees F.

Line two baking sheets with parchment paper or Silpats or line with foil and grease foil.

Beat butter, shortening, ¼ cup granulated sugar, brown sugar, eggs and vanilla in large bowl with electric mixer at medium speed, until well blended.

Combine the flour, cream of tartar, soda and salt in a medium bowl and stir really well to mix and remove any lumps of White Lily. Mix flour mixture into shortening mixture at low speed until combined.

At this point you may want to chill your dough for slightly easier handling.

Scoop up rounded tablespoons of dough and shape into about 36 balls or about 60 smaller size balls.

Mix together the topping (¼ cup granulated sugar and cinnamon) in a small bowl. Roll balls in sugar cinnamon mixture. Place 2 inches apart on prepared baking sheets.

Bake 6 to 7 minutes, or until cookies are puffed and crackled on top and the edges are set. The centers will be soft. Allow to cool 1 minute on baking sheet. Remove to cooling rack and let cool completely. Be careful not to overbake!
Notes
If you don't have White Lily you can use regular all-purpose. For best results, weigh out 390 grams. If you don't have a scale, that would be around 3 cups of flour, spooned into the cup and swept.