If you like the idea of ice cream made with milk from happy cows, eggs from free roaming chickens and locally sourced fruit, check out McConnell's Ice Cream. Founded in 1949 in Santa Barbara, this rich, indulgent "French Pot" ice cream is now being shipped around the country.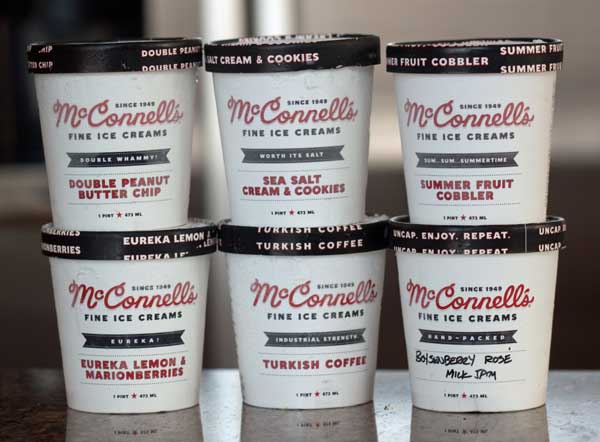 Stores here in Chicago carry a variety of flavors, and so far I've sampled six -- courtesy of McConnell's.
First up was the Turkish Coffee. Like a frozen coffee drink in creamy smooth ice cream form, this was one of the best coffee ice creams I've tasted. It would be great in a coffee ice cream pie with a little hot fudge and whipped cream or sandwiched in the middle of two soft chocolate cookies.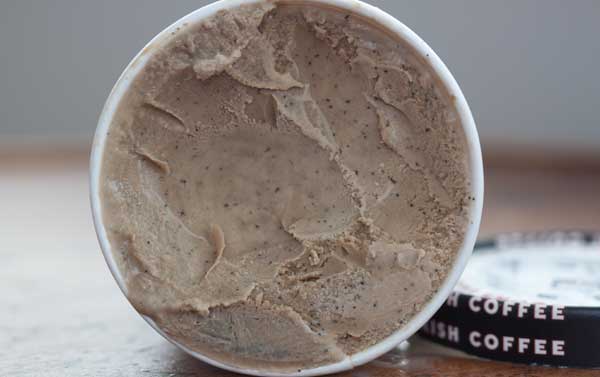 Next we tried Double Peanut Butter Chunk, which had bits of actual peanut butter flecked throughout. The deeper into the pint we got, the more peanut butter there seemed to be.  I liked how the peanut butter bits were small and scattered throughout making it impossible not to get a bite of peanut butter.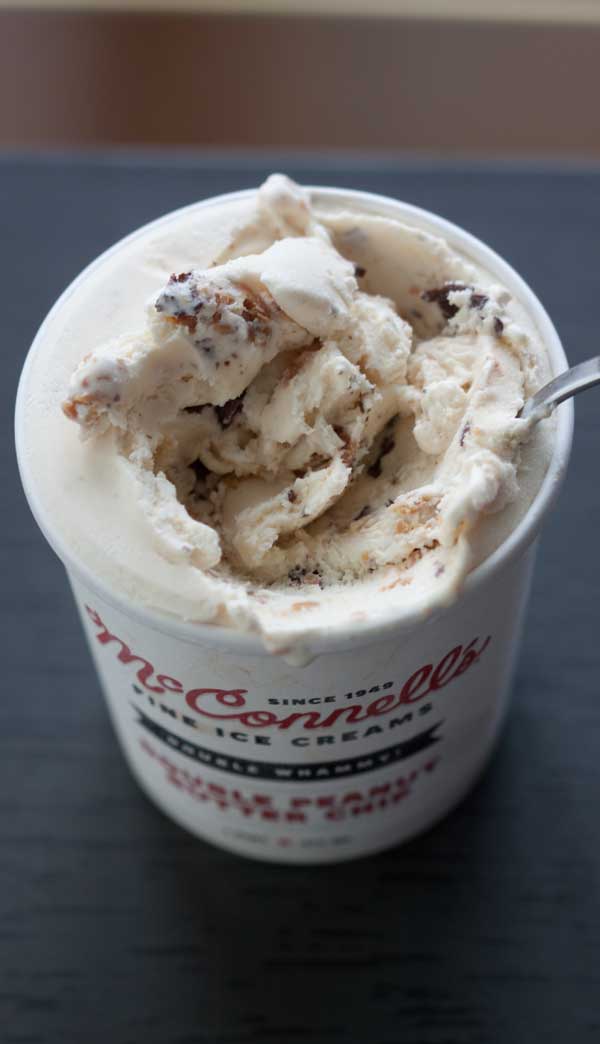 The Sea Salt Cream & Cookies didn't say caramel on the label, but my daughter and I both thought the base tasted like salted caramel and the chunks were chewy chocolate chip cookies rather than the usual sandwich cookies.  It was good, but I wished the cookie chunks had been a bit larger.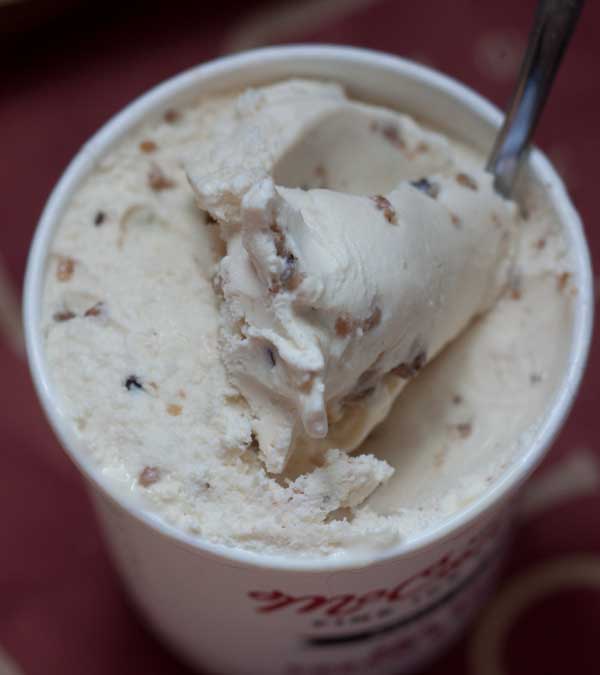 And then there was the Summer Fruit Cobbler, which I wasn't super excited about because I typically don't want fruit flavored ice cream. This was not fruit flavored ice cream, but rather a vanilla base with chunks of fruit and cobbler. It was amazing and I thought it was my favorite of the bunch.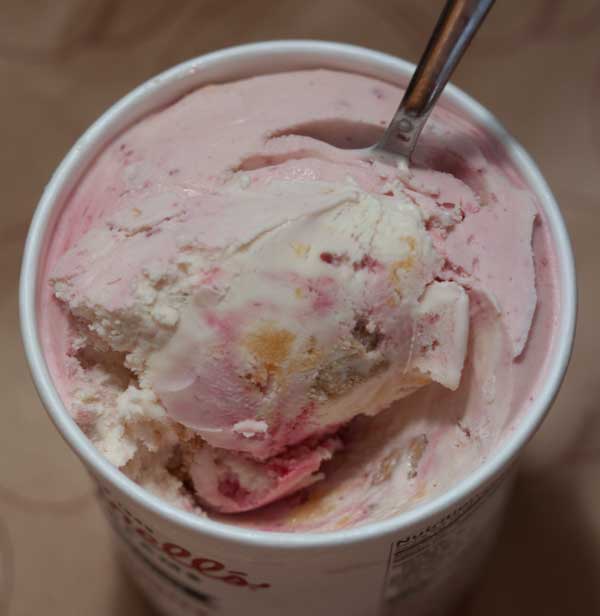 That is, until I tried the Eureka Lemon & Marionberries. Combined with the tart lemon cream, this was almost like eating a sour cream lemon cream pie with blackberries – nothing like a sorbet, but rather totally rich and creamy.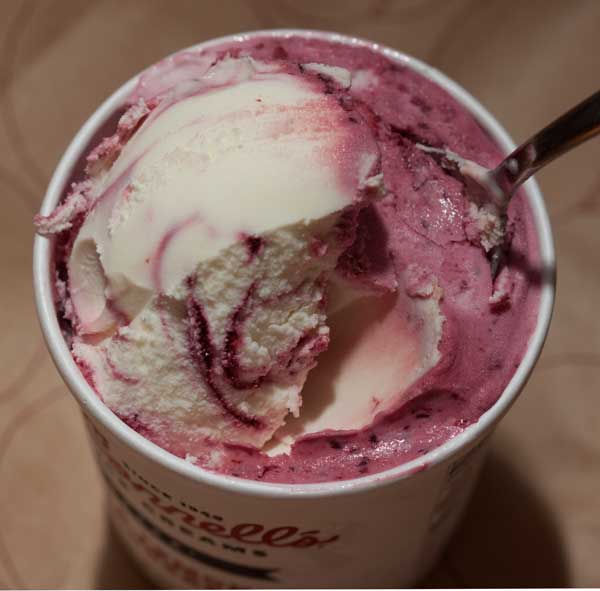 The last flavor was called Boysenberry Rose Milk Jam which gave me a clear idea of what boysenberries taste like. Growing up in Texas we didn't eat a lot of boysenberries and I think I'd only had Boysenberry as a yogurt flavor. Apparently they are a cross between a raspberry and a blackberry.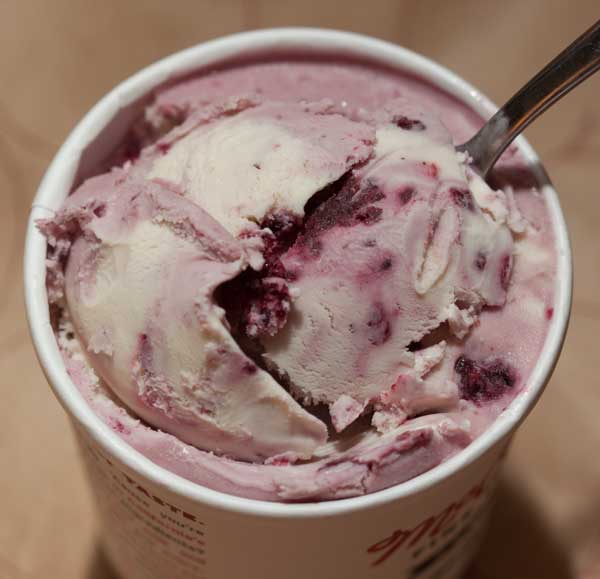 McConnell's is uber rich, but there doesn't seem to be any air whipped in (like homemade), so ½ cup weighs close to 4 oz. The serving size on the label is pretty accurate.
If you try it, let me know your thoughts. I've yet to try the chocolate based flavor, but plan on it this week. In the meantime, I'm going to use the rest of these flavors in some end-of-summer ice cream desserts.