UPDATE: This is an old post and a review for BFree Gluten-Free Bread. Things have changed since I wrote this. While I am not celiac, I've developed a health issue that greatly improves when I cut gluten. It hasn't been a huge sacrifice because I enjoy the challenge of gluten-free baking, and also because companies like BFree have created so many alternatives to regular wheat bread.
Old Review
Last year I tried going gluten-free. I didn't notice any health improvements, but I learned that cutting out gluten wasn't nearly as difficult as it seemed thanks to all the new gluten free products. A brand I particularly like is BFree Foods.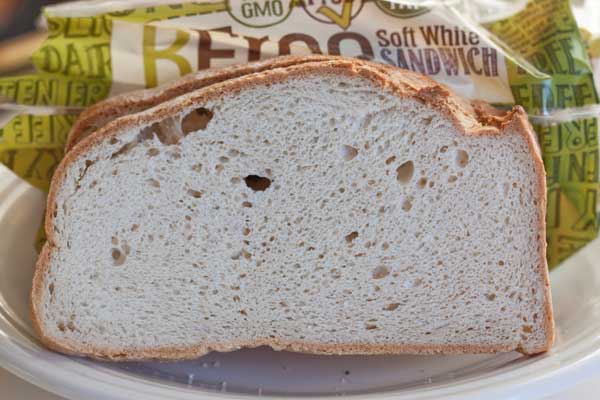 Gluten-Free Bread with Fiber
Compared to other breads, BFree products have an impressive amount of dietary fiber, are free of sugar, eggs and dairy and thus vegan-friendly. The company is proud of their ingredients, which in addition to the usual tapioca starch, include a mix of fiber from peas, apples and potatoes and a blend of buckwheat and corn flours. Different products have different ingredient blends, and BFree sent our family a few products try.
BFree Soft Rolls Review
BFree Soft Rolls -- These are slightly less chewy than your typical French or sourdough roll.  I loved the texture because it was easier on my teeth, while Todd would have liked the rolls to be chewier.  Not being chewy enough was a big issue for him, but for me it was a plus and I think the rolls would be great for Caprese sandwiches or other types of sandwiches on rolls. They're easy to bite into. As for the flavor, it is different than wheat and it takes some getting used to. It tastes like sourdough in a way, and after a while I started craving the flavor. We ate the rolls plain and as garlic bread.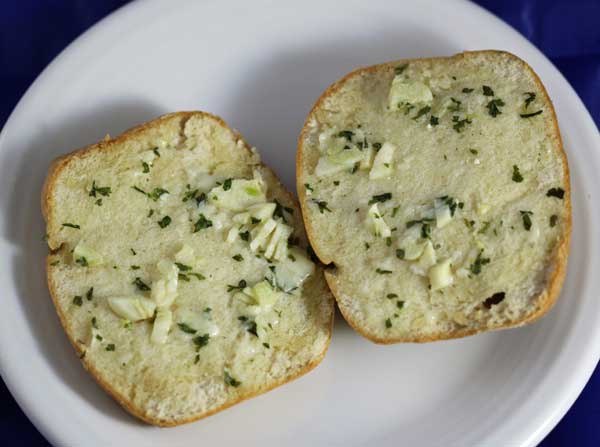 BFree Bagels
BFree Bagels in Multigrain and White --  Both types of BFree Bagels are less chewy than traditional, but they are good when toasted and perfect for topping. Here's a white bagel topped with peanut butter and hazelnut spread. Fuzz didn't have any complaints. For Todd, the less-chewy texture was an issue, but he admitted he doesn't like any packaged bagels because they are not the chewy, New York style bagels he grew up on.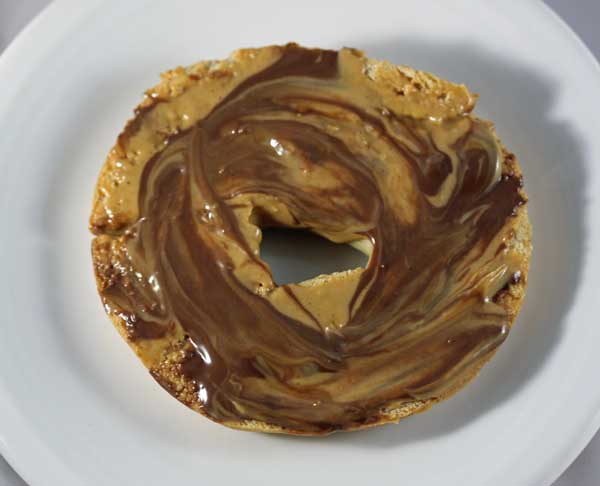 But Todd did like the BFree Multigrain Bagels as bagel chips!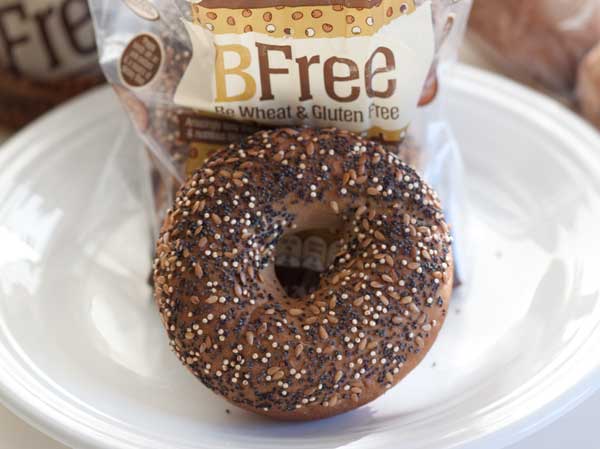 The gluten free bagel chips have so much flavor, and you don't need to brush them with butter or oil before baking. Just cut into thin slices and bake at 325 for about 20 minutes. They stay crisp and are perfect for with hummus.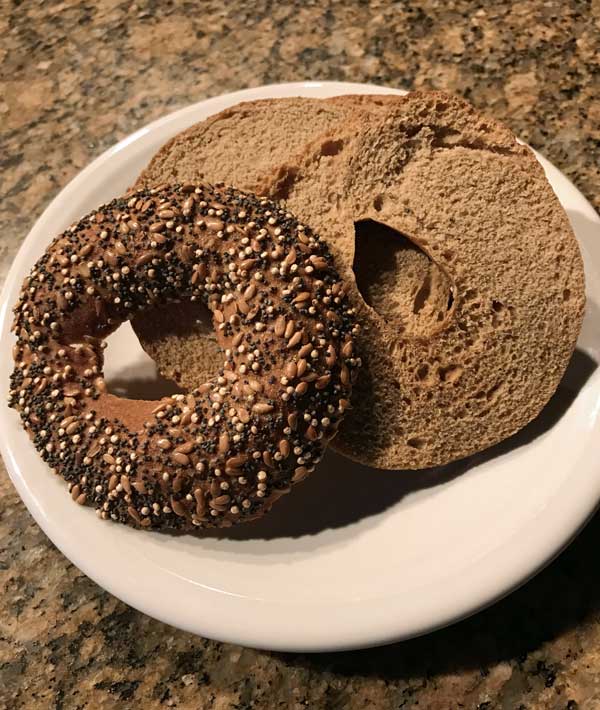 Gluten-Free Soft White Sandwich Bread
Soft White Sandwich and Brown Seeded Sandwich Bread -- The sandwich style BFree is kind of elongated, yet thin, so there's more surface area to build a generously filled sandwich. Here's a picture of the BFree Brown Seeded, and the White is the bread pictured at the top. I made Pesto Turkey Sandwiches with lightly toasted bread, and it did not fall apart even though the sandwiches were packed to the brim. Like the bagels, the bread tastes even better when lightly toasted.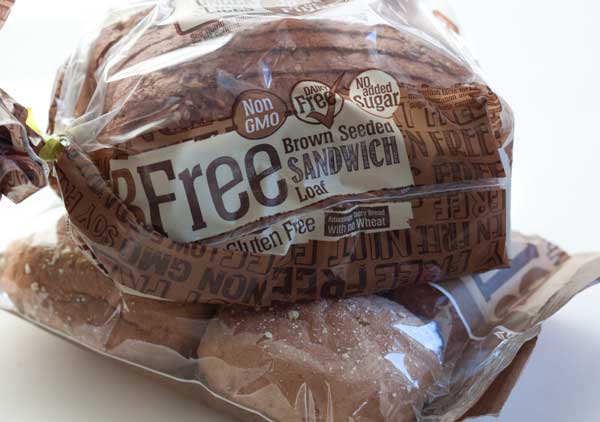 Lastly, we sampled the BFree Super Soft White and Multigrain Hot Dog Buns. These are formulated a little differently than the other breads and have a lower calorie count ounce per ounce. For instance, a 2 oz hot dog bun only has 100 calories.  You can see the nutrition stats in this picture, which show 9 grams of fiber per 100 calorie roll.  Not bad!  And true to their name, they are very soft and easy to bite into.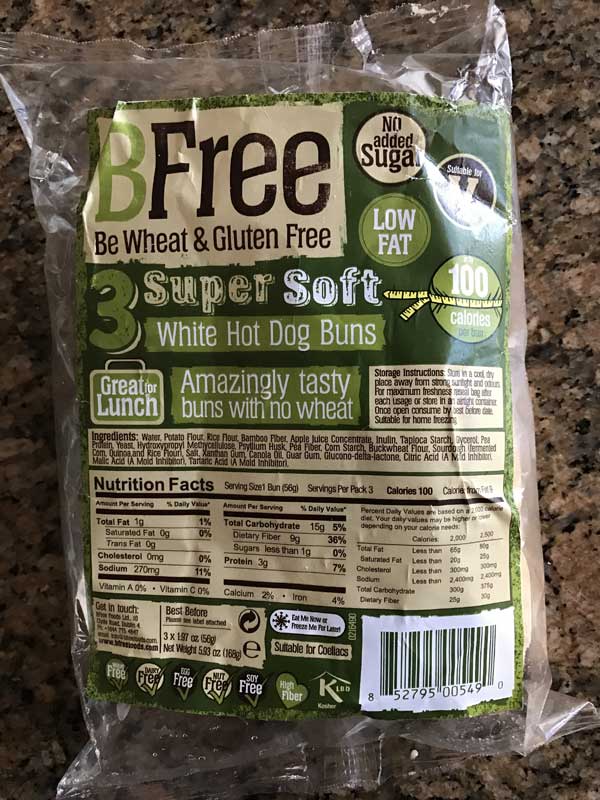 After eating gluten free bread for a while, I acquired a taste for BFree and will buy it again. Fuzz liked it too and wouldn't mind eating it regularly. As for Todd, he was glad when the taste test was over and ready to get back to regular bread. However, he mentioned that if he had to cut gluten this would be a good choice.
Update: BFree also makes really good wraps! I use the Quinoa and Chia Seed Wraps as a base for tortilla pizzas. I believe this variety of wraps is low fodmap, but I'm not exactly sure.