This yellow cake recipe is from the Grandbaby Cakes cookbook, by Jocelyn Delk Adams. A tribute to her heritage, Grandbaby Cakes has snippets from Jocelyn's life as a Chicagoan with family ties in Illinois and Mississippi.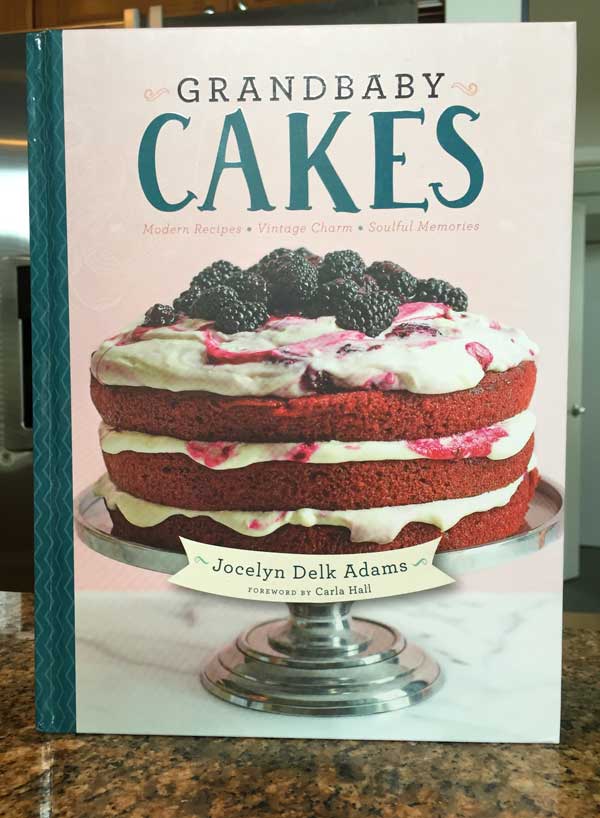 The book has a sweet scrapbook design and is lovely to look at, but don't be fooled by all the warm fuzzies. Behind the cute stories and photos, there's solid baking advice and information useful for bakers of all levels. In what I hope evolves into a series of cookbooks, this Grandbaby Cakes book focuses specifically on cakes -- some classic, others more eclectic.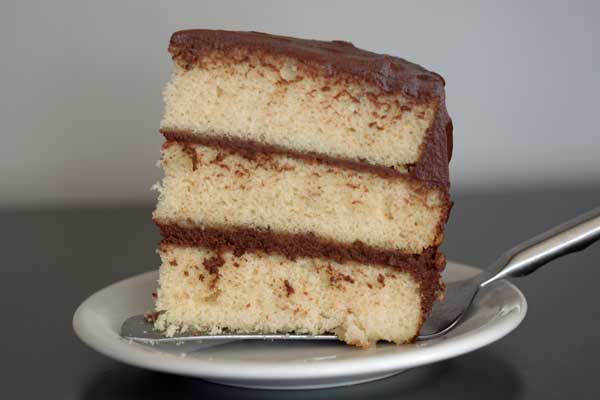 Grandbaby Cake Cookbook Chapters
Chapters are divided into pound cakes, layer cakes, sheet cakes, baby cakes, celebration and seasonal cakes. Within each chapter are cakes that range from easy to more complex, though even the "hardest" of the bunch is pretty simple. Whatever mood you're in, Jocelyn has a cake for it. I've already bookmarked several. There's the Arnold Palmer Cake made with a lemon cake and iced tea frosting, Blood Orange Mimosa Cake (perfect for using leftover champagne), the Peach Cobbler Shortcake and the cool and refreshing sounding Watermelon-Berry-Lime Icebox Cake.

Classic Yellow Cake
Rather than bake one of the more unusual cakes, the cake I wanted to try first was Jocelyn's Classic Yellow Cake.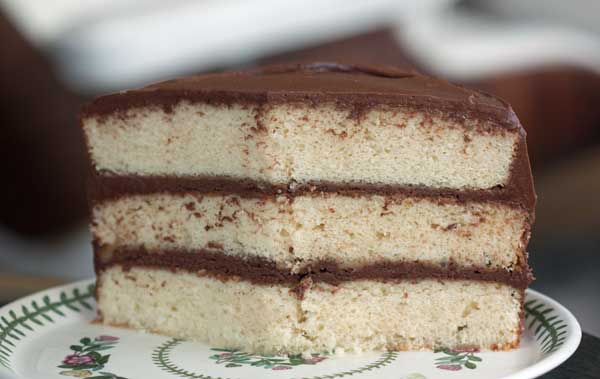 This is a very good yellow cake! It calls for a mixture of oil and butter and a low and slow baking temp. In addition to its taste and texture, the yellow cake is tall and stately. It's just the right size to hold all the whipped chocolate frosting.
If you'd like to try the yellow cake, here's the recipe.  For the rest of them, buy the book!  It's worthy of any good collection.
Here's a link to the book: Grandbaby Cakes: Modern Recipes, Vintage Charm, Soulful Memories
by Jocelyn Delk Adams.

Reprinted with permission from Grandbaby Cakes by Jocelyn Delk Adams, Agate Surrey, 2015.
Recipe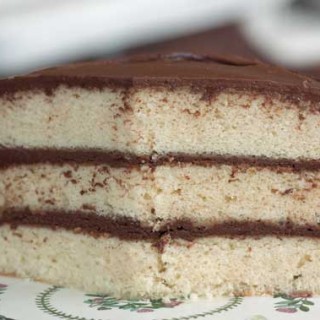 Grandbaby Cakes Cookbook Yellow Cake
Trust me, this traditional yellow cake is no plain Jane—in fact, it's an icon. What makes this cake so special are its classic flavors and staying power. This recipe has evolved quite a bit from the original one Big Mama developed. I have been tinkering, testing, and perfecting it for years, and I am proud to say that my rendition yields a simple yet delicious canary-yellow cake that's moist, tender, and bursting with the rich taste of fresh butter, eggs, and vanilla. It is the ideal backdrop for a fluffy yet smooth chocolate frosting. While there are tons of recipes for yellow cake with chocolate frosting out there, this one brings home that nostalgic flavor you remember, with the added payoff¸ that only baking from scratch can give.
Ingredients 
CAKE
1

cup

2 sticks unsalted butter, room temperature

2

and ½ cups granulated sugar

7

large eggs

room temperature

3

cups

sifted cake flour

1

teaspoon

salt

½

teaspoon

baking powder

½

teaspoon

baking soda

1

cup

sour cream

room temperature

⅓

cup

vegetable oil

1

tablespoon

vanilla extract
FROSTING
¾

cup

1 and ½ sticks unsalted butter, room temperature

5

cups

confectioners' sugar

1

cup

unsweetened cocoa powder

Pinch

salt

1

cup

heavy cream

cold

1

tablespoon

vanilla extract
Instructions 
Preheat your oven to 325°F. Liberally prepare 3 9-inch round cake pans with the nonstick method of your choice. (I recommend the parchment method described on p. 17.)

In the bowl of your stand mixer fitted with the whisk attachment, beat the butter for 2 minutes on high speed. Slowly add the granulated sugar. Cream together for an additional 5 minutes, until very pale yellow and fluffy. Add the eggs 1 at a time, combining well after each addition and scraping down the sides and bottom of the bowl as needed.

Turn your mixer down to its lowest speed and slowly add the flour in 2 batches. Add the salt, baking powder, and baking soda. Be careful not to overbeat. Add the sour cream, oil, and vanilla extract. Scrape down the sides and bottom of the bowl and mix the batter until just combined. Be careful not to overmix. The finished batter should be pale yellow and have a silky texture.

Evenly pour the batter into the prepared pans and bake for 27 to 32 minutes, or until a toothpick inserted into the center of a layer comes out clean—but just barely. It is crucial that this cake not be overbaked! The layers should have a rich golden color and a spongy texture.

Let the layers cool in the pans for 10 minutes, then invert onto wire racks. Let cool to room temperature. Lightly cover the layers with foil or plastic wrap so they do not dry out.
FOR THE FROSTING
In the bowl of your stand mixer fitted with the whisk attachment, add the butter and beat for 2 minutes on high speed.

Turn your mixer down to low speed and slowly add the confectioners' sugar, cocoa powder, and salt.

Once everything is fully incorporated (the frosting will look crumbly), turn your mixer back up to high speed. Add the heavy cream and vanilla extract. Whip until the frosting is fluffy and smooth.
TO ASSEMBLE
Once the layers are completely cooled, place 1 layer on a serving plate. Spread just the top of the layer with ⅓ of the frosting (please refer to the Basic Frosting Instructions on p. 18). Add the second layer and spread with another ⅓ of the frosting. Add the final layer, bottom-side up, and spread with the remaining frosting. Frost the top and the side of the cake.
Notes
Grandbaby Notes: This cake is fantastic as is but absolutely heavenly when you use high-quality butter.
If you ever want to lighten this cake, you can use Greek yogurt or even milk instead of the sour cream.
If you have some extra time on your hands, separate the eggs and whip the whites into stiff peaks. Add just the egg yolks in place of the whole eggs when making the batter. After the batter is mixed, gently fold in the egg whites. The baking time is a bit longer (30 to 38 minutes), but the result is a very light texture.
Reprinted with permission from Grandbaby Cakes by Jocelyn Delk Adams, Agate Surrey, 2015.