School Colors Brownies were inspired by my daughter's first day of school.  Wow, time sure flies.  I can't believe Fuzz is in high school already. She was about 5 when I started this blog, which seems incredible. Things have changed a lot since then, but I'm still obsessed with brownies and felt like making some round brownies with with blue & orange M&Ms.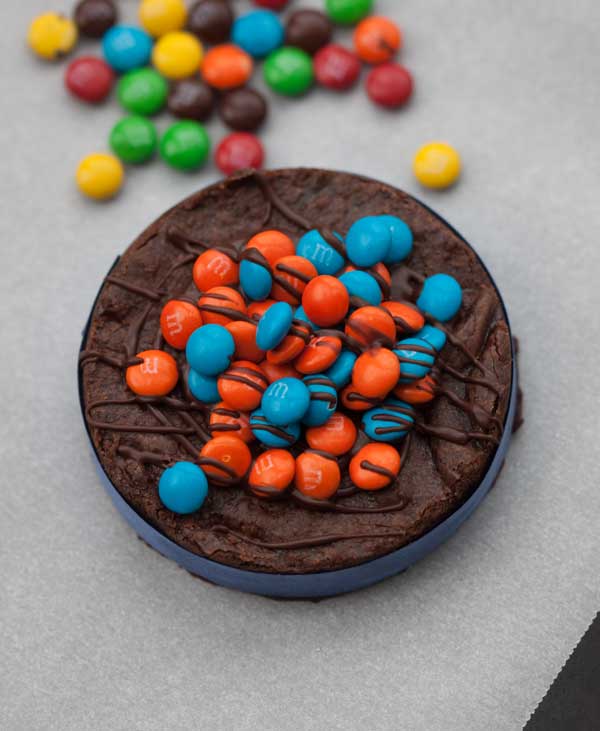 I made round brownies by making a square pan batch and using a 3 inch cutter to punch out 4 large size brownies. Obviously, there were lots of scraps! Scraps were a bonus in this case because I got to eat them, but if you'd like to bake the brownies directly in rounds, you can buy Kitchen Supply Crumbcake Paper Molds, Set of 25
, pour the batter directly into the molds and bake until done. I'll probably do that next time, but I didn't have any fancy disposable paper rounds and had to settle for the biscuit cutter and strips of construction paper.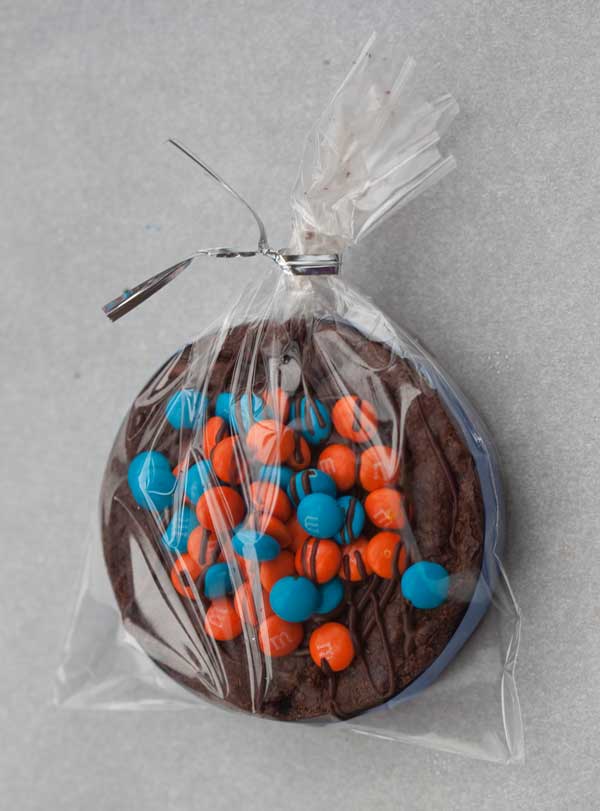 Update:  I haven't made round brownies in a while, but I use this recipe a lot when I want really fudgy 8 inch pan brownies.  The recipe is originally from Alice Medrich.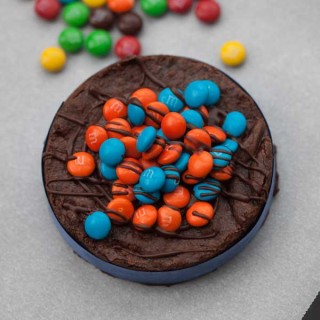 School Colors Brownies
Cocoa brownies topped with colorful Mini M&Ms and melted chocolate. The brownie recipe is based on Alice Medrich's cocoa brownie recipe and it's great for making brownie cut-outs of any shape. After years of making this recipe, I can attest that the better quality the cocoa powder, the better the brownie.
Ingredients 
10

tablespoons

unsalted butter

(140 grams), softened

1 1/4

cups

sugar

(245 grams)

3/4

cup

plus 2 tablespoons unsweetened cocoa powder

natural or Dutch-process

1/4

teaspoon

salt

1/2

teaspoon

pure vanilla extract

2

cold large eggs

1/2

cup

all-purpose flour

(70 grams)

Mini M&Ms

1

good quality dark chocolate bar

chopped
Instructions 
Preheat the oven to 325. Line an 8 inch square metal baking pan with foil and grease the bottom only.

Combine the softened butter, sugar, cocoa and salt in a metal mixing bowl and set the bowl over a saucepan of gently simmering water. Stir until butter melts and mixture is fairly smooth and the sugar has partially dissolved -- mixture will still be slightly grainy. Remove from heat and let it cool to warm.

Stir in the vanilla, then add the eggs one at a time and stir after each egg is added.

Add the flour and stir until it disappears, then beat vigorously for 40 strokes with a heavy duty scraper.

Spread mixture evenly in the pan and bake at 325 for about 25 minutes or until brownies appear set. Let cool completely, then chill thoroughly.

Time for the fun part! Lift the brownies from the pan and cut into shapes using metal cookie cutters or whatever type cutter you have.

Melt chocolate in microwave using 50% power and stirring often until it is melted and smooth. Spread a very thin layer of chocolate on top of each brownie, then pile on some M&Ms. Drizzle more chocolate over M&Ms. Let the brownies sit until chocolate sets. Do not chill after adding M&Ms as they will lose their luster.