Definitely My Favorite M&M Bars -- And I've Tried a Lot
Graduation is around the corner. And if you're looking for recipes that use school colors, these M&M Bars (technically, M&Ms Bars, but I named them wrong the first time) are perfect.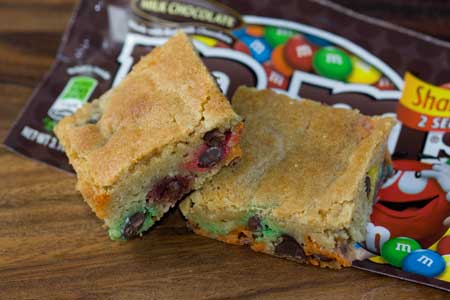 Unfortunately, I didn't consider these for graduation until after I'd baked a batch and discovered the colored M&Ms really did stand out. So unless I can find someone graduating from clown school, this batch will be for the family. The next batch will be for Fuzz's fifth grade graduation party and will be made with the colors of the local junior high -- burnt orange and black. Lovely.
M&M Bar Texture
Some M&M bars are too dry, others too cakey. These were dense, firm and still soft. I think the key to their texture might be a combination of not beating too much air into the batter, using just enough flour, and adding a bit of sour cream. For the party, I'll definitely go for the full version adapted from the Washington Post. If you'd like to give the bars a test drive for your family, here's the 8 inch pan version.
Recipe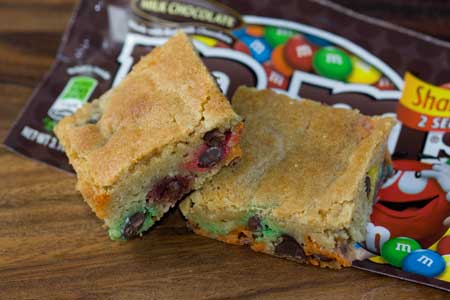 M&M Bars
The best M&M bar recipe ever!
Ingredients 
1

cup

plus 6 tablespoons

6.2 ounces all-purpose flour

1

teaspoon

baking powder

½

teaspoon

salt

4

tablespoons

unsalted butter

at room temperature

4

tablespoons

vegetable shortening

at room temperature

½

cup

packed light brown sugar

¼

cup

granulated sugar

slightly rounded

1

large egg plus 2 generous tablespoons lightly beaten egg

2

teaspoons

vanilla extract

1

slightly rounded tablespoon regular sour cream

1

cup

M&Ms or M&Ms and dark chocolate chip mixed to make 1 cup.
Instructions 
Preheat the oven to 350 degrees. Line an 8 inch square metal pan with nonstick foil or parchment.

Sift or just stir together the flour, baking powder and salt.

Combine the butter and shortening in a mixing bowl and beat with a handheld mixer until creamy. Scrape sides of the bowl. Add both sugars; beat on low, then on medium speed for about until light and fluffy.

In a second bowl, mix together the eggs, vanilla and sour cream. With mixer on low or by hand, gradually add the egg mixture to batter in three parts.

Stir in the flour mixture, followed by the M&Ms. Transfer the dough to the pan, patting it in evenly and smoothing the surface. Bake for 22 minutes uncovered (at which point it should brown, but a little jiggly in the center), then lay a sheet of foil loosely over the top and with a sheet of foil and bake for about 4 more minutes or until middle no longer jiggles.

Cool for 1 hour at room temperature, then transfer to the refrigerator and finish cooling in the refrigerator. Lift from pan, set on a cutting board, cut into 16 squares.
Notes
Coordinate the colors and match them to an event.