As promised, here's a recipe for maple ice cream. The recipe calls for maple syrup in place of regular sugar along with a simple mix of egg, milk, cream and vanilla. If you like short ingredient lists, this one's for you. It's also a good choice if you find most commercial ice creams too sweet. When I first made this I noted it wasn't that sweet. Now I'm older store bought ice creams tastes super sweet, so I really love this one.
Adding Caramel or Chunks
It's hard to go wrong with a smooth and creamy ice cream, but adding swirls of caramel or chunks for cookies is never a bad idea. Or at least in my opinion. Chunks of packaged maple leaf shaped sandwich cookies might be nice here, or served on the side. And you could add a bit of caramel ice cream topping to the scooped ice cream or swirl it through during the end of the churn.
Ice Cream Cartons
A fun way to store the maple ice cream or any homemade ice cream is in white pint frozen dessert containers purchased on-line. You don't have to buy these from a restaurant supplier anymore, and they are so handy.
Recipe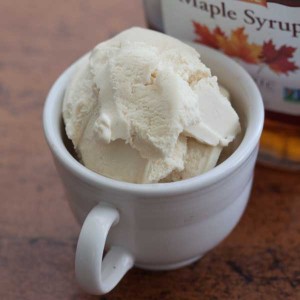 Maple Ice Cream
From Modern Maple, a book of maple recipes, this ice cream has a subtle maple flavor and is not overly sweet.
Ingredients 
3

large

egg yolks

1

large

egg

¾

cup

maple syrup

1 ½

cups

heavy cream

1

cup

whole milk

1

teaspoon

vanilla extract
Instructions 
Whisk the egg yolks in a mixing bowl -- preferably one with a spout if you have one. Whisk in the egg, then whisk in the maple syrup.

Set a sieve or mesh colander over a second mixing bowl and set aside.

In a heavy bottomed saucepan, combine the cream and milk. Heat over medium until mixture just starts to simmer around the edges. Carefully whisk about 1 ½ cups of the hot milk mixture into the egg mixture, then pour the egg mixture into the saucepan, whisking constantly.

Whisk until mixture thickens somewhat and hits 175 degrees F. (Note: I use a deep fry thermometer for this).

Remove from heat and pour the hot custard through the sieve or strainer into the bowl. Add vanilla. Let cool for about 25 minutes at room temperature, then transfer to the refrigerator and chill for 6 hours or until thick and cold.

Freeze mixture in an ice cream maker using the manufacturer's directions.