Chocolate Babka is one of my favorite things to bake, and this is the recipe I always go back to. It's easy, just the right level of richness, and makes what I think is a beautiful loaf.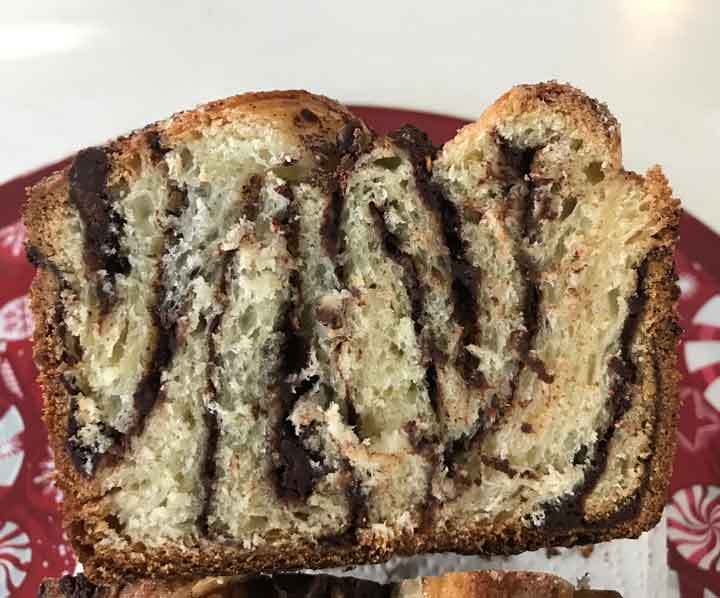 Chocolate Babka Filling
What makes this Chocolate Babka a little different is the filling. Most recipes call for chopped chocolate to be sprinkled over the dough and rolled up as a spiral. With this recipe, you melt the chocolate along with a little butter and sugar. You then spread the melted chocolate mixture over the dough. I got the idea from a recipe on Epicurious and have used this technique ever since because it makes a memorable chocolate filling. It's a bit messy to assemble, but still pretty easy if you have some dedicated freeze or refrigerator space to set the chocolate.
Here are a few chocolate babka photos taken through the years.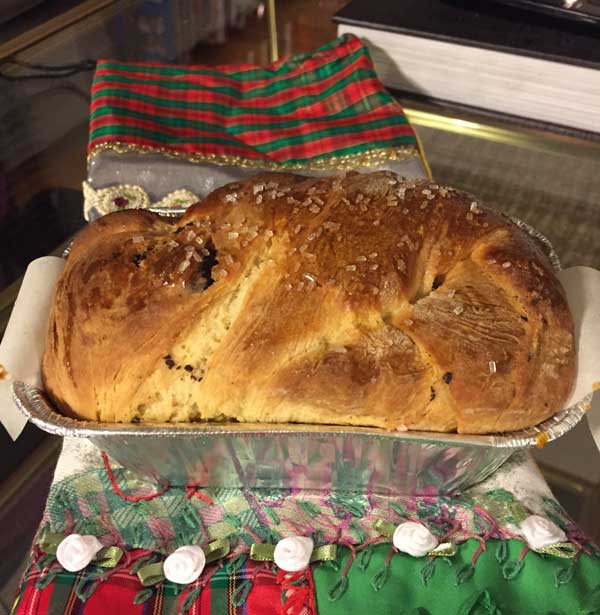 Loaf Sizes
At one point I made babka for the Chicago Food swap, so I made it as mini loaves. Or to be more specific, 3x5 inch loaves. I still like the smaller size loaves because they're easy to wrap, freeze and serve. So you can make Babka Mini Loaves or one regular 8 ½ by 4 ½ inch loaf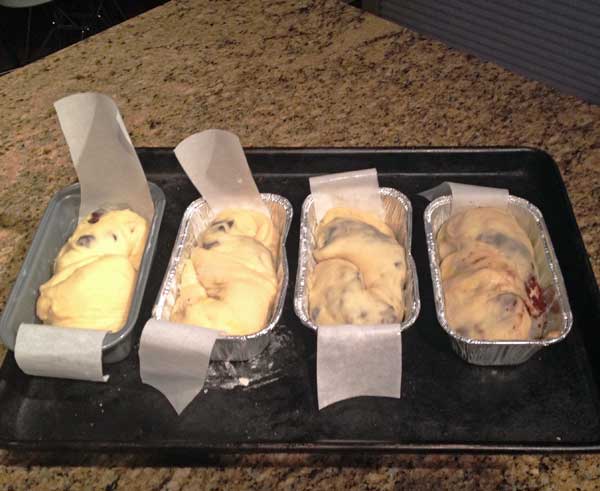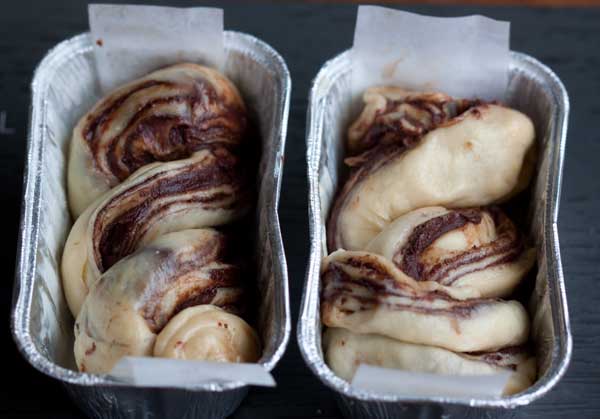 Chocolate Babka Folding Technique
I've added a few more photos of the process. Photography is not my strong suit, but even bad photos might be helpful, so here's a little collage of steps.  This is half the dough, which makes two mini loaves or one 8 ½ by 4 ½ inch loaf.  In the first photo you have half the dough that's been rolled into a cylinder and cut into two logs.  In the second photo the logs have been split vertically and are ready for twisting.  Third photo shows two twists and the fourth shows the twists squished into loaf pans.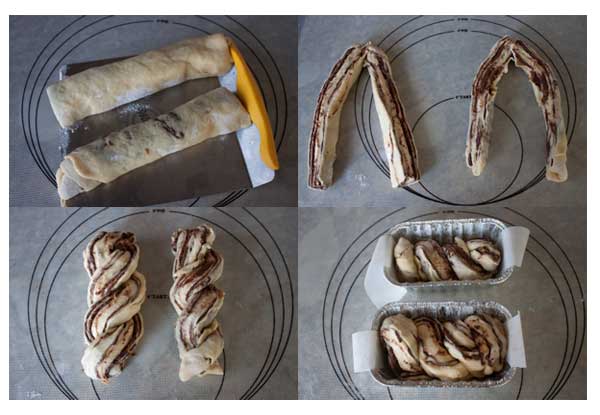 Here's  a new photo showing what the twists look like squished into 8 ½ b 4 ½ inch pans.  Instead of putting one twist in each pan as you would for mini loaves, you put two twists side-by-side in each of the larger pans.
Update: I recently updated the recipe so that it makes one 8 ½ by 4 ½ inch loaf or two 3x5 inch loaves. You can double it for one very large loaf or multiple small loaves.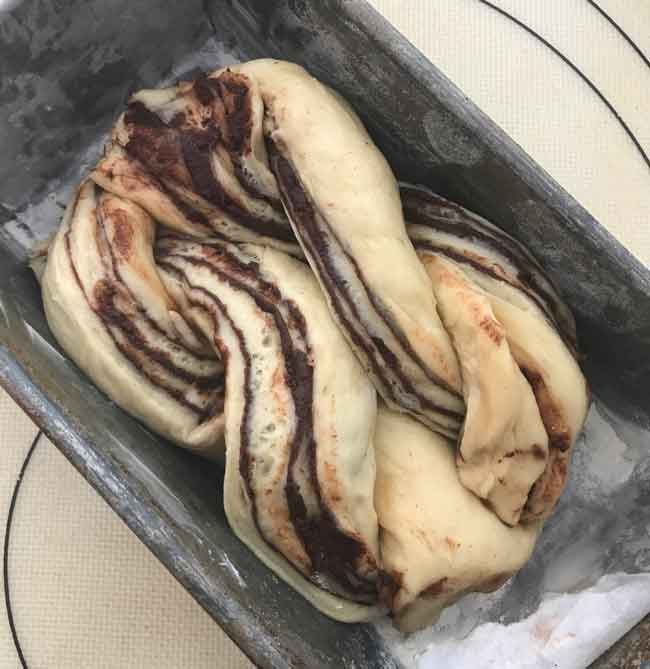 Recipe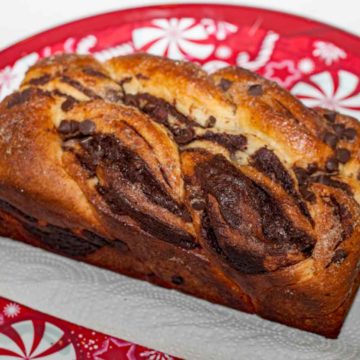 Chocolate Babka
Scratch Chocolate Babka recipe made with a stand mixer and dough hook. This babka recipe calls for fast rising yeast, but you can also use regular activie dry yeast. If you use active dry yeast the rising time will be longer. Also, make sure to clear out some room in the freezer before you get started. If the freezer is not an option you can use the refrigerator.
Ingredients 
1 ¾

cups

bread flour plus additional for dusting

(240 grams)

¼

cup

sugar

(50 grams)

1 ⅛

teaspoons

fast rising yeast or 1 ½ teaspoons active dry

½

teaspoon

salt

6

tablespoons

very warm milk

125F

1

large

egg

room temperature

½

egg yolk

5

tablespoons

unsalted butter

softened (70 grams)
Egg Wash
½

egg yolk

reserved from earlier

1

tablespoon

whole milk
Chocolate Filling
2 ½

tablespoons

unsalted butter

(35 grams)

⅔

cup

Ghirardelli bittersweet chocolate chips

(120 grams)

2

tablespoons

granulated sugar

(25 grams)
Instructions 
Combine the flour, sugar, yeast and salt in the bowl of a stand mixer with the paddle attached.

Add warm milk and stir until well mixed, then add the egg and half a yolk and continue mixing until blended. You can do this by hand or use the paddle attachment of your stand mixer. Add the softened butter a chunk or two at a time and continue mixing, scraping down sides of bowl with a scraper. If the butter is not fully integrated, that is okay. The dough hook can finish the job!

Attach the dough hook to the stand mixer and let the dough hook knead for about 5 minutes. The dough will be sticky and might not completely leave the sides as it is being kneaded. To make sure the dough feels right, stop the kneading occasionally and push dough off the side of the bowl and into the center with a scraper. It will be a sticky dough, but it should have some snap and elasticity to it.

Scrape the dough into a bowl that has been greased very well with oil and roll the dough around so that it's slick. Cover with plastic wrap and let rise in a warm place until doubled in bulk (about 40 minutes to an hour with the fast rising yeast). It should be a slick and oily dough. While the dough is rising, you may want to go ahead and get your egg yolk/milk mixture ready and prep your chocolate filling ingredients.

Once the dough has risen, lay out a big pastry mat. You shouldn't need to flour the mat because the dough should be oily and not at all sticky. If the dough is sticky for some reason, you can use a little flour.

Press and roll or pat dough it into a 16x11 inch rectangle. The 16 inch side should be on the bottom closest to you. If the texture of the dough is right, you should be able to do this easily without even using a rolling pin. You can just pat it.

Prepare filling. Melt the chocolate and butter together in a microwave-safe bowl (I use a 2 cup Pyrex) on high stirring every 30 seconds. When completely melted, stir in the sugar.

Now you are going to spread the chocolate mixture across your rectangle, but before you do brush a little of the egg yolk/milk mixture along the 16 inch side of the rectangle.

Now spread the chocolate mixture all over the rectangle as evenly as you can.

Working from the 16 inch side, loosen the edge with a bench scraper or thin spatula and roll upward into a tight 16 inch jellyroll and pinch edges to seal. Keep using the bench scraper or thin spatula to loosen dough from mat and push upward as you roll. Now you should have a messy 16 (ish) inch jellyroll.

Carefully transfer the jellyroll to a piece of parchment and then to the freezer to set the chocolate. Don't worry too much if the log gets a little messed up during the moving process, just get it in the freezer. This is to set the chocolate and make the log easier to work with.

While the dough is in the freezer, grease two 5x3 inch loaf pans or one 8 ½ by 4 ½ inch loaf pan and line with strips of parchment.

Remove log from the freezer and set it on the pastry mat. At this point it will be slightly firm and cold but still malleable. With your hands, gently "neaten it" a bit so it's 16 inch cylinder. Cut in half crosswise so you have two 8 inch pieces. Take one of the pieces and cut lengthwise, exposing chocolate. Put the split pieces on their backs cut side up. Pinch the tops of the split pieces together and bring one strand over the other, alternating each time, until you have a twist. Repeat with remaining half of the jellyroll so that you have two twists.

If you are making an 8 ½ by 4 ½ inch loaf, lay the two twists side by side lengthwise in the pan. If you are making two mini loaves, cut each of your twists cross-wise so that you have four small, stubby twists. Arrange the smaller twists in the loaf pan, squishing to fit.

Preheat oven to 350 degrees F. Brush tops with remaining egg wash and sprinkle with sparkling sugar if desired. Bake for about 40-45 minutes or until a thermometer inserted reads 205 degrees F.

Let cool completely (or let cool and freeze), then slice and reheat just slightly.
Notes
Yeast: If you are using active dry yeast (as opposed to fast rising) you do not have to dissolve it.  You can just put it in with the flour as you would rapid rise.
For the chocolate filling, I've used all kinds of chocolate and really like the results I get with melted Ghirardelli 60% Bittersweet Chips. When melted chopped chocolate is used, the filling spreads more and is a bit greasier, whereas with the melted chip mixture it doesn't ooze as much.
Other recipes call for brushing the babka with butter, sprinkling with finely chopped chocolate and sugar. Those are probably great, but I have grown accustomed to the nice even distribution of melted chocolate.