Today's baking inspiration came from Epicurious in the form of chocolate babka.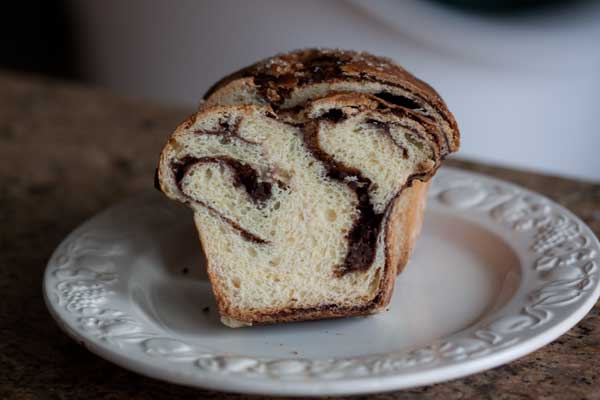 Wow, was it ever good! After looking at multiple photos of chocolate babka, it appears my swirls of chocolate are not quite the same as fancy chocolate babka from New York delis, but I'm pretty happy with the results and look forward to improving my skills.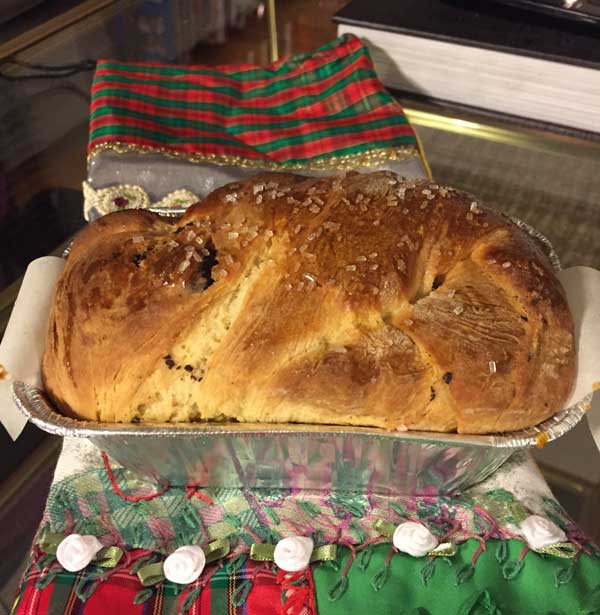 Because I'm taking my chocolate babka loaves to the Chicago Food Swap, I attempted to make four mini loaves rather than two. It worked out just fine and no adjustments were needed.  Even the baking time remained more or less the same, with mine reaching an internal temperature of 205 at 45 minutes.  Here's a picture of what they looked like before going into the oven.  The recipe is time consuming but really fun, and you get a lot of bang for your buck. because these four "mini" loaves were actually a pretty nice size.  And they freeze beautifully.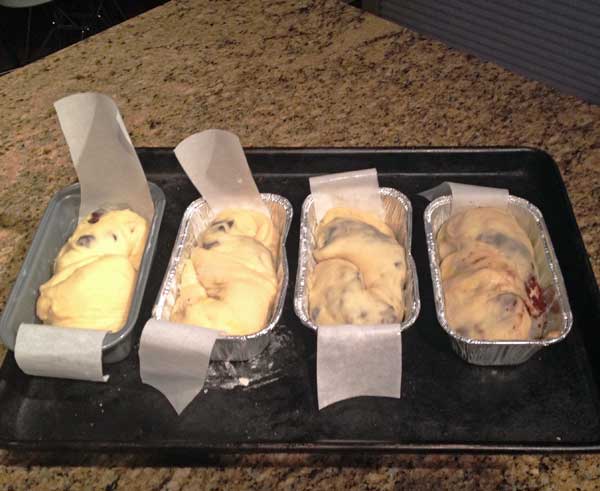 The only caveat here is that you need to get the flour amount just right.  The recipe calls for 3 1/4 cups of flour and doesn't give a weight.  I weighed the flour and it turned out to be about 17.5 oz — so each cup is a little over 5 ounces by weight.  For those of you who generally get 4.5 oz per cup of flour, keep that in mind.  Despite being a soft, stretchy dough, it's actually pretty easy to work with and not too sticky thanks to all the butter.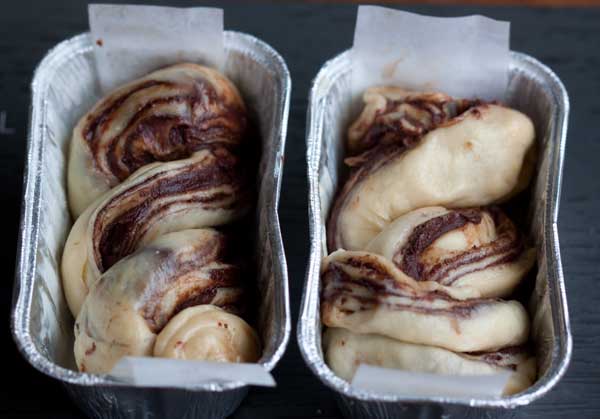 Update:  Since making the mini loaves I've made this recipe again and again with modifications including making it as 2 8 1/2 x 4 1/2 inch loaves.  The dough is similar to the one from Epicurious, but I've changed the technique somewhat by melting the filling ingredients and using quick rising or "Platinum" yeast.
Update #2:  I've lost count of how many times I've made this since posting, but when making mini loaves I now (sometimes) make four mini (5×3 inch) loaves and use the technique of rolling the dough into a jellyroll/cylinder, splitting it, then twisting it.  The dough in the photo above uses this method.
Update #3: I've added a few more photos of the process. Photography is not my strong suit, but even bad photos might be helpful, so here's a little collage showing the steps.  This is half the dough, which makes two mini loaves.  In the first photo you have half the dough that's been rolled into a cylinder and cut into two logs.  In the second photo the logs have been split vertically and are ready for twisting.  Third photo shows two twists and the fourth shows the twists squished into loaf pans.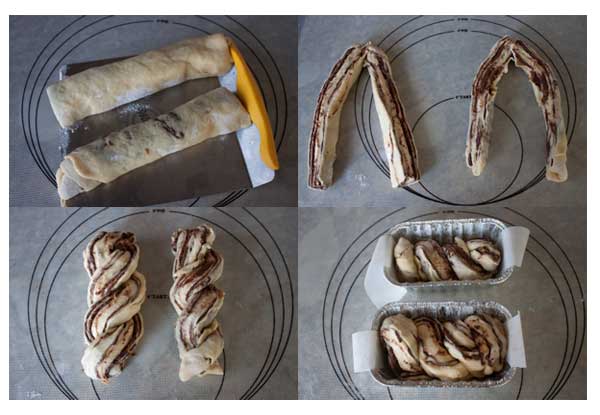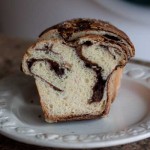 Print Recipe
Chocolate Babka Mini Loaves
Scratch Chocolate Babka recipe made with a stand mixer and dough hook. This babka recipe calls for fast rising yeast. Platinum yeast works well, too. The directions are for making 4 mini loaves, but you can also make two small loaves or one giant loaf.
Ingredients
3 1/2

cups

17 ounces bread flour plus additional for dusting

1/2

cup

sugar

2 1/4

teaspoons

fast rising yeast or 3 teaspoons active dry

3/4

teaspoon

salt

3/4

cup

very warm milk

125F (use 115 if regular yeast)

2

large eggs

room temperature

1

egg yolk

1

teaspoon

vanilla extract

10

tablespoons

unsalted butter

softened
Egg Wash
1

large egg yolk

1

tablespoon

whole milk
Chocolate filling
5

tablespoons

unsalted butter

8

oz

Ghirardelli bittersweet chocolate chips

60%

1/4

cup

granulated sugar

I use super fine
Instructions
Combine the flour, sugar, yeast and salt in the bowl of a stand mixer with the paddle attached.

Add milk and stir until well mixed, then add the eggs, yolk and vanilla and continue mixing until blended. Add the butter a chunk or two at a time and continue mixing, scraping down sides of bowl with a scraper.

Attach the dough hook to the stand mixer and let the dough hook knead for about 5 minutes. The dough will be sticky and should not completely leave the sides of the bowl as it is being kneaded. To make sure the dough is right, stop the kneading occasionally and push dough off the side of the bowl and into the center with a scraper. It will be a sticky dough, but kneading it should give it some elasticity.

Scrape the dough into a bowl that has been greased very well with oil and roll the dough around so that it's slick. Cover with plastic wrap and let rise in a warm place until doubled in bulk (about 40 minutes to an hour with the fast rising yeast). You should have 2 pounds 3 oz (35 oz) of dough.

Dust your work surface with flour. I use a large silicone pie rolling mat.

Take half of the dough (17 1/2 oz) and put it onto the work surface. Press and roll it into a 16x11 inch rectangle. Stopping occasionally and letting it rest helps make the process easier. You can also put a piece of parchment over it and roll over the parchment to help prevent sticking.

Mix together yolk and milk and brush a ½ inch border of egg wash along the bottom long end of the rectangle (I forget this step half the time).

Prepare filling. Melt the chocolate and butter together in a microwave-safe bowl on high stirring every 30 seconds. When completely melted, stir in the sugar.

Spread half the chocolate mixture as evenly as you can over the rectangle.

Working lengthwise from the long end, roll a tight 16 inch jellyroll and pinch edges to seal.

Slice the log in half to make two 8 inch logs and carefully transfer them to the refrigerator for about 20 minutes to set the chocolate. Meanwhile, repeat with remaining dough.

While the dough is chilling, grease four 5x3 inch loaf pans (or if making 2 loaves, use 2 8x4 inch loaf pans), line with strips of parchment and dust with flour.

Remove one of your 8 inch logs (you should have 4 total) from the refrigerator and with a sharp knife, slice lengthwise down the center. Put the split pieces on their backs so the cut side is up. Pinch the tops of the split pieces together and bring one strand over the other, alternating each time, until you have a twist. Squish the twist into a 3x5 inch loaf pan. Repeat with remaining logs. Place all four loaves on a large baking sheet and let them rise for about 40 minutes.

Preheat oven to 350 degrees F. Brush tops with remaining egg wash and sprinkle with sparkling sugar if desired. Bake for about 40-45 minutes or until a thermometer inserted reads 205 degrees F.

Let cool completely (or let cool and freeze), then slice and reheat just slightly.
Notes
Yeast: If you are using regular (not fast rising) yeast, dissolve the yeast in the milk and make sure the milk is only around 115.
For the chocolate filling, I've used all kinds of chocolate and really like the results I get with melted Ghirardelli 60% Bittersweet Chips. When melted chopped chocolate is used, the filling spreads more and is a bit greasier, whereas with the melted chip mixture it doesn't ooze as much. Other recipes call for brushing the babka with butter, sprinkling with finely chopped chocolate and sugar. Those are probably great, but I have grown accustomed to the nice even distribution of melted chocolate.