Maybe it was the holidays or just that we had a lot going on, but somehow I missed the Salty-Sweet Peanut Butter Sandies from The New York Times. Luckily I found the recipe and made them this morning.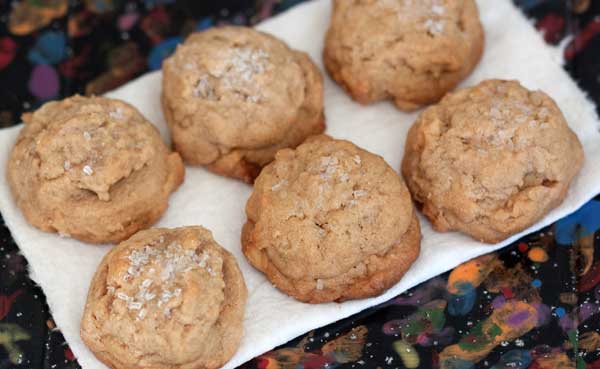 City Bakery Inspired Peanut Butter Sandies
Modeled after a peanut butter cookie from City Bakery in New York, Julia Moskin's Salty-Sweet Peanut Butter Sandies have an interesting appearance in that they pretty much hold the shape of the cookie scoop. Their texture is melt-in-your-mouth crumbly, and with 2 cups of peanut butter, they're hardly lacking in peanut flavor. And then there's the salty-sweet topping. According to Pichet Ong, who appears in the video that goes with the recipe, the salt in the topping increases the saliva in your mouth and lessens the dry sensation peanut butter can impart in cookies.
European Style Butter
After reading the reviews in the New York Times comments section, I think there will be varying degrees of spread depending on what brands of butter, peanut butter and brown sugar one uses and whether or not one weighs or measures by volume. I followed the New York Times recipe using gram weights. Because it's about 2 degrees outside, I didn't want to trek to the gourmet market for cultured butter, but I used Land o' Lakes European Style. I do not think Land o' Lakes European style is cultured, but rather churned longer so it has less moisture and more fat. At any rate, it worked nicely. I'm guessing non-European style butter would have caused the cookies to spread more. Overall, these were really good. When the cookies are completely cool, the texture is a bit sandier. They are, unfortunately, hard to stop eating!
Super Small Batch Peanut Butter Sandies
I still love this recipe, but I rarely have a reason to make the full batch. For a small batch of about 13 medium size cookies, these measurements work.
56 grams cultured butter, room temperature
30 grams each, brown sugar and granulated (you can use slightly more, but I use 30 each)
130 grams unsweetened peanut butter, make sure it's one with salt
25 grams beaten egg
tiny pinch of salt
¼ teaspoon vanlla
½ cup lightly spooned or weighed flour (62 grams)
Cream butter and sugar. Beat in peanut butter, egg, salt and vanilla. Stir in flour. Scoop with a medium cookie scoop. Roll in extra sugar (optional) and/or sprinkle with salt (optional). Arrange on a parchment lined baking sheet and bake for about 12 to 15 minutes.
Recipe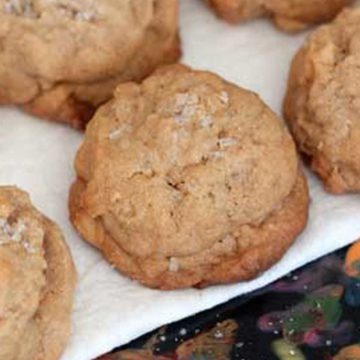 Peanut Butter Sandies
Modeled after the peanut butter cookies from New York's City Bakery.
Ingredients 
2

sticks

cultured butter, softened

(230 grams)

¾

cup

packed dark brown sugar, packed

(150 grams)

¾

cup

granulated sugar

(150 grams)

2

cups

peanut butter, unsweetened type**

(520 grams)

2

large

eggs

¼

teaspoon

salt, plus a pinch

1

teaspoon

vanilla

2

cups

all-purpose flour

(250 grams)

Mixture of 2 T. sugar and 1 T. salt for rolling

optional
Instructions 
Preheat oven to 350 degrees F (176 C). Line a couple of cookie sheets with parchment paper or leave ungreased/un-lined.

Beat the butter and both sugars together. Beat in the peanut butter and eggs; Scrape sides of bowl and beat in the salt, and vanilla. When well blended, add flour and stir until it is blended.

Shape dough into 1-inch balls (or scoop with a medium cookie scoop) and arrange on cookie sheets about 2 ½-inches apart. Flatten balls with a fork making criss-cross patterns or just leave as balls. At this point you can sprinkle with the sugar salt mixture or skip it.

Bake for 12-15 minutes or until slightly browned around the edges.
Notes
For slightly sweeter cookies, you can use half unsweetened and half sweetened peanut butter.  I did this when short on unsweetened peanut butter.